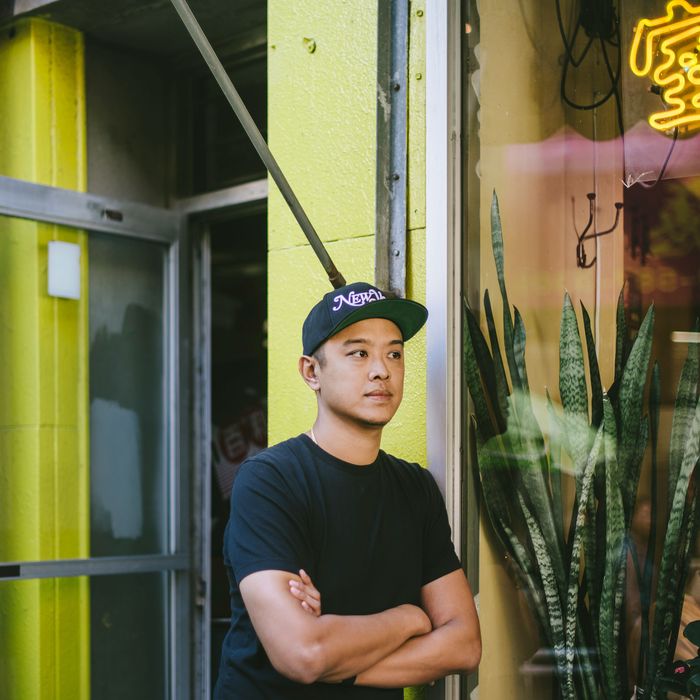 Wilson Tang, outside Nom Wah Tea Parlor in 2017.
Photo: M. Cooper
Over the last 100 years, Chinatown's Nom Wah Tea Parlor has survived crashes, recessions, depressions, tong wars, terrorist attacks, hurricanes, floods, and fires. The only thing missing was pestilence. Until now. Like every other New York City restaurant, it shut down last week. Now the crook of Doyer Street is deserted and the dumplings are unmade. The question is, How long can it last? On Tuesday, March 17, Grub Street spoke to Wilson Tang, Nom Wah's owner, about his long-term prospects and the future of Chinatown.
Tell me, what is the current state of play?
Both Tea Parlors, here and in Philadelphia, are shut down. Nom Wah Nolita is still open for delivery for now.
When did the Tea Parlors close?
Last Friday. We knew we were going to be doing that a couple of days prior to the mandates so we were already winding down our perishables. You see a lot of restaurants now trying to get rid of their perishables. Even though takeout and delivery are still possible in New York, it doesn't make financial sense to keep the Tea Parlor open. Most of our Parlor staff are Chinese and Chinese-American. They tend to live in multigenerational homes: grandfather, father, and son. So they were concerned that if they contracted the virus, they'd pass it on to those high-risk population. At Nolita, the staff is mostly younger and more diverse. They aren't as concerned.
When did you start seeing a dip in business?
Things have been slowing down since the end of January, which coincided with the Lunar New Year. That's when the news first started with China.
How long can you hold on?
Right now, we're taking a page from our big brothers, like David Chang. Salaried staff will be taking pay reduction. We plan on paying our hourly employees for this week and then after that, they'll have to go on unemployment. We're trying to keep our health insurance structure. And after that, it'll be case by case.
How have you been keeping in touch with your staff?
For the Nolita side, we're on text thread. In Philadelphia, we're on a phone call. In the Tea Parlor in New York, we have a WeChat group.
How long can you hibernate?
Our family owns the building, which helps a lot.  I think we're good for at least six months. I can't support six months of staff. But as for throwing in the towel, I'm comfortable for six months.
How about the other businesses in Chinatown?
I think the old-school businesses that have new-school sensibilities are going to be better off than businesses that have relied exclusively on an Asian clientele. As far as Chinatown in general goes, it helps a lot that many of the business owners also own their buildings. But places like bakeries, coffee shops, bubble teas, businesses opened on a whim, businesses backed by nervous VC money, are going to struggle. It will slowly start to come out the next few weeks and months who were the good players and who was just getting it done month to month.
You were still working in finance in 2008. How does that crisis compare to this one?
Well, I was naïve then. Now, I have a mortgage and two kids and 100 employees, so it's different. What I can say is that whether it was 9/11 or 2008 or Sandy or this, New York has always rallied somehow and come back stronger. I'm hoping this time won't be any different.
We're committed to keeping our readers informed.
We've removed our paywall from essential coronavirus news stories. Become a subscriber to support our journalists. Subscribe now.