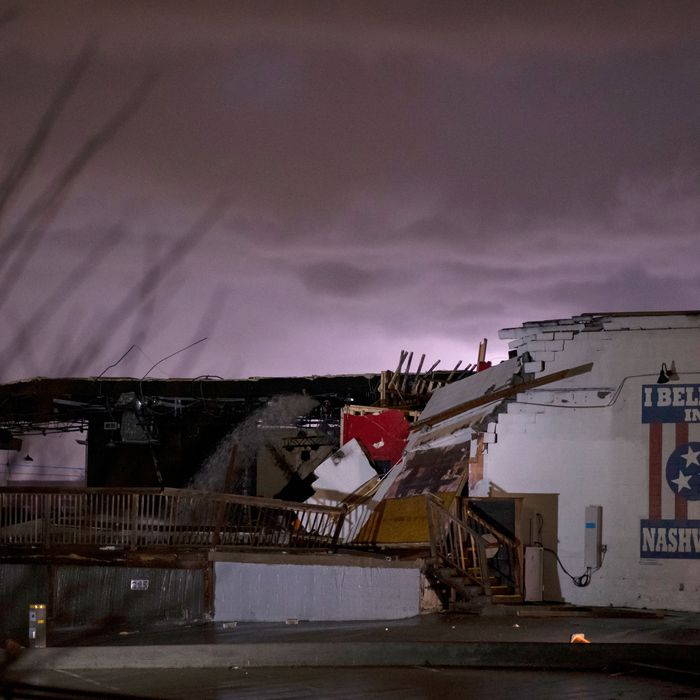 Popular East Nashville venue Basement East was destroyed overnight.
Photo: Brett Carlsen/Getty Images
Early this morning, Nashville and other parts of central Tennessee were hit by a tornado, resulting in at least 22 confirmed deaths and the destruction of more than 48 buildings, according to Fox7's Jennifer Waddell. The East Nashville and Germantown neighborhoods were particularly hard hit with reports trickling in of the devastating damage done to homes as well as restaurants and bars.
The last two decades have seen Nashville become a travel and dining destination with restaurants like Rolf & Daughters, Folk, Henrietta Red, Husk, and more receiving praise at a national level. Celebrated Southern chef Sean Brock is currently building out two hotly anticipated restaurants, Joyland and Audrey, in the East Nashville area. As Eater Nashville reports, several restaurants have closed not because of damage but because of power outages and/or damage at adjacent sites.
The tornado seems to have cut a path along East Nashville's Woodland and Main Streets, which run parallel to one another and are home to local music venue Basement East, dessert bar the Soda Parlor, and popular sports bar Beyond the Edge, all of which sustained damage. Here is a list, so far, of the restaurants and bars that were hit by the tornado, according to local reports and Nashville residents, including Twitter users Mintellect Brandon and Shane Morris.
Basement East

3 Crow Bar

Red Bicycle

Geist

Christie Cookie Germantown

Five Points Pizza

Woodland Wine Merchant

Beyond the Edge

The Soda Parlor

Burger Up

BoomBozz Pizza and Brewery

Jack Brown's
We'll continue to update this post as more information becomes available.