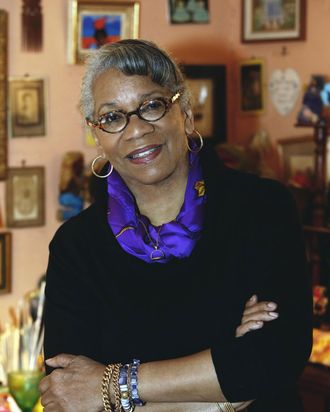 The James Beard Foundation announced today that Jessica B. Harris, one of the foremost scholars on food from the African diaspora and a founding member of the Southern Foodways Alliance, will receive the 2020 Lifetime Achievement Award. (Last year, Harris was named to the organization's Cookbook Hall of Fame.) The award recognizes "a person in the industry whose body of work has had a positive and long-lasting impact on the way we eat, cook, and think about food in America."
Harris is only the second African-American woman to receive the award after the late New Orleans chef Leah Chase, who received the Lifetime Achievement Award in 2016. For five decades, Harris documented the legacy of the African cuisine both in more than a dozen books and in her work as a professor at Queens College/CUNY.
In a statement shared through the foundation, Harris writes, "I am humbled, honored, and more than a little astonished to receive this singular award. I am mindful that while my name is on it, it is also meant for those African Americans in the hospitality world in the past who labored unheralded, un-thanked, and for too many centuries unpaid or underpaid. I hope that this extraordinary honor heralds the beginning of a new era when all Americans can sit down and fully participate at the nation's table and none of us are strangers at the feast."
The foundation also announced sustainability organization Zero Foodprint as this year's recipient of the Humanitarian of the Year and a $20,000 grant, the first time money has been awarded to a humanitarian recipient. Both Harris and Zero Foodprint will be recognized at the 30th annual James Beard Foundation Awards on May 4. This month, the organization will also share the name of this year's finalists for its chef and media awards.