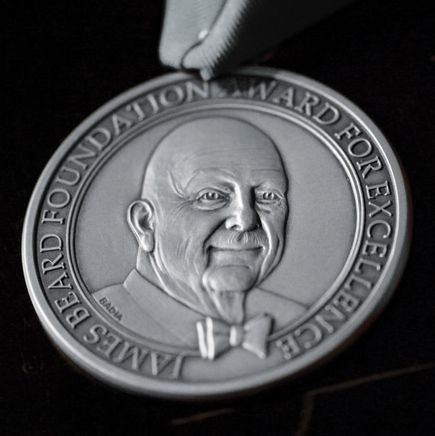 Photo: James Beard Awards
After postponing its annual awards until summer 2020, the Beard Foundation announced today that it is taking applications for a relief fund that will award $15,000 apiece to restaurants across the 12 regions that make up the foundation's chef awards each year. Here's how the process will work:
Applications for the first round will be accepted through April 3 at 3 p.m. ET.
The foundation opened its applications today and will accept applications through Friday. Restaurants must apply using the application that corresponds to the region they are in, which includes New York State; Northeast (CT, MA, ME, NH, RI, VT); Mid-Atlantic (DC, DE, MD, NJ, PA, VA); Southeast (GA, KY, NC, SC, TN, WV); South (AL, AR, FL, LA, MS, PR); Great Lakes (IL, IN, MI, OH); Midwest (IA, KS, MN, MO, NE, ND, SD, WI); Mountain (CO, ID, MT, UT, WY); Southwest (AZ, NM, NV, OK); Northwest & Pacific (AK, HI, OR, WA); California; and Texas.
The amount raised for the relief fund will be distributed equally between the 12 regions.
The Beard Foundation has been raising funds from corporate partners, the foundation itself, and individual donors since March 19. The organization has not said how much money is in the fund, but no region will be favored over another.
Only small restaurants and restaurant groups will qualify for the assistance.
Large restaurant groups and chain restaurants that employ hundreds or thousands of people are not eligible. To qualify for the one-time payment of $15,000, restaurants must have had 100 or fewer full-time and part-time employees as of February 15. Restaurant groups that employ 100 or fewer full-time and part-time employees at each of their restaurants also qualify.
The foundation will review proof of ownership, social media, websites, and more as part of the application process.
To qualify, restaurants must share their tax ID number, banking information, proof of ownership (business license, liquor license, health certificate, etc.), online presence if applicable, and number of employees.
Applications will be processed until each region exhausts its funding.
Once funding runs out in a region, no more funds will be allocated to that region. But if additional funding comes in, it will be equally distributed between regions and restaurants that put in applications early on, but did not receive funding in the first round will be considered before any new applicants. Additionally, if by April 15 one region has remaining funds while another has run out, the Foundation reserves the right to reallocate those funds to another region or regions.
There is a "moral clause" of sorts.
Here's how the Foundation puts it: "The Fund, in making these charitable grants, wants to promote a safe, fair, and respectful workplace. Any restaurant that does not provide a workplace consistent with these values will be disqualified from receiving a distribution from the Fund."
Apply here.