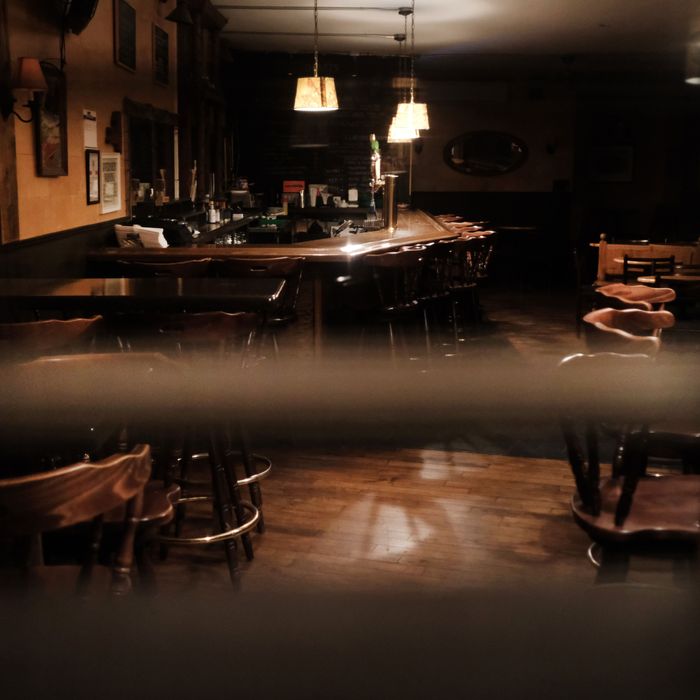 There's no time.
Photo: Spencer Platt/Getty Images
The restaurant industry is facing an unprecedented existential crisis. The reality of a prolonged shutdown — two weeks? A month? Longer? — will mean the end of many restaurants and bars. The longer they're closed, the more that simply won't come back. People's livelihoods and dreams, the communities they've created, the sweat and hard work and success they've achieved — that will all disappear. This has not gone unrecognized by the people who care about restaurants and bars and know their vital roles as social hubs and stress relievers. There's a chorus of voices making it very clear that the situation is dire, but their calls for action are — sadly, almost shockingly — being met with silence from the people who could really help.
The problems are not a secret. Momofuku founder David Chang is one of the most vocal, visible members of the hospitality industry. This week, he tweeted "we are so fucked" without "a massive stimulus bill." New York Times restaurant critic Pete Wells used his pulpit to write that restaurants, like other small businesses, need immediate action from the government. He cites Tom Colicchio who says, in no uncertain terms, "This is the end of the restaurant business as we know it." Eater's Hillary Dixler Canavan called current consumer-driven efforts like ramped-up delivery and gift certificates "Band-Aids, temporary stopgaps to stop hemorrhaging money. " The Atlantic's Derek Thompson writes that "restaurants in a pandemic are like beachfront properties in a hurricane." And here on Grub Street, the restaurateur Alex Stupak spoke from within the eye of the storm: "We went from a little money in the bank to bled dry. It was not a slow, steady decline — it was a straight drop." The same, of course, is true for the industry's 250,000-plus workers, most of whom have effectively been laid off with nowhere to go, and no income on the horizon — a scenario that is particularly dire for the many, many undocumented workers in the industry.
When New York City mayor Bill de Blasio announced that all restaurants and bars would have to shut down indefinitely, there was no mention that action would be needed to save restaurants or help the city's service workers. And as more cities have shut down, there has seemed to be little in the way of such talk. San Francisco mayor London Breed announced a $10 million program for businesses to provide additional sick leave for workers, but it has felt like a lonely bright spot. (Meanwhile, major fast-food chains like McDonald's and Pizza Hut — the kinds of restaurant companies that have the best chance of weathering this massive downturn — have been cravenly denying workers paid sick leave.)
The actual human beings who make up the hospitality industry simply will not be able to survive this disaster, and it is unconscionable that the people in charge, so far, seem willing to simply let them become casualties of the crisis.
The only thing officials have done is worsen their situation by a lack of clear guidance or immediate action. These workers don't have income or a clear path to another source of income, but they do have bills and they do have to feed themselves. They can't count on the social safety net that's been exposed in all its weaknesses — they've just been hung out to dry.
Critics say that the stimulus package the Trump administration is pitching won't help the people who actually need it most. As the Washington Post reported earlier this week, special federal relief is being considered for casinos, cruise lines, airlines, hotels, and the oil and gas industry. There was no mention of the hospitality industry, even as they face the most dire of consequences.
The hospitality industry does not offer its workers much in the way of stability. Most people in the industry live paycheck to paycheck, and don't have any benefits beyond unemployment. Adequate health insurance and other benefits are hardly a given. A bill moving through Congress to provide paid sick leave to employees who don't have it contains major loopholes that would leave out millions of workers.
This morning, before reports of a possible stimulus package, Chang tweeted that the White House was having a call with the restaurant industry, but this is not necessarily good news. "I don't think there is one independent operator on the call," he wrote. After the meeting, CNBC reported that only representatives from major fast food companies were on the call. This is, sadly, not surprising. Who has time to think about the people who work at and operate neighborhood restaurants when there's corporate welfare to worry about?
The problem is that it will soon be too late to do anything at all. This isn't about saving the chance to go buy $16 bespoke cocktails or heritage-breed pork chops. It is about saving the people who work so hard to make everyone's lives better, in an industry without the basic protections that many of us take for granted. Without them, we'll all be lost.
We're committed to keeping our readers informed.
We've removed our paywall from essential coronavirus news stories. Become a subscriber to support our journalists. Subscribe now.