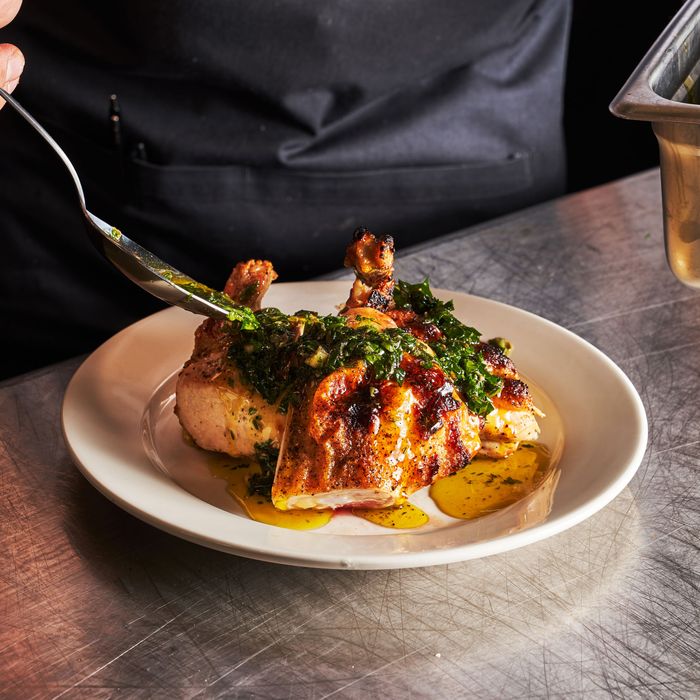 Plating JW chicken in Barbuto's new kitchen.
Photo: Andrew Bui
We should probably start with the oven: At the original Barbuto, the neighborhood trattoria that stood at the corner of Washington and West 12th Streets until it was forced to close last spring, the oven was an oversize steel beast that blasted steaks, pizzas, and the restaurant's famous roast chicken. It was the focal point of the open kitchen and, by extension, of the restaurant itself. (New York firefighters also used it, on at least one occasion, to calibrate their temperature guns.) So there was some discussion over what should be done with the oven when it became clear that Barbuto would move to a new location. In the end, the logistics of transporting, storing, and reinstalling this piece of equipment — storied though it may be — just didn't make a lot of sense, so Jonathan Waxman and his team decided to build a new one. The dimensions of the new oven are a bit different, but it's modeled after the original, and built by the same designer, Nobile Attie from Red Hook. The new oven is, in other words, ever-so-slightly updated and upgraded, but it's basically the same thing, which is what you can now say about Barbuto itself.
"What I had up my sleeve was my employees and that culture," Waxman says. "I couldn't duplicate the garage doors, but I had the bartenders, the waiters, the bussers, the runners. All those people came with me, and that's the core of the restaurant."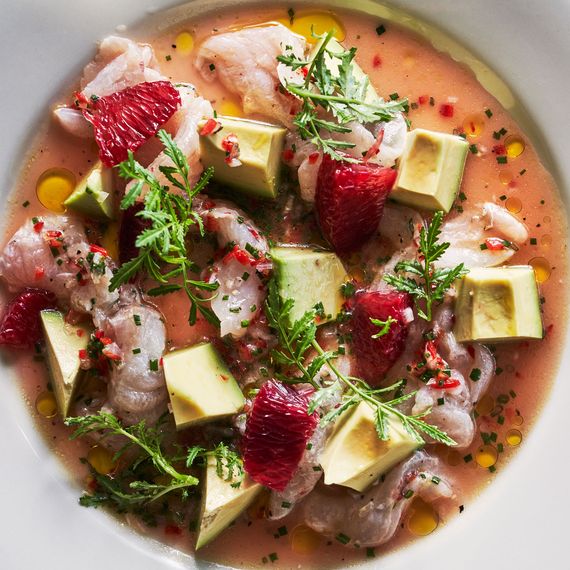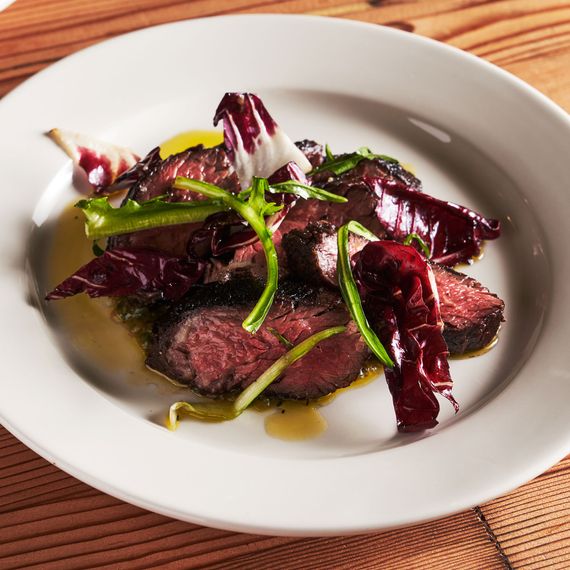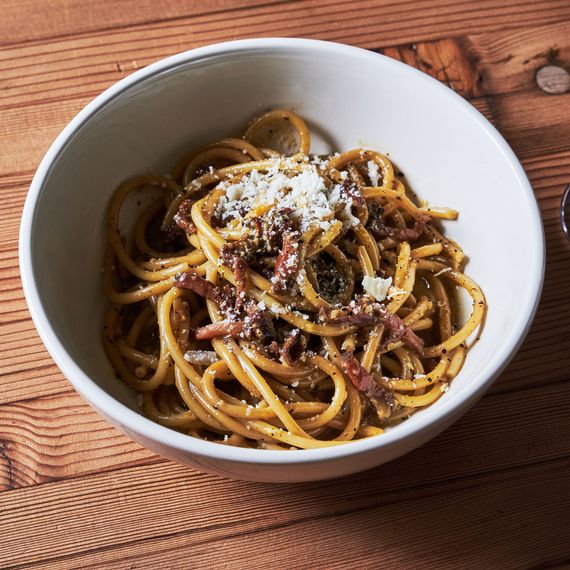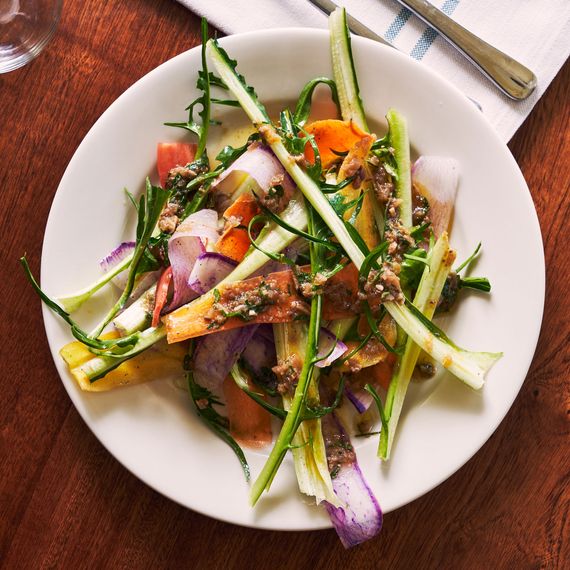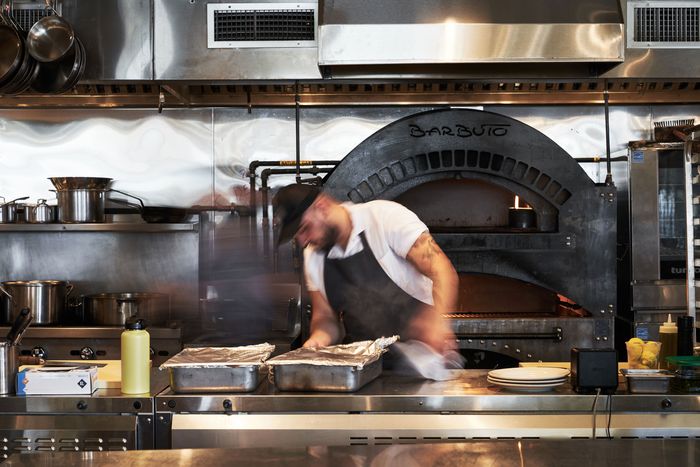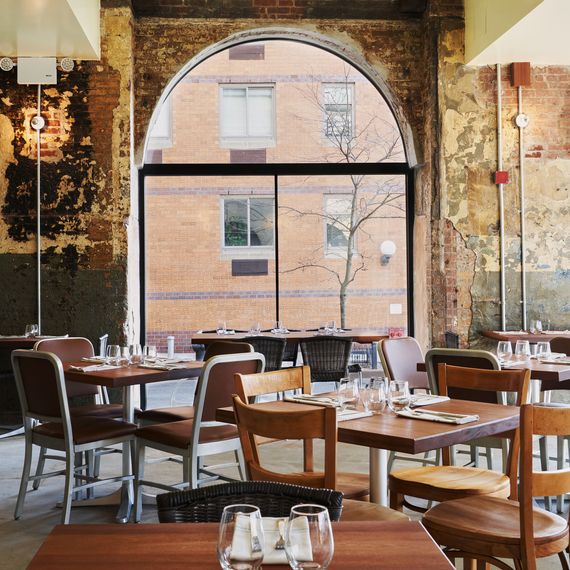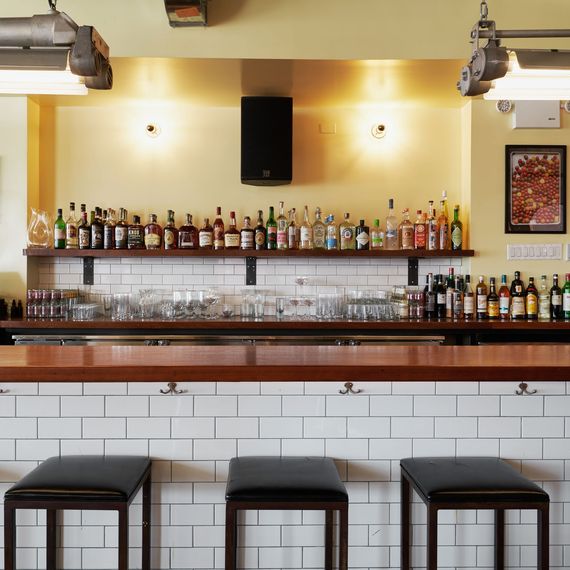 Everyone at the restaurant mentions those garage doors, one of the original restaurant's defining design features, and that's mostly because they're just about the only thing that aren't the same at the new spot. Yes, there are a couple of new menu items — fluke crudo, for example, and Waxman says he plans to add almonds, in addition to olives, as a snack — and those garage doors have been replaced by oversize windows that overlook the Hudson River and New Jersey. All the other changes, though, seem like they're mostly under-the-hood stuff designed to make employees' lives a little easier: The kitchen and dishwashing station are bigger, the equipment is new, there's a dedicated garde manger station, a big window next to the pastry station — that sort of thing. Just like that oven: The whole restaurant is the same, but different.
So how did Waxman manage to close, move, build, and reopen a restaurant in less time than it takes most restaurateurs to find a suitable space? He locked down the lease years ago: "About four years ago, I decided I wanted to open a restaurant in this location, so I took the lease," he says. "Not for Barbuto. I just paid rent on it, we didn't really do anything, and I got busy with other projects. When we finally got the notice that we were going to have to leave, my partner said, 'You have that space on Horatio Street; you should just do Barbuto there.'"
He says that if the team hadn't wanted to reopen Barbuto, he wouldn't have done it. There was trepidation about moving, but in the end, they had no other choice. "We were holding onto the hope that we wouldn't have to move, that somebody would buy the building, renovate it, and put us back in there with a kitchen like this," Waxman says. "But that didn't happen — this happened, and, in a way, I got my wish, just in a different spot."
For now, the restaurant is open Tuesday to Saturday from 6 to 9 p.m., and those hours will expand over the next few weeks as the team gets back up to speed. (They'll also begin to take reservations for large parties at the two chef's tables.) There are a few reservations on Resy, and GM Jen Davidson says walk-ins are welcome at the bar.
Barbuto, 113 Horatio St., at West St.