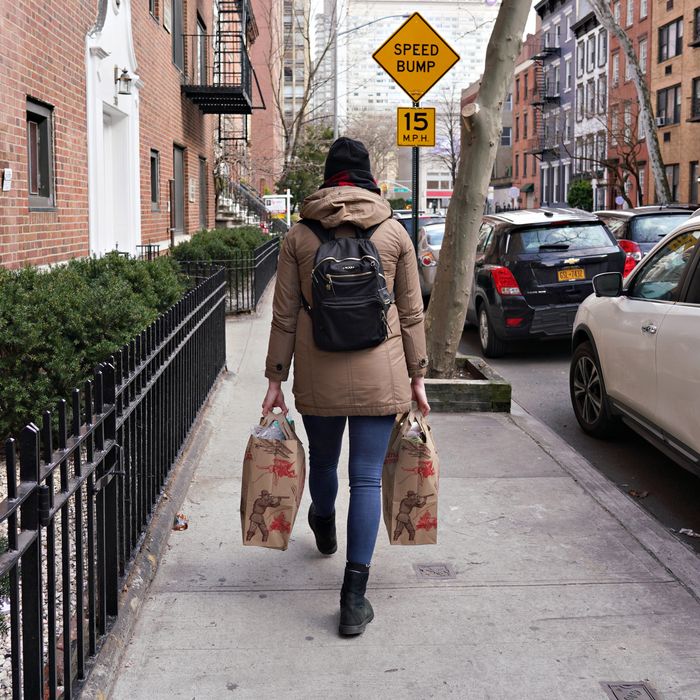 Or, at the very least, be neighborly.
Photo: Cindy Ord/Getty Images
On March 15, along with 1.1 million other students, Maeve Foley learned that public schools in New York City would be closed. The 17-year-old high-school senior, the youngest of four, realized that she would likely complete her final year of high school from the comfort of her parents' Carroll Gardens apartment — and she still had weeks to go until virtual learning began. She was ridiculously bored.
"I really like being in school, and I really like helping people," Foley, who playfully describes herself as having a "New York superiority complex," says. "It felt weird to be sitting around, not doing anything to help."
Her response: posting flyers around the neighborhood offering to pick up groceries and prescriptions for anyone over the age of 65. "I figured going to the store could be a scary situation for older people who may be immunocompromised. I can't make a large-scale difference in terms of fighting the virus, but this seemed like something small I could do." In all five boroughs, people like Foley are stepping up to help neighbors in need. "As I was hanging the flyers," she says, "a couple of complete strangers volunteered to join me."
"This reminds me of the time after 9/11 when people came together," says Kate Ramsey, a public-health professional of 20 years. "And we hope it'll be the same now."
Ramsey recently connected with Grace Linderholm, a fellow Brooklynite looking to organize a grocery-delivery effort in the neighborhood. After putting together a safety protocol with the help of Linderholm's mother, a physician, and Geoff Shively, who had experience in logistics, they launched their collective: Brooklyn COVID-19 Mutual Aid. Within a few days, the group had attracted three dozen volunteers. Now, there are 82 of them. Organizing the effort has given Ramsey a sense of control in an otherwise fraught situation. "Doing something good is good for your mental health," she says. "It helps you get out of your head."
Another local group, called Invisible Hands, already has north of 7,900 volunteers, thanks to its sleek website and social-media-savvy founders. "This whole organization started with a Facebook post that was like, 'Who among my friends do I know that is able-bodied and young and wants to help out other people who are at high risk just by grabbing groceries or running errands or little things?,' " says co-founder Healy Chait, an NYU undergrad.
"People underestimate our generation," she says. "Not to say that all of the thousands of our volunteers are millennials, but I'd say an overwhelming amount is that generational divide of young people helping older people." Like an ersatz city agency, Invisible Hands created flyers and had them translated into 13 different languages, including Gujarati, Bengali, Vietnamese, and Greek, by its network of volunteers. Its footprint stretches from Long Island to New Jersey, and it's made over 400 deliveries requested over the phone and online. "We like to say," says Chait, "that just because we're doing social distancing, that doesn't mean you have to do emotional distancing."
We're committed to keeping our readers informed. 
We've removed our paywall from essential coronavirus news stories. Become a subscriber to support our journalists. Subscribe now.
*This article appears in the March 30, 2020, issue of New York Magazine. Subscribe Now!