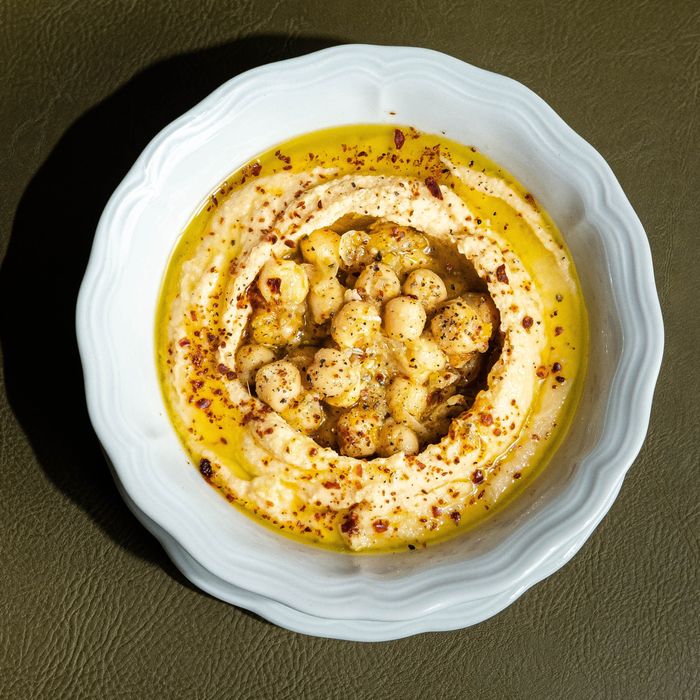 Da Toscano's Ceci in Umido features both whipped and whole chickpeas.
Photo: Diane Sooyeon Kang
In these wildly uncertain times, there's one thing we can all agree on: beans. Thanks to the heirloom-bean boom, there have never been more varieties to eat by the spoonful (or to hoard in our pantries). Good news: Chefs love them, too, and the city's restaurants are filled with brothy beans, whipped beans, beans on their own, beans as accoutrements, tender beans, and hearty, textured beans. All you have to do is order them.
Ceci in Umido
Where: Da Toscano
How Much: $11
Chef Michael Toscano's take on the Umbrian-style stewed chickpeas is a master class in texture. Chickpeas are first simmered in a mirepoix-and-tomato broth that's hit with black and aleppo pepper for heat. The kitchen team then turns some of the cooked chickpeas into a creamy spread and then the whole thing is drowned in extra virgin olive oil.
Ful
Where: Lamalo
How Much: $5
Ful is Egypt's fava bean-centric answer to the question, "Do beans belong at the breakfast table?" Lamalo's take on the centuries-old favorite is both creamy and rustic, thanks to a combination of pureed and whole beans made more full-bodied with cumin and garlic. Jalapeños give it a little kick to jump-start your day.
"Beans"
Where: Leo
How Much: $8
This dish doesn't have the most descriptive name, but here's what you need to know: The beans in question are fat Rancho Gordo scarlet runners, roasted with sage and rosemary under the heat of Leo's pizza oven. There's extra smoke in the finished dish, thanks to that stalwart of Turkish cooking, Urfa biber.
Smoked Pit Beans
Where: Hometown Bar-B-Que
How Much: $6–$10
As the name suggests, this favorite side dish from Hometown is smoked all night and served with the burnt ends from the restaurant's brisket. But what you might not know is that there are actually three bean varieties — large butter beans, medium-sized pinto, and small navy beans — for a mix of textures.
Squid and beans
Where: Diner
How Much: $20
The menu at this Brooklyn restaurant is constantly changing, so make it your mission to get there while this simple, flavorful combination of lightly sauteed whole squid, oil-cured and chili-infused olive vinaigrette, and heritage cranberry beans (braised with green garlic and sage) is still up for grabs.
Caldo gallego
Where: Pilar Cuban Eatery
How Much: $6–$10
This Spanish-born soup features meaty Great Northern beans, Yukon gold potatoes, and collard greens along with a trilogy of pork: spicy chorizo, salt pork, and ham hocks.
Tlacoyo
Where: La Morada
How Much: $12
Anyone familiar with the life-changing qualities of a great arepa will love the tlacoyo at La Morada, the celebrated Oaxacan restaurant in the Bronx. It's essentially a masa corn cake filled with black beans cooked just short of falling apart and then topped with tart strips of cactus.
Huevos Kathmandu
Where: Dimes
How Much: $13
Skip another plate of huevos rancheros in favor of huevos Kathmandu, with warm, gently spiced chickpeas, spinach, and sweet, tangy date relish under a fried egg. A gingery chutney with cilantro and coriander brings some brightness to this hearty dish.
White bean hummus
Where: Soho Diner
How Much: $12
Everything on the menu at this 24-hour diner seems tweaked for modern tastes, like vegan banana pancakes and waffle fries with raclette. There's also this spin on classic hummus, where chickpeas are replaced with navy beans. Tahini and za'atar deliver a sesame-seed-driven punch of nutty flavor.
Butter beans
Where: Misi
How Much: $14
Pasta may be the main reason to go to Missy Robbins's second restaurant, but the antipasti game is equally strong. Look for these perfectly comforting butter beans with Calabrian chili, salty Pecorino cheese, and kale that's cooked in the resulting broth.
Black bean quesadilla
Where: Boca Santa
How Much: $12
At this Bed-Stuy Mexican destination, the menu is spare, but the food is big on flavor. This vegetarian quesadilla packs more of a punch than expected, with black beans refried in olive oil, and thick queso fresco bringing the heft. Sharp watermelon radish and serrano-chili-based salsa tatemada adds some much-appreciated freshness and heat.
Baked Eggs
Where: Floret
How Much: $14
Think of this as deconstructed shakshuka: Onions and Tuscan kale get cooked down with thumb-sized, aromatic gigante beans. Instead of plain tomatoes, chef Joe Ogrodnek finishes the dish with spicy, tomato-based harissa and Parm-topped, oven-baked eggs.