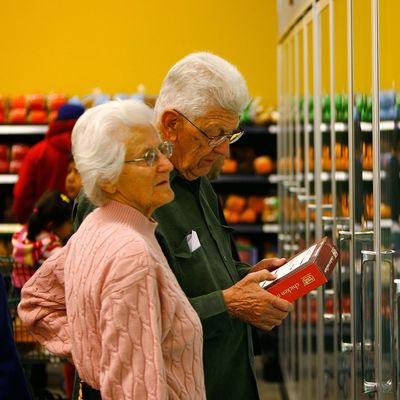 A number of chains are offering dedicated hours for people more vulnerable to coronavirus.
Photo: David McNew/Getty Images
Grocery stores around the country have been slammed by a tidal wave of shoppers panic-buying, stocking up on beans and nonperishables. No doubt you've seen the photos of empty shelves recently stocked with frozen food, heard stories of people buying 40 rolls of toilet paper, or found yourself jostling through a crowd or waiting in a line of people winding around a store. They are places people continue to congregate at, while other storefronts are empty, out of necessity.
The deluge of people in close quarters, however, means these stores aren't necessarily safe for people more susceptible to coronavirus, including the elderly and immunocompromised. In recognition of that, some grocery stores have started offering dedicated time, or expanding their hours, for at-risk people.
USA Today reports that a number of companies are doing this, including Albertsons (which operates Acme, Safeway, and Vons), which is reserving two hours on Tuesdays and Thursdays for vulnerable shoppers; Dollar General, where the first hour at stores will be for seniors only; Target, which is reserving the first hour of shopping for vulnerable groups; and Whole Foods, which is allowing shoppers over 60 to come in early. (Whole Foods, do note, owned by Amazon, is reportedly not giving its factory workers paid time off.) Jersey City has taken the step to mandate that grocery stores with three or more cash registers will only serve senior citizens, the disabled, and pregnant from 9 a.m. to 11 a.m.
However, the Washington Post spoke to an infectious-disease doctor who expressed concern about senior citizens congregating to shop during designated hours. Texas chain H-E-B tells CNN it will not be instituting such hours, over fears it is "not a safe idea." People around the country have responded to the coronavirus crisis by setting up mutual aid networks to those in need in their communities, including in New York. A crowdsourced list of such groups can be found here.
We're committed to keeping our readers informed.
We've removed our paywall from essential coronavirus news stories. Become a subscriber to support our journalists. Subscribe now.