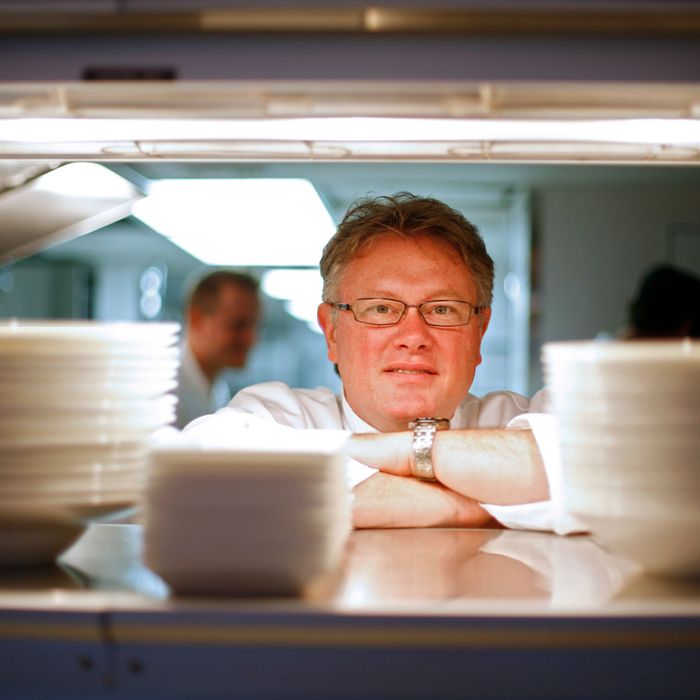 Kunz, in 2007.
Photo: Chris Goodney/Bloomberg via Getty Images
When the chef Gray Kunz left his midtown restaurant Lespinasse in 1998, rumors began to circulate among the city's kitchens of a two-inch-thick binder, full of Kunz's famously imaginative recipes. "His recipes became a kind of currency," says Doug Psaltis, a chef who cooked in New York's fine-dining restaurants at the time. A single recipe could run three to four pages, including sub-recipes with 15 or more ingredients. "The binder was more valuable than any published cookbook," Psaltis explains. "You heard of chefs using it, but it was never seen — it came and disappeared."
Kunz's food, approach, and techniques had broad influence long before anyone could instantly spot-check a chef's plating on Instagram and years before photo-heavy roundups of standout dishes. His work achieved a near-mythical status among cooks. Rocco DiSpirito, who cooked at Lespinasse in its earliest days, says that Kunz constantly "created stunning new flavors that to this day have not been duplicated." Kunz, who passed away last week at the age of 65, invented his own style of cooking and rewired the collective palate of an entire generation of chefs along the way.
Kunz's culinary career spanned three continents, and he seemed to be at home everywhere. Born and raised in Singapore, Kunz ordered noodles and rotis from hawker stalls in Malay, his first language. Broad flavors of migration mingled in the local street food — makrut lime from local orchards and ketjap manis from Indonesia, a country that once deported his Swiss father. Home dinners were prepared by the family's Chinese chefs. On Christmas, 11-year-old Gray Kunz ate cookies with kirsch icing that his father had specially imported from Basel.
In 1979, Kunz landed his first big job at Frédy Girardet's namesake restaurant in Crissier, Switzerland. Girardet, once dubbed "the Einstein of cooking," liked to say that "one can only do well what one loves." His house style was termed cuisine spontanée, a version of the nouvelle cuisine pioneered by his peers Roger Vergé and Paul Bocuse and a fancy way of saying he made things up as he went along. For chefs of a certain age and temperament, Girardet's influence was immeasurable. Kunz became Girardet's mentee and stayed five years, then left for Hong Kong to cook and learn Cantonese cuisine, before settling in New York.
In the summer of 1991, Kunz opened Lespinasse in the St. Regis hotel. His early menus were outlandishly Michelin-scale, set to match the gold trim and velvet brocade of the dining room. Servers presented chanterelles in silver dishes and bragged about walleye flown in overnight from Lake Superior.
But course-by-course, month after month, diners found the standard-bearing flavors of truffles and French butter giving way to a more unpredictable palate: the brightness of lime leaf lacerating braised fatty pork cheek; traces of the Indian fruit kokum souring small bites of salmon and artichokes; braised short ribs practically candied with tamarind. Continental spaetzle with lardons and onions, or risotto with a fricassee of mushrooms, made appearances, too. For Kunz, it all meshed.
"The waiter would ask about allergies, and then it was all a surprise," says Peter Kaminsky, co-author of Kunz's cookbook, The Elements of Taste. "Gray always had in mind what he called the Golden Thread — something, perhaps understood only by him — that tied all the parts of a meal together."
"I wanted to do something different, but it was hard to get that big foie gras off my back," Kunz explained. The chef also disavowed any notion that he cooked "fusion" food (at the time, white chefs didn't merely appropriate other cultures' food; they fracked it beyond recognition). Instead, Kunz offered a thoughtful, deeply polished style of creativity.
Critics immediately took notice, but it was Ruth Reichl's four-star review, in 1994, that cemented Kunz's legacy. "Gray had this instinctive understanding of flavor and texture," Reichl says now. "It was, like, in his bones. It was literally inside of him."
By the '90s, that newest generation of French brigade kitchens wasn't closed off entirely to American cooks and ideas, but many still followed the tenets of fine dining established by traditional restaurants like Le Pavillon, La Côte Basque, and La Caravelle.
Kunz followed his own ideas, like combining a foie slice with venison and rose hip syrup for an elaborate amuse-bouche. "I still haven't tasted a lot of dishes that matched its complexity," said the chef Andrew Carmellini, who worked at Lespinasse and could still recall the dish, 20 years later. In 2012, Carmellini made it clear just how deeply Kunz's influence ran in his own kitchens: "Whether we make fried chicken or raviolis, whatever we do really stems from Lespinasse."
Kunz staffed his kitchens with cooks from many backgrounds, some with upbringings that, like his own, bridged multiple cultures. As a recent culinary school graduate, Brian Bistrong found himself flanked on garde-manger by two cooks from Hong Kong. "They just had incredible knife skills," he says. For a time, Kunz's cooks were the vanguard. "You wanted to find out who worked the line and get drinks with them," Psaltis says.
"He was ahead of his time, in everything," Reichl says. Here's a pre-pre-Noma foraging session in the pages of New York, in 1995. And the city's first commercial induction range, central to Lespinasse's million-dollar kitchen renovation, in 1994, and the regal "Vegetarian Degustation" menu, overstuffed with Japanese yams and artichoke fondue, around 1991. Kunz even took credit for convincing Greenmarket farmers to sell pea shoots — "I knew them from Hong Kong," he said — and the revelation that he used Cream of Wheat to bread soft-shell crabs sent cooks down cereal aisles to see what they might do about their own calamari.
He also, of course, perfected his own tasting spoon, and the famed Kunz sauce spoon is now part of thousands of cooks' knife kits. Kunz encountered the basic shape while working at Girardet, then tracked down the manufacturer and worked to design a slightly unbalanced version that "tips forward when you have it in your hand," he once said. Bistrong recalls Kunz would spend hours in his office carefully etching brigade station names into each spoon in his kitchen.
Kunz inspired fierce loyalty among his cooks because of his own commitment to their work. In 2004, Kunz opened a new restaurant, Café Gray, in the Time Warner Center. The design, which reportedly cost $6 million, caused immediate uproar. Kunz had deliberately placed the open kitchen between the dining room and the oversized third-floor windows.
"I can't think of another restaurant in this city that so wantonly wastes such a potentially pleasant panorama," wrote Frank Bruni, the Times critic at the time.
"It clearly annoyed the public that the chefs got the view," Reichl says of the choice. But "he really felt deeply that the diners wanted to see the work."
As always, Kunz knew what people were seeing and saying, and decided to follow his own instincts. "I am not going to change a single thing in this restaurant because of a critic," Kunz said in 2005. And, true to his word, until the restaurant closed, his cooks, working with their carefully calibrated spoons, got the exact view that Kunz felt they deserved.