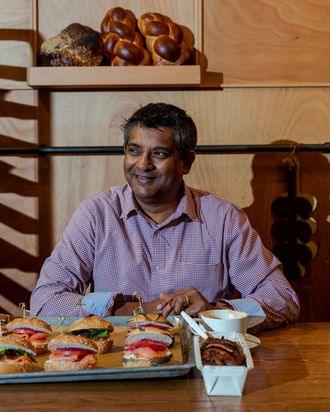 Cardoz, in 2018.
Photo: Mark Abramson
The great chef Floyd Cardoz passed away, after testing positive for COVID-19. The cause of death was coronavirus, and the Indian news website Scroll reports that his family confirms the news, which first started circulating in the Indian media, after the author Rajdeep Sardesai tweeted about it. Cardoz was 59.
Cardoz had admitted himself to a hospital in New York after developing a fever, according to an Instagram post he put up on March 18. (That post was deleted and replaced by another.) The chef had been in Mumbai, where he ran the acclaimed restaurants Bombay Canteen and O Pedro, and had returned to New York on March 8. The Indian restaurant group Hunger, Inc., with which he ran his Mumbai restaurants, had put out a statement confirming that Cardoz had tested positive for the coronavirus.
The chef first came to New York from his native Mumbai in 1988, and in 1992 found himself working for the late Gray Kunz at the influential Lespinasse. After several years at that restaurant, he went on to open Tabla with Danny Meyer's Union Square Hospitality Group in 1998. Tabla was immediately welcomed by critics and diners, and in 2016, New York Times critic Pete Wells explained its larger influence, writing that Cardoz's cooking "helped end the era in which the fine-dining wing of the restaurant business operated as a club to which cuisines of non-European descent need not apply."
After Tabla, Cardoz would go on to open other restaurants serving European cuisine, first North End Grill with USHG and then White Street, before returning to Indian food during the middle of the last decade. In 2015, he opened the Bombay Canteen in Mumbai, a restaurant that has been a "blockbuster success" since it opened, followed by the opening of Paowalla in New York in 2016. (O Pedro opened in Mumbai in 2017.) That restaurant, unfortunately, was short-lived. It was retooled as the Bombay Bread Bar in 2018, which Cardoz then closed last summer.
Cardoz's passing is a sad and significant loss for New York, Mumbai, and the world of Indian cuisine: He changed the way New Yorkers, broadly, thought about Indian food with his restaurant Tabla, and paved the way for South Asian chefs that came after him.
As the many remembrances going around echo, Cardoz was a gregarious man who had a lot of love and passion both for his culture and people. Along with his restaurants, he published cookbooks, including, most recently, Flavorwalla in 2016, and became more widely known through his appearances on Top Chef Masters. He made an appearance in the second season of Dave Chang's Ugly Delicious, which was released late last month.
If you got a chance to talk to Cardoz about food, you'd hear the passion spooling out whenever he started rhapsodizing about Indian fruit or chili chicken or one of his other favorite things to eat. But you'd also find out that he was a father who cared deeply about his family. His wife, Barkha, and sons, Peter and Justin, survive him. Grub Street will continue to update this post with any new information about Cardoz's passing.
We're committed to keeping our readers informed.
We've removed our paywall from essential coronavirus news stories. Become a subscriber to support our journalists. Subscribe now.