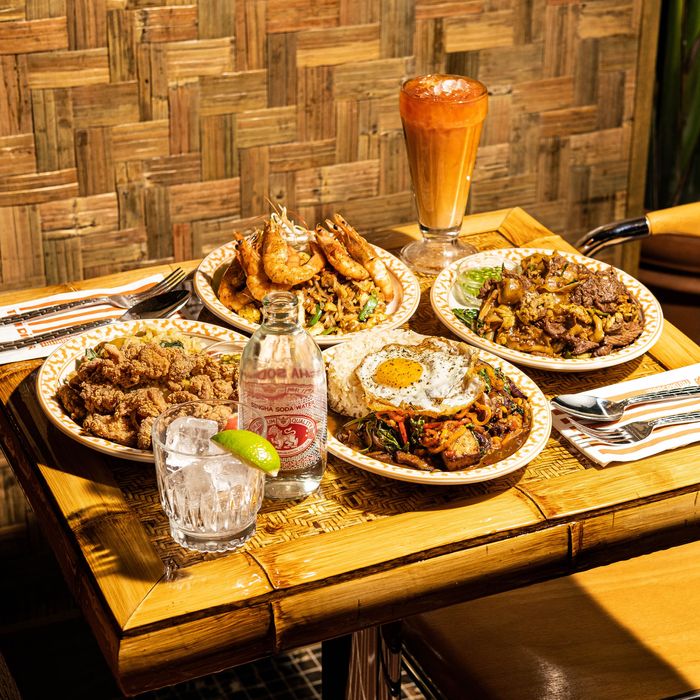 A spread of wok specialities from Thai Diner.
Photo: Diane Sooyeon Kang
Even in times of global dislocation and low-level public panic, nothing gets between sturdy, unflappable New Yorkers and an animated date at the latest no-reservations-taken weekend brunch spot. Or so it seemed at the newly opened Thai Diner, on Mott Street, on a recent bright Saturday afternoon. People loitered outside on the sidewalk, still waiting for tables or a seat at the sleek, polished bar to clear, when we pulled up for a late-afternoon snack. Inside the bright, wood-toned corner space, crowds of chattering revelers devoured stacks of coconut-milk pancakes garnished with slivers of papaya, and sipped dizzying neon-colored cocktails with names like "Bangkok Dangerous" and "Siam Fizz."
In case you haven't heard, this new diner is the brainchild of Ann Redding and Matt Danzer, the couple behind the popular Nolita Thai destination, Uncle Boons. Like the mothership, this new outlet is decorated with festive Thai tchotchkes of every kind — wooden elephants, toy-size Buddhist shrines, and a large portrait of the King himself, hung with a garland of orange jasmine. The ceiling is covered in woven rattan and, in the glass display lining one side of that polished wood bar, you'll find — instead of slowly aging slices of chocolate layer cake and cherry pie — colorful creations like Guava crumb cake and large wafer-thin lotus cookies with banana pudding.
This particular diner isn't yet open for dinner (just breakfast and lunch) but the real fireworks happen at brunch, when you  can enjoy strange, often delicious creations like bamboo dim sum baskets of gently steamed shell-on oysters served with sides of lemony nam prik for dipping, and thick slabs of babka French toast infused with Thai tea. There are chowders filled with Asian greens, nourishing bowls of duck noodle soup, and scoops of chopped chicken liver topped with frizzled onions and served with a fold of buttery roti that tastes an awful lot better than your average segment of matzo cracker or day-old diner rye.
That fresh roti shows up again in the exceptional (though at ten bucks, not exceptionally cheap) scrambled-egg sandwiches: a vegetarian option comes with avocado and bok choy, while the non-vegetarian version arrives with a wad of spicy Thai sausage. And if you call for a stack of fluffy short-order pancakes, like I did, you'll find that they're made with coconut milk and shreds of coconut, and poured with palm sugar syrup that is lighter than the maple variety, but just as sweet. That other diner staple, the "eggs your way" option ($13), was served with generous slices of avocado, too, along with strips of stiff, crispy bacon, and a golden round cake of hash browns ingeniously made not with the usual stale shreds of potato, but with soft deposits of mashed taro root.
There are other glimpses of ingenuity scattered throughout the great laminated one-page brunch menu at Thai Diner, although it's more or less impossible to get to them all in one sitting, unless you bring a busload of eager tasters. The burger loons in my little cohort gave two thumbs up to the classic house cheeseburger, which arrived at the table on a sesame-speckled roll with a mess of crinkle fries on the side. We didn't have room for the Thai tea babka, however, or the classic nam tok (spicy pork jowls), or the platter of steak and eggs, which comes with the chili-rich barbecue sauce called jaew for dipping, plus a mound of sticky rice in a glass bowl.
There was one last thing we couldn't resist, however — a fragrant amalgam of spicy chili, garlic, and basil stir fry called phat bai horapha, which for an extra few dollars you can enjoy with a generous scattering of tender, boneless nuggets of fried chicken. It's also served with a wheel of jasmine rice on the plate topped with a fried egg, which we mixed into the chilis and the chunks of chicken with our spoons. "I don't know about any of you," one of the tasters said after we'd finished this fragrant, deliciously comforting, slightly sinful creation in roughly 30 seconds flat, "but I'm going to come back here for dinner."