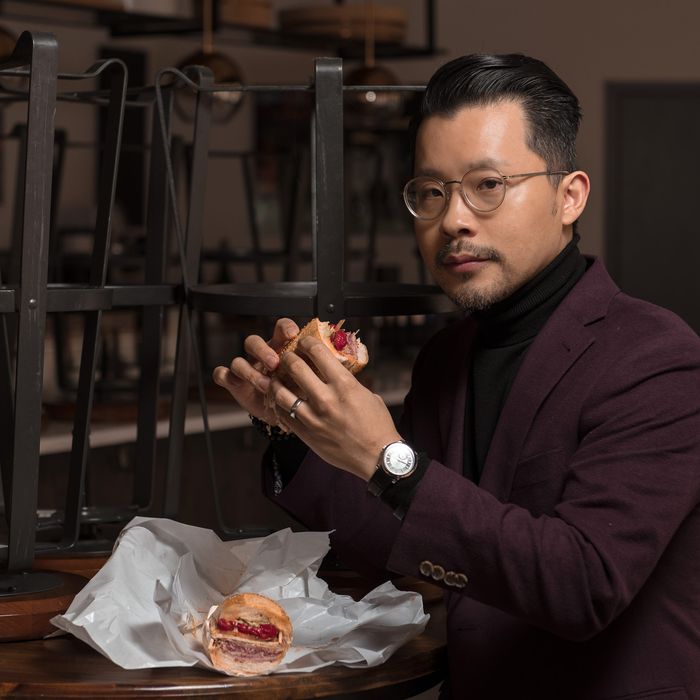 Chef Douglas Kim on the first day of New York's restaurant shutdown.
Photo: Scott Heins
Until Monday, Douglas Kim was a chef running the Michelin-starred restaurant Jeju Noodle Bar. But his life changed forever when all New York restaurants were ordered to shut down to slow the spread of the coronavirus. And while he had initially planned to offer delivery and takeout, he decided not to because of his staff's fears about recent racist attacks on Asian-Americans. "There's nothing we can do at this moment. We are just worried about how long this is going to last," says Kim. Read his Grub Street Diet below.
Friday, March 13
I usually wake up around 8 a.m. because that's when my wife goes to work. She blends tomato juice with chia seed and apple, and it becomes pretty thick after sitting in the fridge for a little bit. So after she goes to work and I sleep a little longer, I get the juice and I use kombucha to dilute it a little. Right now, I'm drinking Health-Ade kombucha. I like the Pink Lady apple.
Friday is usually my day off. When I do have the day off, I like to make pour-over coffee instead of Nespresso, because I have the time to enjoy that cup of coffee. I did that with Brooklyn Roasting Company's Ethiopian beans. Nespresso is good, but pour-over is my go-to in the morning. You know, sometimes coffee can be a luxury.
For breakfast, I roasted sweet potato in the air fryer. I heard it's really good for you, and when you cook it this way, it's really tasty. It becomes almost caramelized inside, very sweet. After that, I ate a banana and tangerine.
As a chef, I always had to go to other restaurants, when possible, to see what they're doing. But then I recently did a blood test and my doctor said, "Uh-oh, you have to stop this, otherwise you have to start taking pills to control your cholesterol." I didn't think I was being unhealthy compared to other chefs; I'd always thought about calories and what was in the dish. But I guess it wasn't enough. So I started doing a very serious diet that lasted for three to four weeks. Basically, I was eating like a bird. I'm not eating like that now, but I try to stay away from meat. I don't eat dairy. I'm 42 this year, and I don't want to be relying on pills, you know?
Until Friday the 13th, we were doing okay at Jeju. Starting Friday, things got more serious, and everybody started worrying about coronavirus more.
Later in the morning, my wife told me that supermarkets were a mob scene. So we went to the Costco near my house, which is in New Jersey, and it was almost like Armageddon, the apocalypse. The line was through the store; it looked like it would take a few hours. I was like, I can't wait for this.
I heard the Korean markets were a lot slower because people are afraid of Asians. So I went to the Hannam Chain in Fort Lee to shop. As far as people, it felt empty. Well, not empty, but a lot more civilized. I tried to buy water, but there were no more reasonable brands like Poland Spring. The only thing they had was Evian and Fiji. So I bought a box of water, and I paid $35.
Then I went to Cafe Trois, where my wife and I split a caprese sandwich and an avocado sandwich.
For dinner, I bought Kokumaro Curry mix from the Korean supermarket and made chicken curry. I like chicken. If I go into a restaurant and they make good chicken, I can tell, Okay, that's a good restaurant. I also bought chicken legs and chopped them up with the bone on. Then I made a quick brine with a little bit of soy sauce to make sure the chicken was seasoned before going into the curry. I also caramelized the onions and puréed them with chicken stock — that's the base of the curry.
This isn't a dish I make regularly, but my wife wanted it. I try to stay away from a lot of rice dishes because of my dietary restrictions, even though one of my favorite things is perfect white rice. To me, a perfect cooked bowl of white rice is an art form.
Later at night, I had Rare Tea Company's peppermint tea and Cotton Candy grapes. I usually eat a lot of fruit. I never see guys eat more fruit than me. I'm a huge fan of fruits and recently started eating them again. My wife knows; she always packs fruits in my fridge.
I've seen a lot of things like the panic-shopping at Costco — a couple times like this throughout my career and life. But I never had to worry about it because I was at work all the time. This is the first time I actually felt it. Because (1) I never had to go shopping because I ate at work, and (2) this is sort of becoming bigger than what happened before. I was in Tribeca when 9/11 happened. I got off at Chamber Street right before the first plane crash. I think this is worse than that.
Saturday, March 14
I drank the Bio-K+ fermented soy probiotic, the mango flavor. It's pretty expensive, but I think it's very good for me. I think I drink it every two to three days. I also had my wife's tomato juice with apple and chia seed, sweet potato cooked in the air fryer again, pumpkin seed, and banana. Then I had a double shot of Colombian coffee from my Nespresso.
Then I drove to Jeju and made lunch there. I was trying to be healthier, so I cooked the fish collar and made a farro salad with fresh shallots, olive oil, salt, lime, peppers, some chopped vegetables.
After I ate lunch, I started to hear more and more about coronavirus and started to get stressed out. So I think because of that, I was craving a bad thing and wanted to try this instant Shin Ramyun from Nongshim. The noodles are air-dried. I always look at the instant-noodle market, and if I see a very interesting one, I always try to buy it. But I never had the chance to eat this one. I was avoiding it.
This was a very good excuse for me to have it. I was getting stressed out.
Our reservations were dropping concerningly. Lots of cancellations. Everything was changing dramatically. After I heard on Friday that restaurants would have to reduce seating by half, I got really stressed out. I tried to figure out what's going on and I was talking with the staff, saying that we should take the tables out, everything. We were running a skeleton crew.
Restaurant margins are so thin right now, if you make 10 to 15 percent profit, that's already a good business model. Now cutting down 50 percent of capacity, that's a huge impact. It was still okay for us compared to other restaurants, because we used to do 200 covers normally. We were losing something, but not 70 or 80 percent of business from where we were before. It was a little bit lower than breaking even. I thought I could stretch it as much as possible.
Of course, we tried to stay open — we had to stay open. I noticed the big boys' restaurants started closing left and right, and I was talking with Drew Nieporent. He's my mentor and knows a lot more about the industry than I do. I was like, "Why do you think all these restaurants are closing? Because we're a small restaurant, so I don't know what they're thinking." He told me, "For them, I heard closing the restaurant is a lot more reasonable. And at the same time, they said it's the right thing to do."
Over the last week, I hadn't been talking to my managers about what was going on. I've been trying to listen to their opinions as much as possible — I want to think about what they think about. We asked them, "Oh, this big restaurant is closing, so what should we do?" And they said, "I think we should stay open because everybody is going to need a job." After thinking about cash flow and all that stuff for a while, I was like, "Okay, I think we can do this. As long as this stuff doesn't change." So that's what we did.
I ate dinner at the restaurant. We get fish at the restaurant, so every time they have a fish collar, they set it aside for me. I salt them, let them sit for 20 minutes. Then I rinse them, add a little salt, and grill the collar in the salamander. After it cools down a little, I pick all the meat, cook the quinoa, mix it, add fresh cucumber, shallot, Marcona almonds. It's sort of like a grain salad.
Back at home, I had a tangerine and a low-calorie fish-cake stick I got at the market. In Korea, they usually sell these in gas-station markets. The gas stations here have Dunkin', fast food. In Korea, most of the time they sell a quick snack like a fried fish cake on a stick.
Of course, I was thinking about the restaurant while I was at home. Then Sunday happened.
Sunday, March 15
The day started off relatively normal. I had my tomato, apple, and chia-seed juice; a mango; and Nespresso coffee. Plus some aloe extract.
So I went to work. I got there and they had oatmeal, and I always carry a banana and sweet potato to work.
I was really stressed about what was happening. At some point, my manager probably saw my face. I try to not pretend. But he was probably thinking something like, Oh, you look really dark. He told me, "Chef, you're here. Nothing is going to change." Basically he told me, indirectly, that people will get nervous. This was at 3 or 4 p.m.
My manager was like, "I think you should go home. There's nothing we can do." I was like, "Okay, yeah. You are right." If I'm standing there, the employees are going to get more stressed because I have a hard time keeping that in. So I took our amberjack-radish stew home with me; I don't usually bring some stuff home, because I'm always at work.
Our number of covers that day went down dramatically again. Usually on Sunday, we do 130 to 150 covers. This Sunday did 55. Big drop.
Then, that night, there was the new mandate. I found out when Drew called me again and said, "Oh, you're running out of options now. That makes it easier." I said, "What's going on?" He told me the government asked us to shut down by Monday at 8 p.m. Earlier in the week, we had decided that starting on Monday, we were going to cut down on the menu items to save food costs. On Sunday, that didn't really matter because we had to close the restaurant. But I told my head chef and other staff that since we have inventory, we should try to do pickup and delivery. That was our plan then.
Monday, March 16
Same routine for breakfast.
Then I went into the restaurant to talk to my staff. We were going to do a delivery and pickup system, but on Monday, my staff started raising their concerns more. Most of them come from Asian backgrounds. They told me that they have felt threatened on public transportation, and after the mandate happened they felt more scared. My head chef told me, "I don't feel safe being on public transportation." I was like, "Okay, that's a different situation."
My staff was concerned that they would get jumped or beat up by some random people because they're Asian. That, for me, is more scary than anything else. They feel like they are looked at as almost alien because they are Asian. I had started feeling like it could be a little too dangerous, because I was hearing some other Asian people were getting jumped, too. We just felt that maybe I needed to stop this whole operation and think of the safety of our own employees. What happens if somebody is jumped somewhere on the way to work? That is the last thing I want to hear. There are crazy stories. One of my friends owns Chinese restaurants here, and her son, who lives in a very good neighborhood, recently got jumped by three white dudes in his building's elevator.
I didn't know where to start. I can't do everything myself, so I need to bring the staff in. I said, "You know what? The one thing I'll try to do is to stay as thin as possible so I can at least be in surviving mode." I guess we'll see how it goes after two weeks.
After we decided not to do delivery and pickup, I told all my staff that we should sit down and eat a bowl of our ramyun because we don't know if we can come back anymore. We had prepared it for takeout and delivery before making this decision. We ate it and then closed down the restaurant.
I wanted to get some dinner, and usually when I get stressed out, there are a few things I eat: roast chicken and sandwiches. I don't know why. Sometimes, when I'm really stressed out, I can eat a whole roast chicken myself.
One of my favorite things is TAK Room's roast chicken. It's a good value. So we went to TAK Room to try to get a quick roast chicken. I wanted to eat good chicken, and at the same time my head chef had never been so I was like, "Maybe we should split the chicken?" But they had decided to close early too. Instead, we got some free fried chicken that they were giving out to go. On a normal Monday, they would've been having their fried-chicken night. I took it home and ate it.
Tuesday, March 17
Tuesday was the first day of the shutdown. I had my same breakfast routine and then I went to my restaurant to do a couple things.
I went to Faicco's Italian Specialties to see what they were doing, and the place was packed. Because it's just deli and there's no dining room, there's no regulation. When I went, there were 15 people inside. I was debating, Should I go there and get the sandwich or not? For me, there were almost too many people inside. Then I was like, What the heck, man? I'm going to go inside to try it.
I got an Italian special. Faicco's has been my go-to place because it's pretty close to my restaurant. The sandwich is pretty expensive, but most of the time you can't finish in one sitting. It's almost like two meals in one sandwich. When I order it, I always have to ask for less meat because it's so thick. There's almost like a pound of meat.
I've been bad with eating ever since we shut down the restaurant. I hadn't been drinking at all — when I go to restaurants, I drink, but I try not to socially otherwise — and then I had a beer with dinner.
I made spicy stir-fried squid and dried tiger fish, and ate a tangerine. Then I was like, "Okay, I'm going to pop open some wine," so I got out a bottle of Burgundy. I usually like all kinds of wine. Especially Champagne, lighter-body white wine. In terms of red, Burgundy or vintage bordeaux. People think I'm a wine snob.
I thought about the shutdown so much. At the end of the day, I see a lot of restaurants where they are probably not making any money or breaking even, and after this disaster, they probably don't see how they are going to come back.
Two years ago, before we got a Michelin star, I had this concern, too. At the time, I was thinking to myself, Should I close the restaurant? What is this business for? We weren't making money. We were losing money every day little by little.
Back then, at least it was on my hands. All those blames and concerns. What I did wrong. But this time, I can't do anything. So, I was thinking to myself, Should I close the restaurant? I probably have the same feeling now as two years ago. The only difference is I can't control anything.
They need to do something. I can only speak from my side, but, man, at least for us, I don't have that much debt because I've been thinking about this for a long time. What if shit hits the fan, I cannot pay these people? After we started catching up, I started paying all my purveyors and distributors cash on delivery. As for my rent, I spoke to my landlord, and thank God my landlord is being very helpful. They're going to give me half off in April. I told them straight up, "You have two options: If I close, you're done. I'm not paying rent. So what are you going to do?"
Think about this: It's only been two days so far. Everyone in the industry, they have no idea. They're just so depressed. Like, "Oh, God, what am I supposed to do?" They can't think about anything else.