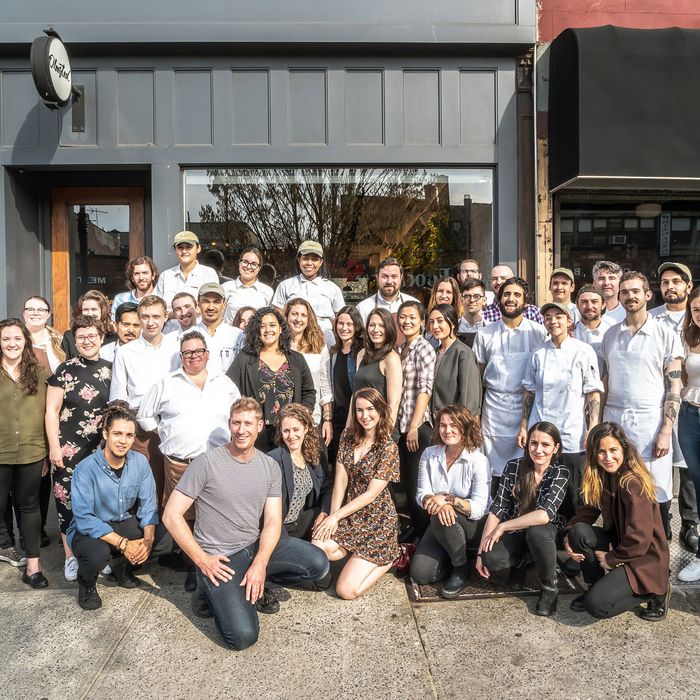 Sixty workers were laid off from sister restaurants Olmsted and Maison Yaki in Brooklyn.
Photo: Noah Fecks
On Wednesday afternoon this week, Max Katzenberg, one of the owners of the restaurants Olmsted and Maison Yaki, sat down at a computer and navigated his way to the crowdfunding site GoFundMe. In a few minutes, he set up a page for his cause: the Olmsted & Maison Yaki Staff Disaster Relief Fund.
"Terms you're hearing thrown out, 'bail out,' other things like with that sort of connotation — it's nothing to do with that anymore," Katzenberg says. "It's a disaster. We need disaster relief from the government and we need it now."
For Katzenberg and chef Greg Baxtrom, the GoFundMe was a last-ditch effort. They'd originally attempted takeout and delivery, but the risk to their staff and the low dividends no longer seemed worth it. On Tuesday, they laid off 60 employees. "Until the government comes into the game in a big, big way, we just have to do GoFundMe," Katzenberg continues. "Even, if it's very little, we have to do as much as we can for our people."
Baxtrom and Katzenberg aren't alone; hundreds of chefs have set up crowdfunding sites for their employees. The restaurateurs behind Estela, Flora Bar, and Café Altro Paradiso; Misi and Lilia; Contra and Wildair; Death & Co.; and King have all created GoFundMe pages for their staffs. Collectively, they're seeking up to $900,000.
What has forced many of these restaurateurs to turn to their patrons and the general public instead of more official channels is a lack of communication from state and local government officials about what relief will be meted out to small businesses. Governor Cuomo had not yet registered New York as a disaster-relief zone, a declaration that would allow thousands of small businesses to apply for disaster assistance loans from the Small Business Administration.
"We thought, maybe we monitor our lunch sales, and the day we dip below what we need to make lunch cost-effective, we cut lunch," says Annie Shi, one of the partners at King, which laid off 30 employees on Monday. "But we never even got to that point because the mandate to close came so quickly afterwards."
So far, the King fund has raised just over $36,000, while all the restaurants named above have raised about $235,000 between them. Each restaurateur has made it explicitly clear that none of the funds will go to the owners or toward the operation of the restaurant. At Death & Co., David Kaplan has formed a committee of six employees from the company's locations in New York, Los Angeles, and Denver to decide how funds will be shared on a case-by-case basis.
"It was really important for us to set up an egalitarian committee for it," Kaplan says. "They're from almost all positions within our company: From door to our back kitchen. They're the ones making these decisions."
Shi says one of her managers has also been referring employees to other relief funds. "There's one out there for bar backs and bartenders, there's one out there for restaurant workers," Shi says. "We've been forwarding that to our staff and encouraging them to apply."
"It's so weird to keep talking about it like what we're waiting to hear about what they're going to do about small businesses, because we make up the majority of businesses," Stone of Contra and Wildair says. "Ninety-nine percent of businesses are small businesses. That's the entire American way of life."
Meanwhile, laying off workers means those employees can immediately apply for unemployment assistance, but with tens of thousands of people now signing up for unemployment at the same time, the system has been utterly overwhelmed and crashed multiple times, as demonstrated by the frustrated comments currently flooding the New York State Department of Labor's Twitter account. And even if it was easy to get unemployment assistance right now, the amount of assistance is measly.
"250,000 hospitality professionals in New York City are about to go on unemployment, and unemployment in New York, the max benefit is $504 per week," Katzenberg says. "That's less than minimum wage."
As the pressure mounts, Kaplan believes operators will need to become even more creative in figuring out how to raise money. "Other ideas that we're throwing around internally right now are experiential or actual goods," Kaplan says. "You can bid on certain special items or experiences to be redeemed at a future date or some of them are retail items. All 100 percent of the proceeds, again go towards that GoFundMe. I'm also looking into putting a charitable widget onto our retail that would benefit an organization that helps the children of restaurant workers. I'm looking into a million different directions and things."
But as Katzenberg, who today also announced plans to build a coalition of hospitality operators, points out, these are all Band-Aids that can't cover a massive wound.
"How many of these 250,000 jobs are there going to be when this is over with?" Katzenberg asks. "That's what this comes down to. Are we talking about recession or depression? It's up to the government. If they don't want all those jobs lost, they have to come through now — right now."
Here are funds that have currently been set up by New York operators:
We're committed to keeping our readers informed.
We've removed our paywall from essential coronavirus news stories. Become a subscriber to support our journalists. Subscribe now.