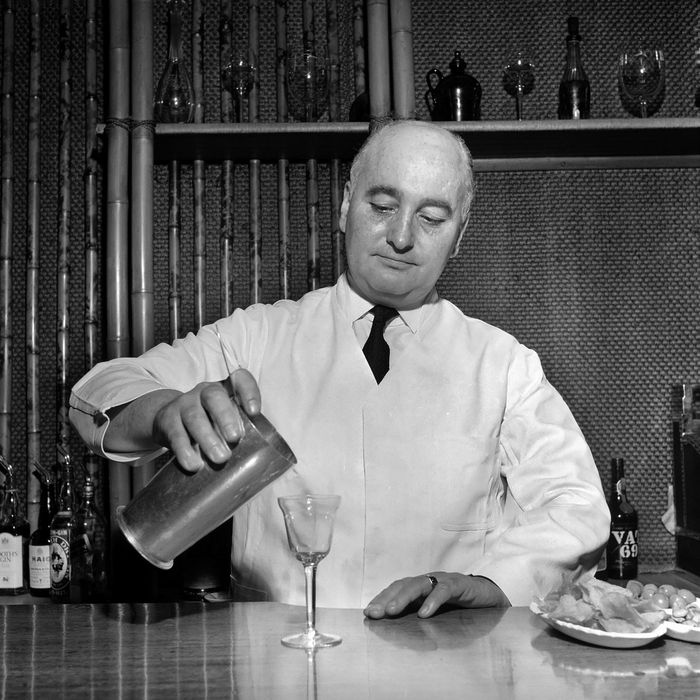 Photo: Trinity Mirror/Mirrorpix/Alamy Stock Photo
Restaurant critics tend to be always thinking about our next dinner or, more recently, our next drink. So it's no surprise that I've been put in charge of panic-­supplies procurement by the three women who run the suddenly crowded little Platt household, although one of them pulled me aside the other day as I came lumbering home bearing bags of potato chips, canisters of mayonnaise and peanut butter, and bottles of gin, and quietly said, "Dad, maybe a few more green vegetables next time."
As usual, she had a point, although in times like this, I like to remind my wife and daughters, ages 17 and 21, that you can never have too much mayonnaise and you can never have too much goddamned gin. The Platt home bar was well stocked before this global pandemic, and it's even better stocked now. As of today's count (and, yes, we conduct daily counts, the way a platoon leader counts his troops), we have two kinds of vodka, several tequilas, and multiple high-proof whiskeys and bourbons that a boozehound friend from Tokyo recently advised me to start sipping at regular intervals to keep the germs away.
We have many varieties of gin, of course: Tanqueray and Gordon's and vats of various artisanal potions smelling of cucumber and elderflower and honey picked up on long-ago trips to places like Copenhagen and Vermont. Our mixer of choice is anti-malarial tonic, which is already in perilously short supply, and for fruit, there are constantly replenished stacks of fresh lemons and limes to provide the illusion that it's summertime again and you're sitting in the backyard of a favorite neighborhood restaurant, or on a porch somewhere, sipping your drink with no cares in the world, watching the wind play up in the green treetops as the evening clouds drift by.
I'm not alone in these soothing fantasies. There are Zoom happy hours and FaceTime cocktail bashes, liquor and mixer sales are spiking all over, and why not? Check your Instagram or Twitter feed and it's possible to watch the great giants of the cocktail world, like Robert Simonson and David Wondrich, digitally measure out their old-fashioneds and martinis, and out in the suburbs friends are telling me about their ritual "Walktails," which involve mixing a stiff go-cup with several measures of vodka or country moonshine and a splash of mixer and wandering in a woozy, self-distanced way several times around the block.
I haven't yet tried a Walktail, but I have been experimenting with a cocktail hour inspired by the gin-loving Wasps I grew up with. Although this ancient ritual could devolve into a raucous, bacchanalian event, it was usually a decorous affair designed to promote a sense of goodwill before the family dinner of overcooked rib roast and recently unfrozen peas. Like lots of other lost family rituals (conversation, cooking, group dinners, regular walks and exercise, reading actual books), the cocktail hour has made a little comeback in our small, floating quarantine capsule in the past few weeks.
The ritual begins most evenings at around six, although after overserving myself in the early going, I now limit myself to one alcoholic drink every other night. Crackers are sometimes put out, or maybe a bowl of olives and a chunk of properly moldering cheese. I'll drink my very weak gin-and-tonics, with their great floating wedges of lime, or a little whiskey maybe, or maybe a half-glass of beer topped with a little vodka, which was what I remember doing years ago when I was off traveling somewhere and rations were tight.
The ladies of the household are free to join me, although often they have better things to do, so I'll sit by myself for half an hour or so, watching lights pop on in the backs of the mostly empty apartment buildings as the sky turns dark out beyond the fire escape. I'll sometimes FaceTime other drinking friends, or my father, age 84, in his apartment uptown. He's not allowed to drink anymore, on doctor's orders, but he sneaks a beer now and then, so we'll chat a little about the affairs of the world and what we've done that day, and we'll raise our glasses in a little toast before signing off for the night.
*This article appears in the March 30, 2020, issue of New York Magazine. Subscribe Now!