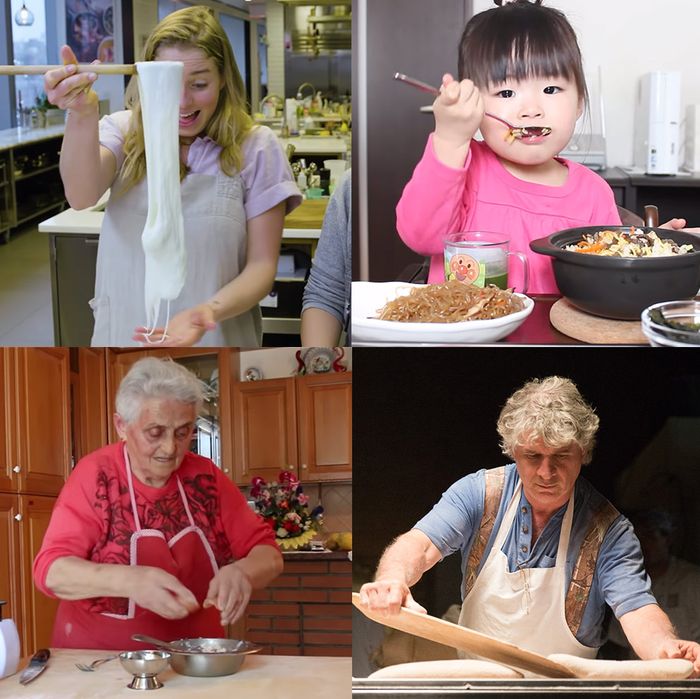 Fire up the Roku.
Photo: Courtesy of YouTube/Netflix
You've blown through every season of Chef's Table. You know all the special guests who've appeared on Jon Favreau's The Chef Show. You can't wait entire weeks between new episodes of Top Chef. Now what? Grub Street has dug into the deep corners of the internet to round up some of the best, and lesser-known, food shows that you can watch right now. You might learn how to master a French omelette, and at the very least you'll be able to take your mind off the news for a bit.
Two Fat Ladies
Watch it on: YouTube
Best episode: Afternoon Tea
Decades before The Great British Bake Off calmed viewers with its multi-hobbied contestants and quaint countryside, there were the Two Fat Ladies. The series, which ran from 1996 through 1999 on BBC2, starred Clarissa Dickson Wright and Jennifer Paterson, motoring through U.K. hamlets in a vintage motorcycle with a sidecar. This quintessentially British episode sees them in a 17th-century manor house preparing afternoon tea for a cricket team. The posh accents and absurd chatter make up for the low resolution.
Cooked
Watch it on: Netflix
Best episode: Air
Michael Pollan's docuseries — based on his book of the same name — uses the four elements to explore food and cooking from a sociological and nutritional basis. Here, air serves as a conduit to a deep dive on a universal food: bread. This episode includes visits to an ancient wheat field and grain mill in Morocco, Pollan's Berkeley kitchen where he kneads and bakes loaves, and the Seattle lab of Modernist Cuisine's Nathan Myhrvold. Woven through the narrative is Pollan's analysis of the economy and industry of bread over time.
Raja, Rasoi Aur Anya Kahaniyaan
Watch it on: Netflix and Amazon Prime
Best episode: Delhi
The cuisine of India's bustling capital has been shaped by a number of global and domestic influences, among them ancient Persia and British colonial rule. In this installment of the Indian show, learn about the origin of chaat, the ubiquitous Indian street snack in Delhi and beyond. Interviews with eminent food historians and tours through bazaars and ancient monuments pepper the 45-minute show.
Making Perfect
Watch it on: Amazon Prime
Best season: Pizza
Quarantine might be the ideal time to master your pizza-making skills. This, the inaugural season of Bon Appétit's Making Perfect series, focuses on crafting the ultimate pie from start to finish. Watch as BA's test-kitchen gang journeys to iconic pizzerias in New York City, debates the virtues of low-moisture versus fresh mozzarella, and ultimately creates what they consider the consummate version. Hopefully you've stocked up on enough basics to emerge from social distancing a pizzaiolo in your own right.
Julia and Jacques Cooking at Home
Watch it on: Amazon Prime
Best episode: World of Eggs
In the pantheon of cooking television, Julia Child will always occupy the top spot. In this 1999 PBS cooking show, she partnered with her friend and frequent co-star, chef Jacques Pépin. (A legend in his own right, of course.) The two prepare a number of egg dishes, with Pépin demystifying the elusive French omelette — the ideal cooking technique to master in confinement. The episode is full of Child's signature hijinks: It opens with Pépin holding a live chicken while Child uses heavy machinery to open an ostrich egg.
Iron Chef
Watch it on: YouTube
Best episode: Red Snapper Battle
The precursor to Iron Chef America's glitzy presentation is the original, far superior Japanese Iron Chef, which aired between 1993 and 2002 (and was the linchpin of Food Network's early scheduling slate). As you know, contenders challenged one of the resident Iron Chefs — each of whom had a different culinary specialty — to a multicourse competition. Battle Red Snapper is Masaharu Morimoto's inaugural showdown in cavernous Kitchen Stadium. Even if you're familiar with the concept, watching the actual battles remains an extremely entertaining way to spend 45 minutes.
Food Groups
Watch it on: Amazon Prime
Best episode: Chicago's Delicious Mild Sauce Tradition
Produced by Thrillist, these ten-minute segments spotlight groups of obsessive gourmands and the foods they can't stop thinking about. This one takes on an under-the-radar Chicago specialty known as "mild sauce." Host Dave Infante samples the mysterious condiment at some of the city's famed fried chicken spots, then chats with local poets, artists, and the hosts of a podcast aptly named Mild Sauce.
On the Run Eatin' With N.O.R.E.
Watch it on: Hulu
Best episode: N.O.R.E Gets Nasty in Napa
As he raps on a yacht in the opening credits, N.O.R.E's foray into culinary TV is "a different type of food show." Take in the artist and his entourage cruising around Northern California's wine country, sampling (in slow motion) Oprah's favorite breakfast pastries, sabering bottles of bubbly at vineyards, and making their own wine. The journey is like an extended music video, with plenty of straight-to-camera insights from N.O.R.E and his crew.
Behind the Food
Watch it on: Amazon Prime
Best episode: Inside the Aloha Tofu Factory
This quick-hit series provides a dynamic background on how different foods are made. In under four minutes, you can see the journey from soy beans to fresh tofu at Honolulu's Aloha Tofu Factory. If you're curious about the preparation of smoked salmon or Heinz baked beans, there are episodes on those too.
Flavorful Origins
Watch it on: Netflix
Best episode: Lei Cha
This beautifully shot show showcases the native cuisine of two Chinese regions: Chaoshan and Yunnan. In this installment, learn about a special delicacy served in Chaoshan during the winter solstice festival. Called Lei Cha, the dish is made from fragrant herbs, tea leaves, and sesame and served as a drink or meal. Various chefs and home cooks show their methods for preparing Lei Cha and how they use the tea in other unexpected ways.
Pasta Grannies
Watch it on: YouTube
Best episode: Rosa's Recipe for Sfoglia Lorda
Ranking episodes of Pasta Grannies is as impossible as choosing a favorite shape of noodle. In less than ten minutes you're transported to the kitchen of an Italian nonna for a master class in the art of pasta fatto a mano. This one features the adorably brusque Rosa, who hails from Faenza in Emilia-Romagna. So small in stature she requires a stool to reach her pasta table, she prepares mini-ravioli in broth with immense speed, prowess, and authority.
Good Eats: Reloaded
Watch it on: Hulu
Best episode: Steak Your Claim
Alton Brown has revamped his classic Food Network show, Good Eats, with Good Eats: Reloaded. The Brown of today reinserts himself into older episodes, giving behind-the-scenes details and issuing corrections. Here, he demystifies the often intimidating skill of cooking steak. He talks with specialists like cattle ranchers and butchers and demonstrates his foolproof method.
At Home With Amy Sedaris
Watch it on: Amazon Prime
Best episode: Teenagers
Though not technically about "food," we cannot omit Amy Sedaris's satirical, avant-garde, entertaining show. Her kitchen experiments usually turn out disastrously, and it's not clear if she actually succeeds in cooking anything, but they still make for incredible, lighthearted entertainment. Witness appearances from actor Matthew Broderick, comedians John Early and Cole Escola, and a massive cake of cold cuts.
Rino Which Eats Various World Dishes
Watch it on: YouTube
Best episode: Rino Eating Homemade Japchae & Stone Scorch Bibimbap
The early episodes of this franchise are some of my favorite YouTube food programming. Each one features Rino, a young Japanese child, learning about a different culture through its food. The footage of her mother's knife skills is intensely satisfying (and makes for very good ASMR) while Rino's way of eating and talking are impossibly cute. Enjoy the kawaii baby chopsticks and panda bibimbap bowl.
Avec Eric
Watch it on: Amazon Prime
Best episode: Food Under Fire
In this installment of his travel-cooking program, Le Bernardin chef Eric Ripert visits the Korean Demilitarized Zone. Just outside of the DMZ is Unification Village, a peaceful area where farming is the main source of income. Ripert tries his hand at cutting sesame crops and meets local farmers, providing an insightful look at a place that exists in both placidity and overwhelming tension.