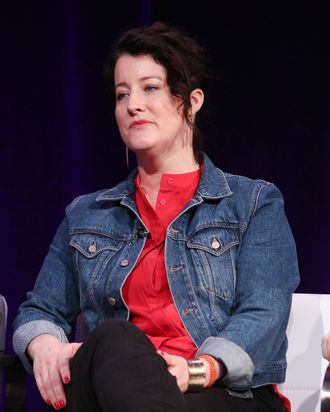 Naomi Pomeroy.
Photo: David Buchan/Variety/Shutterstock
Listen to the many voices from the restaurant and bar industry and you'll hear the same pleading loud and clear: These businesses aren't going to make it without some kind of help. (The country's Chinatowns felt the brunt of this before the rest of the industry, with slumping sales reported back in February.) These businesses have been wrecked by the coronavirus pandemic, and the restaurant shutdowns enacted to slow the spread of the virus have also meant that entire workforces were laid off in a single day. Writing in the Washington Post, the James Beard Award–winning chef Naomi Pomeroy of Portland's Beast admits, "I don't know if I'll have the chance to start over again."
Restaurants aren't built to weather storms like this. "It doesn't matter if a restaurant has been open 22 years or 22 days," the chef explains. Revenue one week pays the bills the week before. Takeout and delivery isn't necessarily the answer: After weighing the situation, Pomeroy decided not to stay open at all because of safety concerns. And even once the restaurant shutdown is over, there's no guarantee that business will be good. People may still be scared, and many will be suffering from loss of income and jobs. There are still bills and rent to pay. The many, many restaurant workers in New York State who have effectively been laid off haven't been given a hand from the state in the form of a rent suspension.
This isn't just a restaurant problem. As this business has evaporated, it's left purveyors and distributors without their usual sources of revenue. Pomeroy says her own "fish supplier is begging me to buy and discounting to prices lower than I've ever seen." The fishermen aren't working, and the supplier will have to close if this keeps up. Most of the independent distributors, she argues, don't have relationships with grocery stores. Yet more jobs — not high-paying ones but working-class and middle-class jobs — will be lost. And it's not like they have a safety net they can rely on in this country.