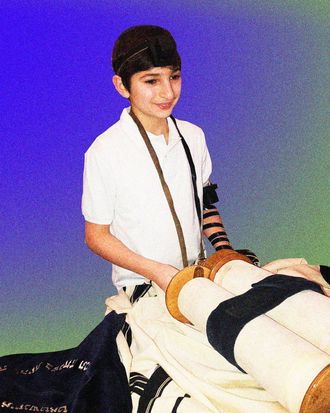 Photo-Illustration: Stevie Remsberg
For the last 18 months, 13-year-old Joseph "Jojo" Hershkowitz, a student at Salanter Akiba Riverdale Academy in the Bronx, had been practicing for his bar mitzvah, set for Saturday, March 7. Then, on that Thursday, after a student's parent was diagnosed with COVID-19, all students were placed in quarantine. For Jojo, that meant his bar-mitzvah service at Congregation Kehilath Jesherun on the Upper East Side and the party for 200 at Space 54 had to be canceled. Instead, Jojo Hershkowtiz became a man over Zoom. 
Michael Hershkowitz, father: We didn't make the decision. Let's start with that. Last Tuesday morning at 7 a.m., one of JoJo's friends called and said there wasn't going to be school that day. For us, it was like a snow day. No big deal. Later on, however, the Westchester Board of Health issued advice that anyone who was at synagogue on February 23 — there was a service, a funeral, and a bar mitzvah that day — should self-quarantine until March 8. Jojo, and most of the boys at school, had been to that bar mitzvah so I knew we were in trouble.
Karen Hershkowitz, mother: When we first heard that the rabbi wasn't allowing the bar mitzvah to go forward that Saturday, we were devastated. Jojo worked so hard for so long. How could something like this happen?
Rabbi Haskel Lookstein: There was no question of doing the bar mitzvah in person. There is a principle in Jewish law that the Law of the Land is the Law of the Land. The Health Department is the Law of the Land, as far as we're concerned. Not to mention that saving lives is more important than virtually any religious requirement. It's fundamental to Jewish ethical thought: Saving lives overrides every religious requirement.
Elvira Glau, owner Space 54: I run the event space where Joseph's party was meant to be. The last week has been very intense. Parents hysterical. Kids crying. Rabbi won't let the party happen. Basically all the events for the next 60 days are canceled. We were prepared to do Jojo's party, but the school was closed so there was no way it would happen.
Joseph Hershkowitz: I was just so sad when I found out that I wouldn't be able to have my bar mitzvah, but the next day, the principal of my school, Binyamin Krauss, called us and said, "Would you like to read from the Torah using the Zoom app?" I thought it was an incredible idea. I just thought it was amazing.
Rabbi Haskel Lookstein, Kahilath Jeshurun: Every Sabbath there is a specific portion of the Torah that must be read. You can't just change the date. Jojo's portion dealt with the special clothing worn by priests in the tabernacle in the wilderness and with sacrifice. The next time he could read it would be in another 18 months.
Michael Hershkowitz: First time we heard of Zoom was that day. The school sent a link that said "Press Here" and I did. It gives you a choice: camera on / camera off. Audio on / audio off. I set both to "on" and set up the computer in the dining room.
Karen Hershkowitz: Luckily for us, a neighbor has a Torah, so my husband went over and picked it up. We're lucky. It's very very uncommon to have a private Torah!
Joseph Hershkowitz: There are two portions that are read, one on Thursday and another on the Sabbath.
Karen Hershkowitz: At the time in Thursday, we didn't think that that would be the real thing. It never crossed our mind. Ever. But at some point, we noticed that Rabbi Lookstein was in the conference and then it clicked to us that this was the real thing.
Joseph Hershkowitz: I read only about one-tenth of what I've been studying.
Michael Hershkowitz: The whole thing lasted about 15 minutes. If I had known it was going to be his bar mitzvah, I would have dressed up, but at the time I thought it was like a dry run.
Joseph Hershkowitz: It turned out to be really cool. I was aiming for 75 people and there were 200 devices and two people could be watching on one device.
Karen Hershkowitz: Had I known it was the real thing, I would have sent the link to a ton of family and friends. We would have had much more than 250.
Joseph Hershkowitz: I was so surprised and so happy. It was crazy. During my reading, I couldn't see that many people because of the way the app works. Maybe five or six. But after the rabbi spoke, all my friends took themselves off mute and shouted "mazel tov." It was great.
Rabbi Lookstein: At the end of the reading, I spoke to him a little about Purim, of light and joy. Jojo is full of light and joy. He's an electric bulb. Then I was wearing my Mets jacket and hat because I'm a crazy Mets fan and because Jojo is such a rabid Mets fan, and Giants fan and Knicks fan and Rangers fan that I wanted to celebrate with him. I ended by saying that only a person who has joy and happiness in his heart can root for so many teams that never win. Please God, I said, may they all have light and joy this year.
Elvira Grau: Every bar mitzvah is all about the logo, the theme and the date. Now all of these parties, not just Joseph's, for the next 60 days are going to need new custom step-and-repeats, custom yarmulkes, custom pillows, and custom drawstring bags.
Joseph Hershkowitz: When I look back on what happened, I don't know what to think. What happened happened. That day has passed and what I thought would happen didn't. Challenges are going to happen. They'll come out of nowhere. I learned from this that there can be very big things happening and it might not go the way you think. Also, I don't have my hopes up for anything anymore.