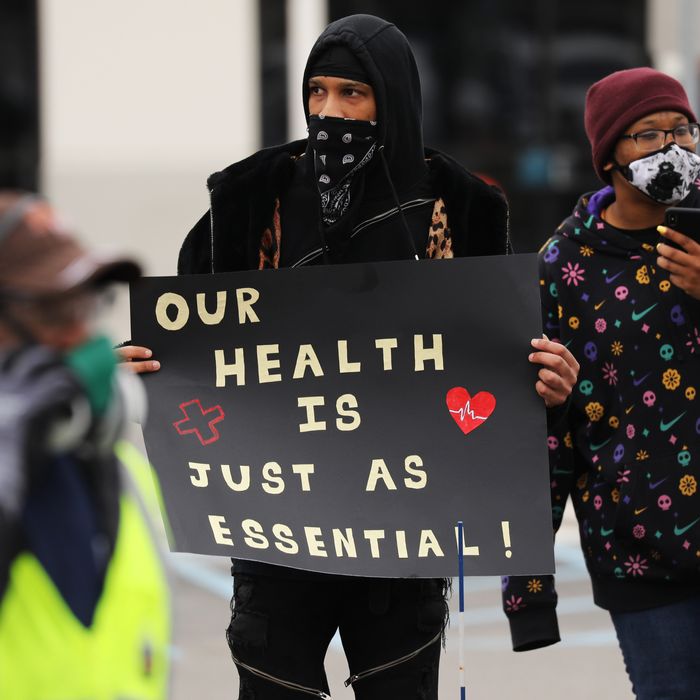 Chris Smalls, above, says he was fired by Amazon for violating quarantine rules.
Photo: Spencer Platt/Getty Images
Yesterday, employees at an Amazon warehouse on Staten Island walked out in protest of working conditions and compensation during the coronavirus outbreak.
A few hours later, the organizer of the protest, Amazon employee Christian "Chris" Smalls, was fired. The reason: He had been placed on paid leave and under quarantine after coming into contact with a fellow employee who tested positive for COVID-19. By coming to the facility to protest, he was violating the company's social-distancing rules.
In a statement to CNBC, Smalls says he was actually fired for organizing his co-workers. "Amazon would rather fire workers than face up to its total failure to do what it should to keep us, our families, and our communities safe," Smalls said. "I am outraged and disappointed, but I'm not shocked."
Meanwhile, Amazon has disputed Smalls's claims that not enough precautions are being taken to protect workers. In a statement to Grub Street, the company said Smalls was joined by a contingent of about 15 employees (organizers said at least 50 people walked out) and that the company has "taken extreme measures to keep people safe, tripling down on deep cleaning, procuring safety supplies that are available, changing processes to ensure those in our buildings are keeping safe distances and in Staten Island we are now temperature checking everyone entering the facility."
But Smalls's firing isn't sitting well with some people, including New York Attorney General Letitia James, who called his dismissal "immoral and inhumane" in a statement shared last night, adding that she would call on the National Labor Relations Board to investigate.