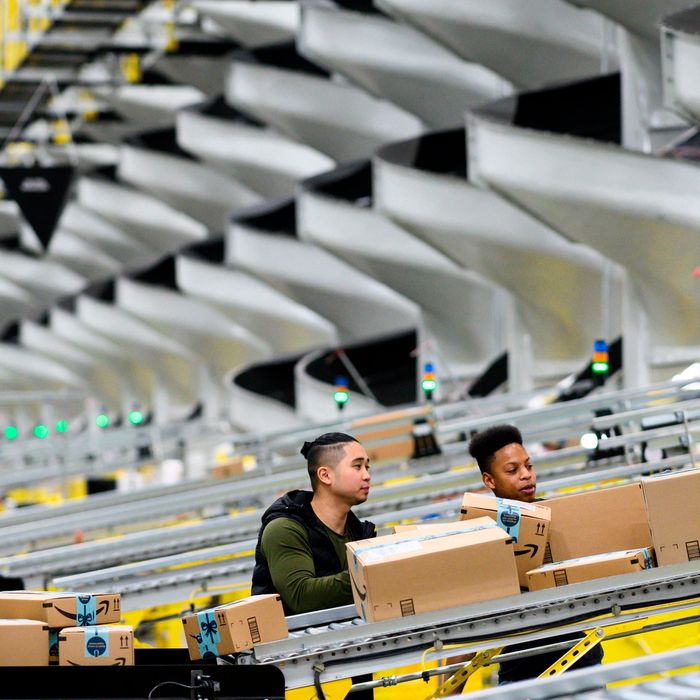 A worker at Amazon's Staten Island warehouse.
Photo: Johannes Eisele/AFP via Getty Images
Gig workers at Instacart and employees of Amazon's Staten Island warehouse are walking out to protest working conditions and compensation during the coronavirus pandemic. These actions are happening amid broader calls for a general strike, and others that have been taken by Perdue's poultry-plant workers; McDonald's employees in Monterey Park, California; Pittsburgh sanitation workers; and more.
Instacart gig workers — of which there are 175,000 — are going on the nationwide strike in an action with the new nonprofit Gig Workers Collective. (In response to increased demand, Instacart has announced it plans to bring on 300,000 more "shoppers" in North America over the next three months.) As first reported by Vice, they are refusing to accept orders until the company offers hazard pay (an additional $5 per order and a default tip of 10 percent), PPE gear including hand sanitizer and disinfectant wipes, and expanded sick leave for workers who have been advised by doctors not to work during this time. It is the first strike by gig workers in response to coronavirus.
On Sunday, Instacart said it would make hand sanitizer available for workers who shop and deliver groceries for the company, as well as make it easier for customers to set their default tipping percentage. In response to the announcement of the strike, the company also extended its deadline for hourly employees and "shoppers" diagnosed with coronavirus to apply for 14 days of paid sick leave. It is now May 6. The Gig Workers Collective tells CNN that the tip update "will, in all likelihood, provide no meaningful benefit to shoppers," and that the demand for hazard pay and sick pay for those with existing conditions was not addressed.
Working conditions at Amazon warehouses have been criticized for years, and those workers only recently won their demand for paid time off. Cases of workers contracting coronavirus have been reported at warehouses around the country, including at Amazon's largest warehouse hub in Inland Empire, California. (There are 14 fulfillment centers in the hub collectively employing about 18,000 people.) One employee at the Moreno Valley fulfillment center tells NBC that workers were not notified ahead of time that a fellow employee tested positive for COVID-19, saying, "No one knew about it until going into work." Another case was reported at Amazon's Staten Island warehouse, where employees are walking off at 12:30 p.m. today to protest, among other things, the company's decision to keep the warehouse open in spite of this news.
Speaking with CNN, Christian Smalls, a process assistant who is leading the walkout, says, "The plan is to cease all operations until the building is closed and sanitized," and "We are not asking for much." A spokesperson for Amazon says the company has recently started daily temperature screenings as a preventative measure. Smalls, who says he has sought out the help of the warehouse's general manager, was put on quarantine, during which Amazon says he will be paid.
We're committed to keeping our readers informed. 
We've removed our paywall from essential coronavirus news stories. Become a subscriber to support our journalists. Subscribe now.