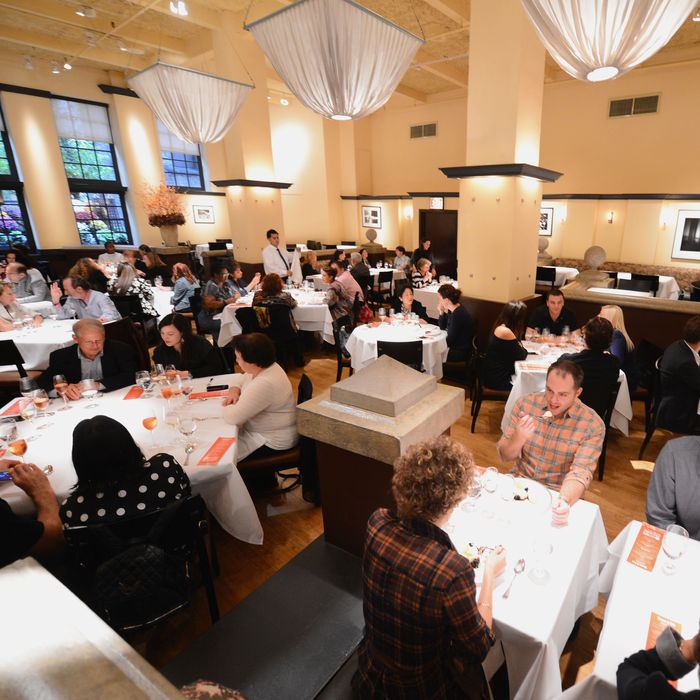 Gotham Bar & Grill closed for good after service on March 14.
Photo: Stephen Lovekin/Getty Images for NYCWFF
Shortly after Danny Meyer announced the closing of his big-city establishments, but before the cascading horrors of the weekend (big restaurants and their chains "suspending" work, hundreds of thousands of cafes and restaurants all over Spain and France, and then, finally, New York City going more or less dark), I dropped in to one of my old neighborhood locals for a last, fortifying drink. There were a few people scattered here and there when a friend and I took our seats at the bar, although as word spread that the Gotham Bar & Grill would be closing for good, after a long, 36-year run, we began to have trouble keeping a polite social distance as we nursed our cocktails. We ordered a second round (my friend a martini, me a dutifully Instagrammed Sazerac) and then a bowl of chef Victoria Blamey's comforting, ridiculously delicious, tallow-sizzled French fries. As the bartender drifted by, we raised our glasses.
"Here's to last calls everywhere," someone said.
The old meteor-and-the-dinosaurs metaphor is a familiar chestnut by now, especially in the restaurant world, which over the last decade or two has been a brutal environment for lumbering, white table, "gourmet" restaurants of the old school. But make no mistake, the great COVID-19 fireball — it even sounds like a name NASA might give to a meteor — will have a cataclysmic, ripple effect on the dining world that won't end anytime soon. Many of the smaller, nimbler restaurants and bars will likely survive on the greatly altered dining landscape. But many of the larger ones, those with venerable-name chefs who employ hundreds of hardworking people and have long defined a certain style of dining in the city, are at risk, and as any paleontologist will tell you, once a great species goes extinct, we won't see it again.
Gotham is one of those restaurants, although the wounded and vulnerable are the first to go in disasters like this, and if you've walked by the great, glittering windows on 12th Street, as I've done four or five times a day for the last 30 or so years, you've known for a while now that it was only a matter of time. The iconic chef and co-owner Alfred Portale left the kitchen last year, taking many of the old regulars with him. Despite a brief makeover, and excellent reviews for the new chef, Blamey, the old room, with its strange, baggy light installations and faded, custard-yellow paint job, rarely drew the crowds that it had back during the Portale boom years, when the chef's cutting-edge innovations (vertical plating, tuna tartare, Greenmarket freshness fused with a certain continental, big-city sensibility) drew crowds from around the world.
For those of us in the neighborhood, however, Gotham was a different kind of institution. As I wrote when Portale departed last summer, there are certain restaurants that form a comforting continuity down through the years, whether it's a favored pizza joint, or a local diner, or if you were lucky enough to have a little cash in your pocket, a place like Gotham. It was where the Platts went for birthday celebrations, and graduation dinners, and it was where Dad liked to retreat from the cares of the world, every month or so, to shell out some of his own cash for a relaxing drink.
It's also hard to overestimate the influence that Gotham had on a generation of food-obsessed souls who arrived in the city during the '80s and '90s. Tom Collichio cooked in the kitchen. Danny Meyer famously lived above the restaurant and was an early regular before he opened his famous cafe a few blocks north off of Union Square. For many of us who used to see Portale and his chefs strolling up and down the avenues, and shopping with his cooks in the Greenmarket, it was the first "haute cuisine" restaurant we'd ever experienced that didn't slavishly adhere to the old French style, and in a neighborhood (and city) increasingly blighted with salad bars and Nutella cafes, it has long exuded a comforting sense of civility, tradition, and style.
I think we knew, sitting at the bar, that this might be our last big-ticket restaurant meal for a good, long while, so drinks turned to dinner, and as I busily Instagrammed an order of thick, well-aged New York strip with a another giant tangle of chef Blamey's fries, the sommelier came buy and poured us glasses of a juicy, red Sicilian wine on the house. Jujeneo Ochoa came by too, from Queens by way of a small town just outside of Mexico City. He said he'd started at the restaurant 23 years ago as a dishwasher. He said he'd raised his children while working his way up through the kitchen, to a prized place behind the bar. When we asked what he was going to do next, he smiled a practiced, professional smile. "I think I'm probably going to have to take a couple of weeks off," he said.
We left shortly after our last supper, my friend and I, and wobbled back to our own families. The next evening, I walked down 12th Street and looked through the windows, like always. People were standing on the sidewalk taking photos of the old room, and inside, the tables were packed. The bar was three deep, with revelers for one last night, just like back in the Portale glory days. I went inside briefly, with my shopping bags of canned beans and other ridiculous, randomly hoarded supplies, and the longtime maître d', Joseph Scherr, came to meet me dressed in his front-of-the-house suit and natty tie. We touched elbows, and he thanked me for getting the word out about the restaurant's last call.
After a little polite chitchat, he presented me with his embossed business card. "Thank you for all of your support over the years, Mr. Platt," he said. "Please, let's keep in touch."