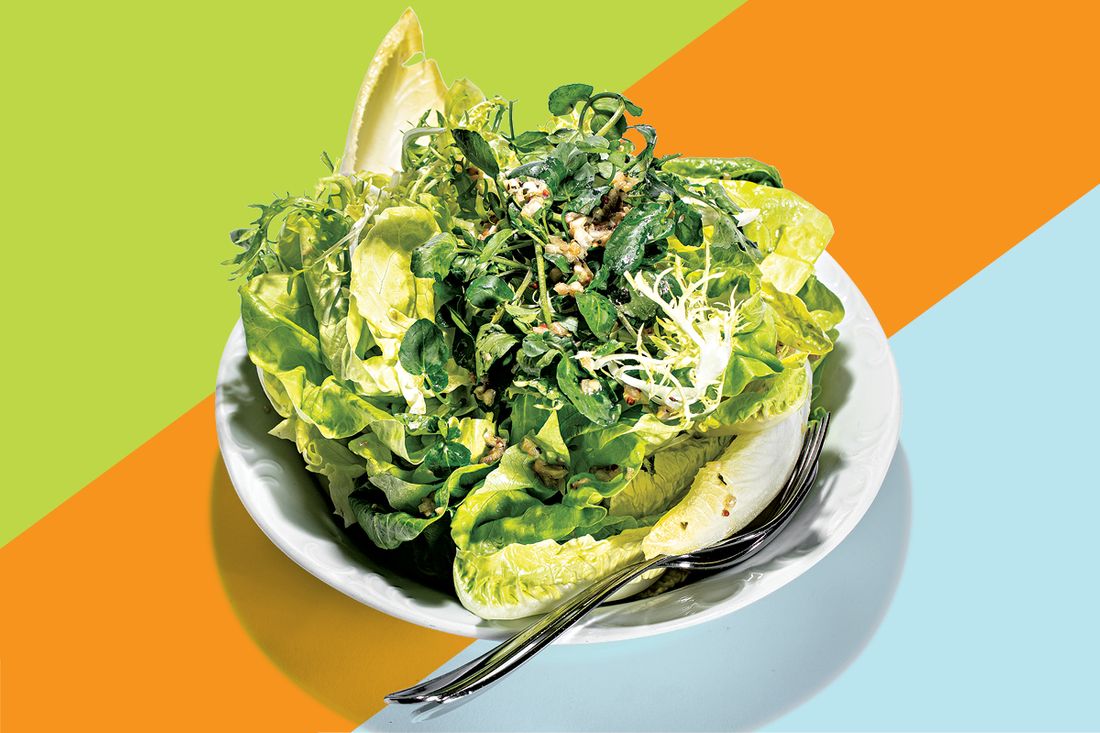 This article was featured in One Great Story, New York's reading recommendation newsletter. Sign up here to get it nightly.
On Thursday, March 12, we were putting the finishing touches on our annual "Best of New York" package for the magazine. Wouldn't it be fun, we'd thought a few months earlier, to devote this year's edition entirely to food? It would be a celebration of the 101 best things to eat in New York, an illustrated snapshot of a moment in the culinary life of a particularly delicious city. In retrospect, of course, our timing couldn't have been worse. Although the news was ominous and getting scarier by the hour, and although it was becoming increasingly clear that the coronavirus would seriously impact the restaurant industry, the speed at which that happened came as a shock.
Later that day, Governor Cuomo issued a mandate that required restaurants to cut their seating capacity in half as a preventive measure. On Friday, March 13, Danny Meyer temporarily closed all 19 of his Union Square Hospitality Group restaurants, and over the weekend, other owners followed suit. On the issue's publication date, Monday, March 16, Cuomo banned all dine-in restaurant service, restricting the businesses to takeout and delivery. Suddenly, the restaurant industry as we knew it was done, its employees adrift and its future uncertain.
At the time, with graver concerns on people's minds, posting a "Best" listicle seemed not only irrelevant but almost cruel. Beyond the devastating public-health crisis, who knows how different the dining landscape might look when the city emerges on the other side? In the print magazine, we'd described our selections as "the foods that make us excited to live and eat here, that remind us how lucky we are to have such depth and breadth of cuisine and flavor at our fingertips." In the course of a few days, the story had gone from lighthearted service to a quaint artifact of a seemingly long-lost past.
But it's also, maybe most of all, a timeless tribute: to the chefs and cooks and waiters and dishwashers and street-food vendors and delivery people and farmers and bartenders and everyone else who makes New York the culinary capital it is, was, and will be again. So we're sharing it now, along with the hope that soon it will be not only commemorative but useful.
You can support New York restaurants by buying gift cards, contributing to crowdfunding initiatives, signing the ROAR (Relief Opportunities for All Restaurants) petition, and donating to relief efforts such as the ones listed here, here, and here.
Via Carota's Insalata Verde (pictured above)
The mountain of leaves — endive, frisée, butter lettuces, watercress — is as crisp as new sneakers, as washed as Lady Macbeth's hands, and as green as AOC's New Deal. A surprisingly subtle shallot vinaigrette is the perfect final touch. —Joshua David Stein
51 Grove St.; viacarota.com
F&F Pizzeria's Regular Slice
You can't top the taste of nostalgia. But Frank Castronovo and Frank Falcinelli's naturally leavened, high-hydration-dough ode to the corner-slice-joint slice comes pretty close. Sprinkle it with some Grana Padano from a glass shaker. —Robin Raisfeld and Rob Patronite
459 Court St., Carroll Gardens; franks.pizza
Chama Mama's Adjaruli Khachapuri
Looks like a bread canoe that sprung a leak on a sea of molten fromage. The so-called Georgian cheese boat is filled to the brim with cheese, plus egg yolk and butter to mix in. Local cheese-boat sightings are on the rise, but Chama Mama does it best. —R.R. & R.P.
149 W. 14th St.; chamamama.com
Superiority Burger's Bean Soups
For some, "bean soup" might sound like punishment. For Brooks Headley, devout student of the Rancho Gordo catalogue, it's an ever-evolving culinary canvas and a delicious vehicle for starchy additions like grilled rice, broken spaghetti, and crusty, fresh-baked focaccia. —R.R. & R.P.
430 E. 9th St.; superiorityburger.com
Haenyeo's Rice Cake Fundido
This figurative and literal melting pot draws from the Korean, Mexican, and Swiss kitchens: Korean rice cakes (tteokbokki) form the backbone of the scarlet stew spiced with gochujang, bedecked with chorizo, and assuaged by a generous cap of goopy Oaxacan cheese. —J.D.S.
239 Fifth Ave., Park Slope; haenyeobk.com
Ho Foods' Savory Soy Milk
Nutty, housemade soy milk comes topped with crunchy cruller, scallions, chile oil, and vinegar that curdles the milk. (Fluffy pork floss is extra, and recommended.) It's a little spicy, a bit tart, and incredibly savory: everything that makes Taiwanese breakfast world-class in a bowl. —Chris Crowley
110 E. 7th St.; hofoodsnyc.com
Golden Diner's Tuna Melt
With apologies to Eisenberg's and Mom, former fine-dining fast-tracker Sam Yoo's tuna melt takes the cake. The cutting-edge technique? He whips French's mustard into the tuna salad and shoves salt-and-pepper potato chips between the rye. —R.R. & R.P.
123 Madison St.; goldendinernyc.com
Da Ciro's Focaccia Robiola
Invented by Queens-born Ciro Verdi during Le Madri's heyday, this pizza variant is double crusted, stuffed with creamy robiola, and drizzled with truffle oil. The effect is not unlike an ethereal form of its original inspiration: a toasted bagel with cream cheese. —R.R. & R.P.
458-460 Myrtle Ave., Clinton Hill; dacirco.com
Hart's Clam Toast
Two hunks of fresh-baked sourdough rubbed down with garlic and piled high with Manila clams cooked in white wine, pancetta, and fennel. It's the very model of modern comfort food, modern finger food, and that most modern of foods: fancy toast. —Nikita Richardson
506 Franklin Ave., Bedford-Stuyvesant; hartsbrooklyn.com
Casella's Prosciutto Speciale
Cesare Casella's rosy-pink prosciutto is not only rich and supple, it's keeping American Heritage-breed hog farms in business. How you can help: Wrap some slices around a bunch of grissini and go to town. —R.R. & R.P.
At Saxelby Cheesemongers, 75 Ninth Ave.; saxelbycheese.com
Gem Spa's Chocolate Egg Cream
When Parul Patel took over the corner store from her ailing father, she found the business — and the chocolate egg cream — in danger of extinction. Thankfully, she has restored the drink to its former glory, and here it is in a soda-fountain glass, a tritone symphony of whole milk, chocolate syrup, and seltzer — a bouffant of bubbles. —J.D.S.
131 Second Ave.; 212-529-1146
Teranga's Fufu Super Bowl
The charms of the supersize mashed-plantain starch ball called fufu might escape you at first. But in the grain-bowl context, sided with vegetable and bean stews and peanutty mafé sauce, its innate mopping and sponging capacities become delectably manifest. —R.R. & R.P.
1280 Fifth Ave.; itsteranga.com
Dumpling Galaxy's Lamb Soup Dumplings
In an increasingly crowded field, the off-menu lamb XLBs at this dumpling Shangri-la stand alone, with a juicy richness and depth of flavor that makes you feel sorry for other soup dumplings. —R.R. & R.P.
42-35 Main St., Flushing; dumplinggalaxy.com
Campo Rosso's Chicories
You've probably seen its Castelfranco, Tardivo, and Treviso on smart menus all over town. But you may not have known that the entire local exotic-radicchio category is dominated by this 13-acre Pennsylvania farm that grows what was once only imported from Italy. They're the most beautiful — and delicious bitter greens (and pinks and purples) you'll find west of the Veneto. —R.R. & R.P.
Union Square Greenmarket; camporossofarm@gmail.com
HiHi Room's Spaghetti Cincinnati
The fancy duck-ragù riff on Cincinnati chili has got some Buckeyes miffed. But these culinary innovations always spark controversy. To paraphrase Schopenhauer: First, it is ridiculed. Second, it is violently opposed. Third, it is accepted as freaking delicious. —R.R. & R.P.
138 Smith St., Boerum Hill; hihiroom.com
Factory Tamal's Rajas Tamales
Fernando Lopez goes to the considerable trouble of nixtamalizing corn on-site, and the ensuing masa makes fluffy, crumbly, fragrant insulation for zesty fillings like rajas con queso and chipotle chicken. There are seven varieties, and you'll want one of each. —R.R. & R.P.
Multiple locations; factorytamal.com
Rezdôra's Gnocco Frito
Dough traditionally made with lard gets cut into pieces and deep-fried until they puff out like Dizzy Gillespie's cheeks. At Rezdôra, they come draped with prosciutto, mortadella, and salami, and you nibble them like cheese and crackers or make salumi tacos. If there's an odder — and better — way to eat Italian cured meats, we don't know about it. —R.R. & R.P.
27 E. 20th St.; rezdora.nyc
Ugly Baby's Pla Tod Kamin
Sometimes we crave Thai food that makes our eyes bubble and causes steam to shoot out of our ears. Other times, we just order Ugly Baby's pla tod kamin: whole sea bream marinated in fish sauce, cloaked in a turmeric-forward spice mix like an everything bagel, then deep-fried. The well-calibrated result is plenty spicy, if not spicy hot, and reminds us that the art of Thai cooking is as much about mastering spice as it is about heat. —R.R. & R.P.
407 Smith St., Carroll Gardens; uglybabynyc.com
Mekelburg's Baked Potato
Russets are rubbed with olive oil, stuffed with raclette, salt-baked, and topped with crème fraîche, pickled peppers, and a supercolossal cube of double-smoked bacon. Cut into the thing and melted cheese oozes out like the center of a molten chocolate cake. —R.R. & R.P.
Multiple locations; mekelburgs.com
Estela's Tartare
A humble-looking mound of diced grass-fed bison plus crushed sunchoke chips, subtly ceviche-fied with lemon, fish sauce, and pickled elderberries, that conceals a remarkable complexity of flavor and texture. Devotees order two portions at once. —R.R. & R.P.
47 E. Houston St.; estelanyc.com
La Grenouille's Dover Sole
For maximum effect, enjoy this regal dish at lunchtime, when the flowers are still fresh, light fills the peach-hued room, and there's plenty of time to enjoy your buttery, deboned slips of sole with an extra bottle of Champagne. —Adam Platt
3 E. 52nd St.; la-grenouille.com
Ends Meat's Muffuletta
Never mind the bellyachers who say you can't get a good muffuletta outside of New Orleans. John Ratliff squelches that noise by curing his own salumi. And this might be the only whole-animal salumeria that makes its own muffuletta loaves and olive salad. —R.R. & R.P.
The Market Line, 115 Delancey St.; endsmeatnyc.com
Breads Bakery's Chocolate Babka
On the New York babka continuum, all loaves can be categorized as BB (before Breads) or AB (after Breads). Technically, Breads' is Israeli krantz cake, made using laminated dough veined with Nutella and brushed with sugar syrup. The comparison is almost unfair. —R.R. & R.P.
Multiple locations; breadsbakery.com
Barney Greengrass's LEO
No less august a man of letters than Philip Roth extolled the virtues of the the lox, eggs, and onion, which the writer called "more American than apple pie." That holy trinity has for years been an icon of the Upper West Side, a beacon that draws the madding crowd every weekend morning for the click-clatter of an Olde New York brunch. —J.D.S.
541 Amsterdam Ave.; barneygreengrass.com
Hao Noodle's Dan Dan Noodles
Bowlfuls arrive slicked with pork fat and seasoned with sieved Sichuan pepper, imparting more of a faint buzz than an obliterating numbness. All the better to perceive creamy sesame, pungent garlic, pickled vegetables, and the bite of scallion and chile. —Hugh Merwin
Multiple locations; haonoodle.com
Té Company's Taiwanese Braised Pork Over Rice'
It's not just the taste of Frederico Ribeiro's lu rou fan — salty-sweet braised local pork belly, deftly cooked California sushi rice, pickled daikon, an optional tea-steeped egg — that differentiates it; it's the way it perfectly suits its serene Taiwanese-tea-parlor setting. —R.R. & R.P.
163 W. 10th St.; tecompanytea.com
The Fulton's Black Sea Bass en Croute
Leave it to Jean-Georges Vongerichten to revive this culinary anachronism, which is locally sourced, technically perfect, lovely to look at (the pastry is fashioned with a smiling fish face and fins), and, most important, delicious to eat. —A.P.
Pier 17, 89 South St.; thefulton.nyc
Caffè Panna's Affogato Sundae
On paper, combining the wanton excess of the American ice-cream sundae with the espresso-laced gentility of the Italian affogato sounds very wrong; in the cup, amid the drizzles, swirls, and crunch, it tastes lip-smackingly, mind-bogglingly right. —R.R. & R.P.
77 Irving Pl.; caffepanna.com
Lekka Burger's Cheese Fries
This "cheese" sauce is completely vegan: It's butter beans, oats, and agave, blitzed in a food processor. They could sell tubs of it, but until then, the best place to find it is drizzled over some classic crinkle-cut fries. —Alan Sytsma
81 Warren St.; lekkaburger.com
Le Crocodile's Omelet
The smooth, classically French dinnertime omelet is a surprisingly rare occurrence these days, and the one found at this bountiful new brasserie is a veritable dissertation on the joys of old-fashioned technique, texture, and taste. —A.P.
80 Wythe Ave., Williamsburg; lecrocodile.com
Ash Room at Sushi Noz's Sushi Omakase
The truth about the finest sushi is that you generally have to pay for it. But if you want to pay slightly less and avoid the usual bromakase hysteria, this seven-seat atelier is the place to be. —A.P.
181 E. 78th St.; sushinoz.com
Mama's Too!'s Pepperoni Square
A good pepperoni slice should be like marked bills, leaving your hands, face, and clothes stained with a telltale fluorescent-orange oil. Little in New York is as filling or fulfilling as this triumph of meat, cheese, and crust. —J.D.S.
2750 Broadway; mamastoo.com
Mapo BBQ's Kalbi
Marinated with restraint and cooked until smoky and crisp over charcoal (a relative rarity in New York), Mapo's fat-streaked, salty-sweet short rib is the single most satisfying bite of Korean barbecue in town. The banchan is tops too. —C.C.
149-24 41st Ave., Flushing; 718-886-8292
Mama Lee's Beef Noodle Soup
The broth derives its flavor from beef knees and shanks boiled for eight hours with ginger and onions. But Mama Lee — a.k.a. Mei Lee — has another explanation for her soup's success: "The fat has a nice fragrance," she says. "It tastes like butter." —Joe DiStefano
213-12 48th Ave., Bayside; 718-767-8680
Lechonera La Piraña's Lechón
The roast pork that Angel Jimenez serves every weekend from a ramshackle truck in the South Bronx draws devotees from as far afield as Pennsylvania with its intoxicating aroma and crackly, chewy skin. —C.C.
152nd St. at Wales Ave.; 914-217-9636
Lilia's Cacio e Pepe Frittelle
Missy Robbins's Italianized super-gougères: airy puffs of choux pastry pumped up with Asiago, Pecorino Romano, and black pepper, fried to order, then coated with more cheese and pepper the way Cheetos are blasted with orange dust. Almost better than the pasta version. —R.R. & R.P.
567 Union Ave., Williamsburg; lilianewyork.com
Anton's Angel-Hair Francese
The inspiration for this culinary brainstorm — hand-cut pasta in a lemony, buttery sauce that doesn't stint on the garlicky bread crumbs — was an order of chicken francese at Village hangout Gene's. It's so good you won't even miss the cutlet that started it all. —R.R. & R.P.
570 Hudson St.; antonsnyc.com
Tanoreen's Baked Mediterranean Eggplant
Meze maven Rawia Bishara is famous for many things, chief among them "Tanoreen spices," eggplant, and lamb. She employs them all in this Levantine casserole bolstered with tomatoes and potatoes, studded with almonds, and paired with buttery rice pilaf. —R.R. & R.P.
7523 Third Ave., Bay Ridge; tanoreen.com
188 Cuchifritos' Alcapurrias
Texture is what distinguishes these egg-shaped fritters from the Latin-Caribbean lunch-counter competition: The golden-brown yuca crust is bouncy but crisp, the picadillo filling of seasoned ground beef both sweet and savory, fragrant, and notably juicy. —C.C.
158 E. 188th St., the Bronx; 718-367-4500
St. Anselm's Butchers Steak
The signature steak at this Brooklyn-hipster grill may no longer be had for the stupendously low 2011 price of $15. But even at $28, it's still terrific value: scrupulously sourced, expertly grilled, loaded with flavor — the best budget beefsteak in town. —R.R. & R.P.
355 Metropolitan Ave., Williamsburg; stanselm.net
Lee Lee's Rugelach
Harlem isn't known for its rugelach, but Alvin "Lee Lee" Smalls's recipe has earned him a devoted following. His cookies are deeply bronzed, crumbly crusted, and loaded with personality (not to mention walnuts and raisins). —Leah Koenig
283 W. 118th St.; leeleesrugelach.com
Danji's Bulgogi Beef Sliders
Sliders that aren't sliders (i.e., steam-grilled burgers) are generally terrible and should be avoided at all costs. One exception: Hooni Kim's bulgogi beef with scallion vinaigrette and sriracha mayo on butter-grilled buns as soft as campfire marshmallows. Customers knock them back like sacks of White Castles. —R.R. & R.P.
346 W. 52nd St.; danjinyc.com
Lagman House's Lagman Soup
The Western-Chinese Muslim cuisine called Dungan may be scarce hereabouts, but it is rich, bright, and distinctive. To wit: beefy lagman soup (thon lamian) brimming with red pepper, green beans, and a tangle of noodles irregular in thickness, a sure sign they were made by hand. —L.K.
2612 E. 14th St., Sheepshead Bay; lagmanhouse.com
La Esquina del Camarón Mexicano's Seafood Cocktail
The specialty of the house (make that the back of the bodega) comes in a big plastic cup brimming with shrimp and octopus submerged in a briny-sweet tomato-based sauce invigorated with clam juice and orange. Crumble saltines on top and douse with hot sauce. —R.R. & R.P.
80-02 Roosevelt Ave., Jackson Heights; 347-885-2946
Hutong's Red Lantern Soft-Shell Crab
At this Chinese dining palace at the bottom of the Bloomberg Building, the crab is deep-fried, assiduously spiced, then served with proper imperial (or, if you prefer, Bloombergian) ceremony in a basket under dried whole chiles. —A.P.
731 Lexington Ave.; hutong-nyc.com
Kawi's Yesterday's Stinky Soybean Stew
Gently simmered cubes of pork belly hide in the depths of this deliciously nourishing home-style Korean treat, along with spoonfuls of fermented soybeans that mingle with the dissolving fat in a way that lodges in your brain long after dinner. —A.P.
20 Hudson Yards; kawi.momofuku.com
Atomix's Stuffed Chicken Wings
Stuffing chicken wings must be like building ships in bottles. Maybe that's why the folks at Atomix's upstairs lounge ration their spicy wings to two per order. If only you could get them by the bucket. —R.R. & R.P.
104 E. 30th St.; atomixnyc.com
Maison Yaki's Frogs' Legs
Frogs' legs are among the fustiest Escoffier-era ingredients yet also, somehow, the perfect Brooklyn bar snack: crisp, golden tempura-enrobed limbs fashioned, classically, into small lollipops and served, humorously, on lily-pad plates with bright parsley ponzu on the side. —A.S.
626 Vanderbilt Ave., Prospect Heights; maisonyaki.com
Baz Bagel & Restaurant's Blintzes
Are cheese blintzes, those golden-fried, sugar-dusted vestiges of the Jewish-dairy tradition, breakfast, lunch, or dessert? They're all three at Baz, where the kitchen stuffs the tender crêpes with local ricotta in deference to its Little Italy locale. —R.R. & R.P.
181 Grand St.; bazbagel.com
MáLà Project's Dry Pot
At this Chongqing-dry-pot specialist, wok hei is hot and heavy in each bowl improvised from an astonishing choice of ingredients, from tongue to tendon, all infused with enough spicy oil and Sichuan peppercorn to set one's mouth afire. —J.D.S.
Multiple locations; malaproject.nyc
Wayla's Moo Sarong
Italian-Americans have spaghetti and meatballs, but Thais have moo sarong: tiny porkballs wrapped in wheat noodles, then deep-fried to a crisp. At Wayla, it takes nimble-fingered cooks three minutes to prep one moo sarong and customers less than that to polish off a basket of six. —R.R. & R.P.
100 Forsyth St.; waylanyc.com
Vic's Crispy Sweet Onions
You look at the menu and think, Onion rings? Instead, you get a pile of scoop-shaped wedges, fried tender and crisp, blasted seemingly by paint gun with tomato powder, and showered with Parm. On the side, a bowl of creamy cheese sauce. Bar food extraordinaire. —R.R. & R.P.
31 Great Jones St.; vicsnewyork.com
Misi's Occhi
The pasta's moniker and origins remain murky, but who cares? By any other name — ravioli, anolini, tortelli — the domed pockets, plumped with ricotta, glossed with butter, and blitzed with shaved lemon zest and bottarga, would taste just as rich and savory. —R.R. & R.P.
329 Kent Ave., Williamsburg; misinewyork.com
Momofuku Ko's Burger With Foie Gras
Forget the pork bun. If there's a dish that defines the enduring Momofuku high-low aesthetic, it's this snack-size burger: three ounces of dry-aged beef topped with melting foie gras on a Martin's hot-dog bun slicked with Japanese mustard. Smart, iconoclastic, delicious. —R.R. & R.P.
8 Extra Pl.; ko.momofuku.com
Modern Love's Hen-of-the-Woods Piccata
Isa Chandra Moskowitz was animal free before Impossible was a glint in its founder's eyes. Her special talent is capturing the essence of comfort classics, as in this crisp-fried, lemon-and-wine-sauced maitake that doesn't so much mimic veal piccata as resuscitate it. —R.R. & R.P.
317 Union Ave., Williamsburg; modernlovebrooklyn.com
Le Coucou's Quenelle de Brochet
Nobody invests their little pillow of mashed pike with more painstaking care (the fish is tweezed of bones and blended with cream and eggs) and style (the Champagne beurre blanc, the dot of caviar) than Daniel Rose. —A.P.
138 Lafayette St.; lecoucou.com
Okonomi's Japanese Breakfast
In a land of bodega BECs and OTT toasts, the set meal seems ascetic: a plank of fish, a square of tamagoyaki, soup, rice, pickles. But each element is perfectly wrought, as subtle as the dawn sky and as refreshing as a breath of clean mountain air. —J.D.S.
150 Ainslie St., Williamsburg; okonomibk.com
Mama Fina's Sizzling Squid Sisig
Sizzling squid sisig in a skillet singing. It zoops and joops like a campground fire. The fried cephalopod is as crunchy as granola, as spicy as all get-out, and, with a twist of calamansi, as bright as a 100-watt bulb. —J.D.S.
167 Ave. A; mamafinas.com
Bep Ga's Pho Ga
The broth is fortified with whole birds, butchered parts, and feet, then concentrated by the meat that's poached in it. A blast of ginger paste, minty sawtooth herb, and creamy-yolked quail egg make it Vietnamese chicken-noodle soup of the gods. —H.M.
70 Forsyth St.; 917-261-4716
Birria-Landia's Tacos
José Moreno has carved out a niche as Queens's (and possibly the city's) preeminent purveyor of birria, a Tijuana-style beef stew animated with chiles and warming spices. This specialty draws nightly crowds to his food truck, which dispenses the meat and broth in various ways, including on a quesadilla-like mulita and in a cup of consommé. But the thing to get is the taco, made with tortillas stained red from a dip in the broth. —J.D.
Roosevelt Ave. at 78th St., Jackson Heights; 347-283-2162
Saraghina Bakery's Micca
Edoardo Mantelli studied under celebrated Piedmont bread baker Eugenio Pol. He must have been an annoyingly bright student judging by his micca — a rustic mountain loaf with a crunchy crust and creamy crumb as springy as a Sealy Posturepedic. —R.R. & R.P.
433 Halsey St., Bedford-Stuyvesant; saraghina.com
Llama San's Duck Nigiri
These dabs of aged-duck sushi are dressed with slivers of banana and a single droopy nasturtium leaf that makes the whole inspired creation look like it's been transported directly from some fantastical Dr. Seuss cartoon. —A.P.
359 Sixth Ave.; llamasannyc.com
Spicy Village's Big Tray Chicken
All the spices assemble in this sliver of a restaurant and in its signature dish: chunks of fried chicken and potatoes with add-on noodles, Sichuan peppercorn, cumin, and enough chile to leave your mouth bamboozled but euphoric. —J.D.S.
68B Forsyth St.; spicyvillagenyc.com
Decoy's Peking Duck
Although the city is awash with more challengers every year, Decoy's crisp, juicy, beautifully presented bird still reigns supreme. Credit chef Joe Ng's special fat-rendering technique, which leaves the skin crackly, melting, and parchment thin. —A.P.
529½ Hudson St.; decoynyc.com
Mountain Sweet Berry Farm's Tristar Strawberries
Everything a mainstream strawberry is not: low yield, labor intensive, pretty puny, and too delicate to transport long distances. Also: intensely aromatic, perfectly sweet, and juicy through and through. —R.R. & R.P.
Union Square Greenmarket (in season)
The Jones's Filet o' Fish
Afloat in a cloud of caper-studded tartar sauce, under a tarpaulin of American cheese and nestled inside a yielding potato roll, the titular fillet is a worthy homage to the anodyne McDonald's classic. —J.D.S.
54 Great Jones St.; thejones.nyc
Chez Ma Tante's Pancakes
Extra yolks add richness. Lemon zest lends brightness. But it's butter that makes these hotcakes shine: not just melting on top but whipped into the batter and pooled so high in the pan the crisp little Frisbees are practically deep-fried. —R.R. & R.P.
90 Calyer St., Greenpoint; chezmatantenyc.com
Adda's Lamb Chops
What raises this Indian-canteen-style dish into the canon of meat-eating pleasures? There's the double-cut chop itself, plus the tandoor-oven technique, which in the hands of a master can turn anything into a piece of tender, charred, crunchy perfection. —A.P.
31-31 Thomson Ave., Long Island City; addanyc.com
I Sodi's Lasagna a Sugo
In a crowded field, I Sodi's is a coxuture lasagna, 20-odd layers stacked up as neatly as a deck of cards, the crisp-edged sheets melded together into a supple, jiggly mass. If it's a gooey mess you're after, look elsewhere. —R.R. & R.P.
105 Christopher St.; isodinyc.com
Mah-Ze-Dahr Bakery's Cheesecake
Sour cream tempers the cream-cheese richness. Bright flecks of zest convey a pleasant undercurrent of lemon oil. And the cocoa-cookie crust adds a bitter crunch as well as a black-tie dapperness. It's fancy without being ostentatious, simple but sublime. —H.M.
28 Greenwich Ave.; mahzedahrbakery.com
Yi Ji Shi Mo Noodle Corp.'s Rice Roll
A bustling operation is headquartered in this cramped Chinatown space, where liquefied rice flour is steamed on trays, then folded into chewy crêpes that melt in your mouth. Fillings, toppings, and sauces complement but never overwhelm. —C.C.
88 Elizabeth St.; 646-233-6311
The Grill's Prime Rib
Dry-rubbed, spit-roasted for hours, rubbed again, then finished in the oven before being wheeled to the table in a carving cart and served in brisket jus under a faint shaving of fresh horseradish. —A.P.
99 E. 52nd St.; thegrillnewyork.com
Miznon's Cauliflower
It takes chutzpah to name a dish "the Original World Famous Baby Cauliflower," but this crucifer merits the hype: The whole head is boiled in Dead Sea–salty water, caressed with olive oil, then roasted until the surface is golden brown and the interior custardy. —R.R. & R.P.
435 W. 15th St.; miznonnyc.com
Saint Julivert Fisherie's Crispy Tuna Bake
Imagine your mother's tuna casserole with a globe-trotting spirit and an enhanced surface area. There's turmeric and curry leaf in the tomato sauce, oil-cured tuna mingled among the noodles, and a shallow pan to ensure maximum crunch. —R.R. & R.P.
264 Clinton St., Cobble Hill; saintjulivertbk.com
TAK Room's Chips and Dip
The dip is made from house-whipped mayonnaise and spoonfuls of crème fraîche, a touch of sherry, veal stock, and dehydrated onions also made from scratch. But the key is the golden, crunchy housemade chips. And yes, it's more or less impossible to eat just one. —A.P.
20 Hudson Yards; takroomnyc.com
Red Hook Tavern's Cheeseburger
Cheeseburgers of the moment come and go, but Billy Durney's ode to the lunchtime Peter Luger burger is that rare beef-and-cheese combo that manages to combine the ancient pleasures of the form with the thrill of discovering something new. —A.P.
329 Van Brunt St., Red Hook; redhooktavern.com
2nd Ave Deli's Chicken in the Pot
Unadulterated, potent, and delivered to your door in a glass jar. That is the golden elixir known as chicken in the pot: heady broth, half a kosher bird, thick slices of carrot, chewy "flake" noodles, and a spongy, schmaltzy matzo ball. Common colds cower in its presence. —R.R. & R.P.
Multiple locations; 2ndavedeli.com
Nami Nori's Spicy Crab Dynamite Roll
The Japanese answer to the lobster roll: fresh crab mixed with sriracha mayo and tobiko roe, tucked into a slip of nori seaweed coated in puffed rice. It's the perfect single bite (or two, if you're in polite company). —N.R.
33 Carmine St.; naminori.nyc
Spanish Diner's Huevos Rotos Casa Lucio
Full English breakfast, Spanish style: olive-oil-fried eggs lounging on fat fries that soak up the runny yolks like hyperactive sponges. Around the plate goes a meaty wreath of Spanish pork product: ham, chistorra, morcilla. You'll never miss the Heinz baked beans. —R.R. & R.P.
10 Hudson Yards; littlespain.com
Sullivan Street Bakery's Pizza Pomodoro
Long before square slices were all the go, there was Jim Lahey's pizza pomodoro: a swipe of sweet tomato on a caramelized crust, served at room temp and better for it. No bells, no whistles, no cheese, no roof-of-the-mouth burns. —R.R. & R.P.
Multiple locations; sullivanstreetbakery.com
Veselka's Borscht
Lots of borscht out there. Hot borscht. Cold borscht. Red borscht. White borscht. And then there's Veselka's Ukrainian borscht, the borschtiest borscht of them all, made with beef stock and pork butt and capable of stopping a cold front in its tracks. —R.R. & R.P.
144 Second Ave.; veselka.com
Hometown Bar-B-Que's Pastrami Sandwich
Don't get us wrong. We haven't lost our ticket and forsaken Katz's. But out at Industry City, there is a contender: thick, wobbly, hand-cut planks of supremely fatty smoked meat piled high on rye and tasting even richer than it looks. Two bites could be lunch; a half-sandwich is lunch and dinner; the whole shebang makes for a sort of large-format feast. —R.R. & R.P.
87 35th St., Industry City; hometownbbq.com
Bangklyn East Harlem's Pad Thai
Pad Thai convert Pat Kanhasura overcame his distaste for the "too sweet" dish by taking pointers from a Bangkok street vendor. His is spiked with fish sauce and tamarind water, and you can get it with "southern-fried" chicken and a sunny-side-up egg. —R.R. & R.P.
2051 Second Ave.; 646-429-8128
The Beatrice Inn's Fried Chicken
What started as a staff meal can now be had by the paying public — off menu, barroom only. But these hoops are worth jumping through for a hot-sauce-spiked honey glaze and a crust as crunchy as a Greenpeace sidewalk solicitor. —R.R. & R.P.
285 W. 12th St.; thebeatriceinn.com
Çka Ka Qëllu's Kacamak
There is comfort food that comforts, there is comfort food that fills you up, and then there is Çka Ka Qëllu's kacamak, a fine-grained white polenta cooked with milk and bolstered with kaymak, the clotted cream of the Balkans. It arrives at the table piping hot, and although it may look like a convalescent pile of mush, it is epic: rich and tangy and about as light and fluffy as a La Grenouille soufflé. —R.R. & R.P.
2321 Hughes Ave., the Bronx; çkakaqellu.com
Crown Shy's Sticky Toffee Pudding
The swirled design could be too cheffy, but it's drowning in gooey toffee. On separate plates: quenelles of apple sorbet and double-thick whipped cream. Altogether, the update on the stodgiest of Anglo puddings is shockingly balanced — and almost impossibly satisfying. —A.S.
70 Pine St.; crownshy.nyc
Cevabdzinica Sarajevo's Cevapi
The national dish of Bosnia and Herzegovina: craggy little sausages kissed with fat, flame grilled, and as compulsively edible as a bowl of salted peanuts. Stuff them in fluffy flatbread with raw onion and red-pepper spread (ajvar) and make a sandwich. —R.R. & R.P.
37-18 34th Ave., Astoria; 718-752-9528
Momo Crave's Sukuti Momo
At this fusion-momo joint, the tastiest variety is one of the most traditional: golden-fried beef-filled crescents tossed with soy sauce, chiles, and ginger and topped with "buff jerky"—the air-dried buffalo called sukuti — along with cilantro, tomato, and onion. —J.D.
38-07 69th St., Woodside; 718-255-1714
Ribalta's Spaghettoni al Pomodoro
Top-notch pasta secca and preserved cherry tomatoes of such superb flavor they could give San Marzanos an inferiority complex. No dish better proves that the quip about Italian food being 95 percent shopping and 5 percent cooking isn't a put-down. —R.R. & R.P.
48 E. 12th St.; ribaltapizzarestaurant.com
El Quinto Pino's Uni Panini
Alex Raij didn't invent plopping orangey lobes of sea urchin on bread. But when she worked some Korean-mustard-oil compound butter (and a panini press) into the proceedings, she changed the game — not unlike the guy who introduced peanut butter to jelly. —R.R. & R.P.
401 W. 24th St.; elquintopinonyc.com
Kettl's Matcha Chocolate Bar
Supersmooth, creamy, and balanced enough to appeal even to those unmoved by matcha or white chocolate. The collaboration between tea upstart Kettl and old-school chocolatier JoMart comes plain or speckled with roasted buckwheat: Nestlé Crunch for the matcha-crazed masses. —R.R. & R.P.
Multiple locations; kettl.co
Win Son Bakery's Mochi Doughnut
This Taiwanese-American café eschews ordinary old-fashioneds for a doughnut devised from the ancient grain millet and glutinous rice flour. Fried to order and coated in ginger-cardamom sugar, it emerges soft, almost stretchy, and appealingly chewy. —C.C.
164 Graham Ave., Williamsburg; winsonbrooklyn.com
Niche's Steak Mazemen
As dry as a Steven Wright punch line, mazemen is ramen's brothless brother. The Sun Noodle noodles are thick and wavy, the chunks of rib eye charred and sweet. And for something saucier, if not soupier, you can add a poached egg. —J.D.S.
172 Delancey St.; nakamuranyc.com/niche
Benno's Garganelli Verde
Ribbed tubes of spinach pasta get sauced with super-lush veal-and-porcini ragù larded with besciamella and fonduta. It's one of those infernally good dishes the kitchen can never retire for fear of customer revolt. Chef Jonathan Benno doesn't even think about nixing it. —R.R. & R.P.
7 E. 27th St.; bennorestaurant.com
Mr. Khao Man Gai's Khao Man Gai
Hainanese chicken rice, Thai-street-cart style: The bird is simmered with garlic, ginger, and pandan leaves, chilled, then plated over rice cooked in the broth. Eat it with a cup of radish soup and a spicy, gingery sauce. —J.D.
Multiple locations; khaomangainy.com
Cafe Dushanbe's Kurutob Salad
Can salad be indulgent? Yes, if it's the national dish of Tajikistan and the star of this Central Asian menu: tomatoes and cucumbers, ripped slabs of croissant-textured fatir bread, dried-yogurt dressing, fried onions, and a scattering of cilantro and thinly sliced chiles. —L.K.
1788 Sheepshead Bay Rd., Sheepshead Bay; 718-676-9404
Buvette's Anchoïade Tartine
If you were ever looking for a socially acceptable way to mainline gobs of butter in public, this is it. The classic combo of creamy dairy, briny anchovy, and toasted bread is magical, and Jody Williams's version is often copied but never surpassed. —R.R. & R.P.
42 Grove St.; ilovebuvette.com
Una Pizza Napoletana's Pepperoni Pizza
For 25 years, Anthony Mangieri refused to put pepperoni on his pizza. Then, suddenly, Seymour: two types of pepperoni on one UPN pie. Dueling pepperonis, if you will. One's hot and spicy; the other's rich and gamy. The most sophisticated pepperoni pizza on the planet. —R.R. & R.P.
175 Orchard St.; unapizza.com
Supermoon Bakehouse's Doughnuts
Delightfully overinflated doughnuts are offered in three well-devised flavors at a time, so you're never sure what you'll get. But you won't be disappointed: Fruit fillings are tart, crème pâtissière is accordingly rich, and sugar is restrained all around. —H.M.
120 Rivington St.; supermoonbakehouse.com
Falafel Tanami's Falafel
Everything is made fresh: the herb-laced falafel, the infernal harissa, the golden chunks of fried eggplant, the crisp fluorescent pickles. And the laffa pita, shaped in Israel but baked in-house, so fluffy it could be a celebrity profile. —J.D.S.
1305 E. 17th St., Midwood; 718-483-9100
High Street on Hudson's Salt and Pepper Bagel
It's been seven years since Melissa Weller sold her first bagel at Smorgasburg, and her modestly sized, splendidly chewy specimens still set the standard: the amped-up everything, the malty marble rye, and her tongue-tingling signature, the salt and pepper, coated with flaky sea salt and embedded with cracked butcher's pepper. —R.R. & R.P.
637 Hudson St.; highstreetonhudson.com
Contributors: Rob Patronite, Robin Raisfeld, Adam Platt, Joshua David Stein, Chris Crowley, Joe DiStefano, Hugh Merwin, Leah Koenig, Alan Sytsma, and Nikita Richardson
*This article appears in the March 16, 2020, issue of New York Magazine. Subscribe Now!