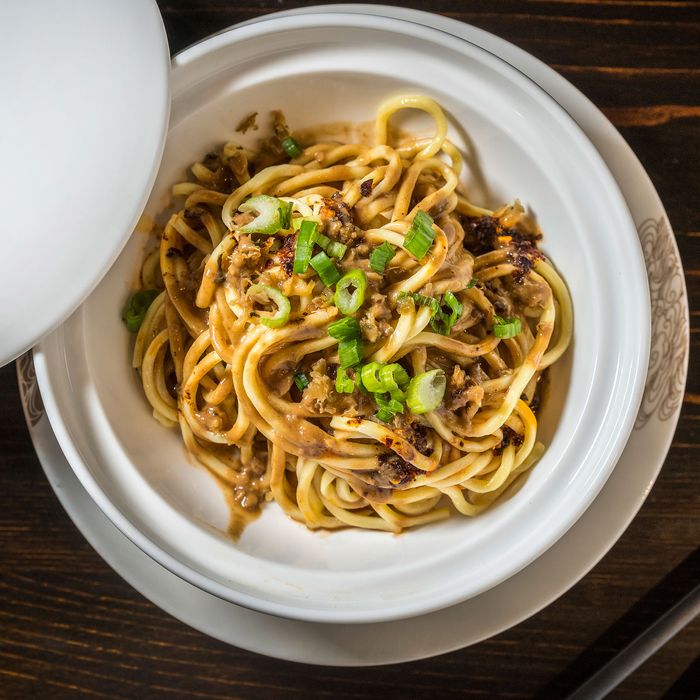 Hwa Yuan's famous sesame noodles.
Photo: Noah Fecks
Chinatown restaurants are suffering from plummeting sales amidst coronavirus panic, neighborhood restaurateurs tell Grub. Similar reports have come out about Flushing and Sunset Park's Chinatowns. Let's, say, first of all, that this is stupid. Secondly, it couldn't come at a worse time for the restaurants that depend on banquet business. So cancel your weekend plans with your couch — we love our couches, too — and head over to Chinatown, Flushing, or Sunset Park. Or why not all three? It's always a good time to eat in these neighborhoods. Here are 12 of Grub's favorite spots in the neighborhoods.
Bamboo Garden
Sunset Park is the neighborhood to go to for dim sum, and Bamboo Garden delivers some of the neighborhood's finest: Carts are constantly zipping around the dining room, delivering excellent versions of rice rolls around crullers, delicate dumplings like har gow, buns with salted egg custard, and more contemporary dishes you won't necessarily find elsewhere. (For more of Sunset Park's best restaurants, head this way.)
Dumpling Galaxy
Flushing's Helen You is New York's most creative dumpling chef, serving dozens of varieties at her restaurant from her lamb xiao long bao to tomato and egg. Stay away from the restaurant for a few months, and it's likely that you may return to find something new that she has been tinkering away while you've been a dilettante eating at other restaurants. Case in point: her dessert soup dumpling, with dark cocoa powder in the dough and a Ferrero Rocher candy inside. (Here's a list of the neighborhood's finest places to eat.)
Great New York Noodletown
Noodletown is a New York institution on par with Barney Greengrass. New York wouldn't be the same without it. It's also both one of the neighborhood's only late-night spots, and one of the city's best. You go for the wonton soup, noodles with the famous ginger-scallion sauce, the roast duck with flowering chives, salt-baked squid and soft-shell squid when it's in season, and so much more.
Hua Ji Pork Chop Fast Food
There are a lot of restaurants like Hua Ji scattered around Chinatown: family-run, cubby hole-size spaces that turn out top-notch food but don't necessarily get talked about as destinations unless you're really in the mood for this one dish. Hua Ji only has a handful of seats, but the rice-centric menu is sprawling with dozens of options for rice dishes, plus a few fried rice pates and pan-fried noodles. The thing to get, though, is the pork chop over rice, with its delicious combination of five-spice-seasoned meat and pickled greens.
Hwa Yuan
The historic and palatial Sichuan restaurant, which returned to the neighborhood after closing in the '80s, is a place built (literally) for celebrating. It's spread out over three stories, with large private banquet rooms, and an equally impressive menu decked out with lots of classics like the orange beef, specialties including Tang's amazing spicy wine chicken and whole fish with hot bean sauce, and showstoppers — namely Peking duck — when you need to go big.
Jing Fong
Should you need a place to get shumai for you and 800 of your closest friends, Jing Fong is here for you. Run by third-generation owner Truman Lam, it's one of Manhattan's popular spots for the cuisine (enough so for Lam & Co. to expand to the Upper West Side) and known for dishes like turnip cakes, sesame glutinous rice balls, and char siu.
Lao Cheng Yi Guo
Most hot pot in New York is of the Sichuan variety, where one broth is mild and the other is ferociously spicy. This Beijing import, with locations in Flushing and the East Village, makes theirs with a soup you'll want to slurp: a robust lamb broth with a little Sichuan peppercorn. Warm up over the weekend.
Nom Wah Tea Parlor
Wilson Tang's Doyer Street restaurant turns 100 this year. That is reason enough to visit this Chinatown classic, New York's oldest dim sum spot, where you can order shrimp rice rolls, egg rolls, scallion pancakes, and all the other staples à la carte.
Super Taste
It's soup season right now, and this Eldridge Street operation serves some of the best in the neighborhood. Get yourself a bowl of the hand-pulled noodles in hot and spicy soup, which comes with beef, and don't forget to get an appetizer of steamed dumplings.
Tasty Hand-Pulled Noodles
The much less famous neighbor to Doyer Street Nom Wah, this cramped spot's speciality is obvious. It's noodles are offered in a variety of thicknesses, from from "small wide" to "Shanghai thick", and have attracted the Mayor of Flavortown himself, for good reason: they're served at a rapid clip, are always tender, and it's hard to make a bad choice, whether you want your noodles brothy or knife-cut and pan-fried with roast pork.
Wu's Wonton King
Everybody loves Wu's. The East Broadway corner spot typically tends waits and has developed a loyal, cultish following among the food cognestci, with fans including Frenchette's Jorge Riera, Kopitiam's Moonlynn Tsai, Momofuku's Dave Chang, and Ops's Mike Fadem. They all go there, because the food makes for a damn good time: the crispy garlic chicken, the generous bowls of wonton soup, the sticky ribs, and, if you're with a group, a big old Dungeness crab ordered in advance.
Yi Ji Shi Mo
The small Elizabeth Street spot only opened this year, but it immediately became known for its excellent rice rolls and has drawn the attendant crowds. It's a squeeze on weekdays, and always worth it: They're perfectly schlubby and squishy, made from rice flour milled on site, and come with toppings that are more discerningly added than at the also great Joe's Steam Rice Roll. I'd like to eat them for breakfast everyday.