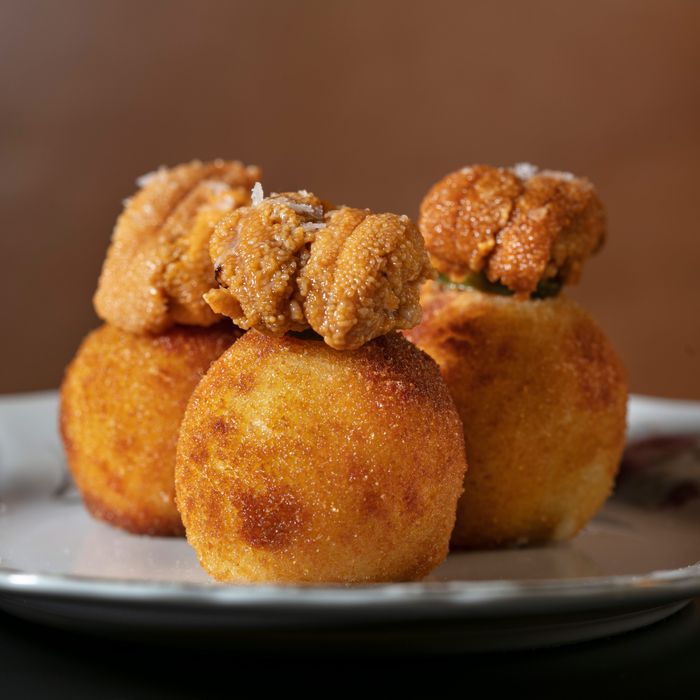 Babs' uni croquettes with pork belly and fermented serrano peppers.
Photo: Melissa Hom
It's an idea as old as time itself: Fry an ingredient and it will be demonstrably better than it was before it was fried. Oreos, hot dogs, blocks of cheese, batter — the list goes on. And that's basically the logic behind the croquette, little balls of fried delight that have far transcended their humble origins as a simple hors d'oeuvre.
Indeed, croquettes are a perfect small plate or bar snack because they're satisfying, but not filling, easy to share, and above all, incredibly riff-able, which means they can be served at any kind of restaurant whether the speciality is Middle Eastern cooking, Japanese bar food, or New American cuisine. Here's where you can find top-of-the-line croquettes in New York City right now.
Sea-urchin croquettes
Where: Babs
How Much: $21
"Basque cuisine is so specific to that area that it can be hard to replicate in New York," says chef Efrén Hernández of Babs. "But croquettes are accessible. And we wanted to make a croquette that was more interesting than the basic version." For his enhanced take, Hernández uses Iberico pork belly and a creamy béchamel base as well as acidic fermented serrano peppers for the batter. Once the croquettes are fried up, each is topped with a small disc of serrano pepper and briny sea-urchin tongue from Maine — thus the price tag.
Croquetas de pollo
Where: Spanish Diner
How Much: $12
If you're ever interested in hearing a TED Talk on croquetas, just ask the staff at Spanish Diner. They go through hours of training on how to make a stunningly consistent version of the Spanish classic, which is made with shredded chicken and bechamel sauce created with a chicken stockbase. And it shows: Each little croquette tastes and looks homemade thus the unofficial name for these: Granny's Spanish chicken fritters.
Cod croquette
Where: Floret
How Much: $12
Remember the part in Charlie and the Chocolate Factory where Violet Beauregarde experiences an entire meal in one wad of gum? This croquette is a bit like that. The prep invovles salt curing, milk poaching, and hand mashing, but what arrives tableside is your favorite poached fish entree in hors d'oeuvres form with curried aioli on the side for dipping.
Croquetas de gallina
Where: Ernesto's
How Much: $10
This snack might be the best-kept secret at this new Basque-influenced restaurant on the Lower East Side. It doesn't immediately scream "showstopper," but it is, in fact, a highlight of chef Ryan Bartlow's menu. How to describe them? Like the creamiest and most soul warming chicken soup you've ever had — but in croquette form. (The result of three hours of milk poaching the chicken and two hours spent slow cooking the bechamel sauce.) Nothing about the golden breadcrumb exterior gives this away, which is what makes this offering pure culinary magic and a must-order.
Country ham croquettes
Where: Red Hook Tavern
How Much: $8
Croquettes may be a European import, but at Red Hook Tavern they've been given it they American spin they so greatly deserve with the addition of country ham. Red Hook Tavern puts so-called "hillbilly prosciutto" in their croquettes along with piquant, white cheddar, deep fries them, and serves the final product in a pool of sinus-clearing dijonnaise with the mustard seeds still visible, thank you very much.
Codfish brandade croquette
Where: Bar Shun
How Much: $15
The croquettes at this upscale spot from an acolyte of the late Joël Robuchon takes the standard salt-cured cod to another level by adding sugar, orange, and lemon to the cure. It makes for a base that's bright and slightly sweet, but still savory enough to pass as a proper cocktail snack. A sharp romesco sauce made with Thai and Korean chilis makes these the zippiest croquettes in town.
Korokke
Where: Bar Goto Niban
How Much: $11
Korokke is the result of a centuries long love affair between France and Japan — a fried patty of meat or vegetables and potatoes — and they're the star of the menu at the recently opened Bar Goto Niban. The izakaya serves four types of korokke: Slow-cooked potato with onion, ginger, and beef; a très French version with potato, bechamel, and a melty cube of gruyere; a more Japanese take with potato, edamame, and shrimp; and a Japanese curry rice korokke.
Potato croquettes with anchovies
Where: Leo
How Much: $9
There aren't many bells and whistles around the croquettes at this sourdough-centric pizza shop in Williamsburg: Potatoes and a mixture of pecorino and scamorza cheeses wrapped in tangy, sourdough breadcrumbs. Each croquette is topped with a spritz of lemon and that tiny master of umami and salinity — the anchovy — to become the quintessential bar snack.
Mujaddara croquette
Where: Qanoon
How Much: $13
This Palestinian restaurant from accountant-turned-chef Tarek Daka, offers a take on the croquette that you don't see everyday: A green lentil and rice base (with the requisite bechamel) served over makdous, or oil-cured eggplants, and topped with feta sauce. The ingredients may be totally different, but the deep-fried sentiment is still there.
Croquetas
Where: Casa Del Toro
How Much: $8
At this new Hell's Kitchen restaurant, potato-based croquettes are given a Mexican spin and filled with queso chihuahua (a mild cheddar developed by Mennonites in Mexico) and salty, hard cotija cheese, which keeps these from going too gooey The panko breadcrumbs on the exterior certainly help, too.