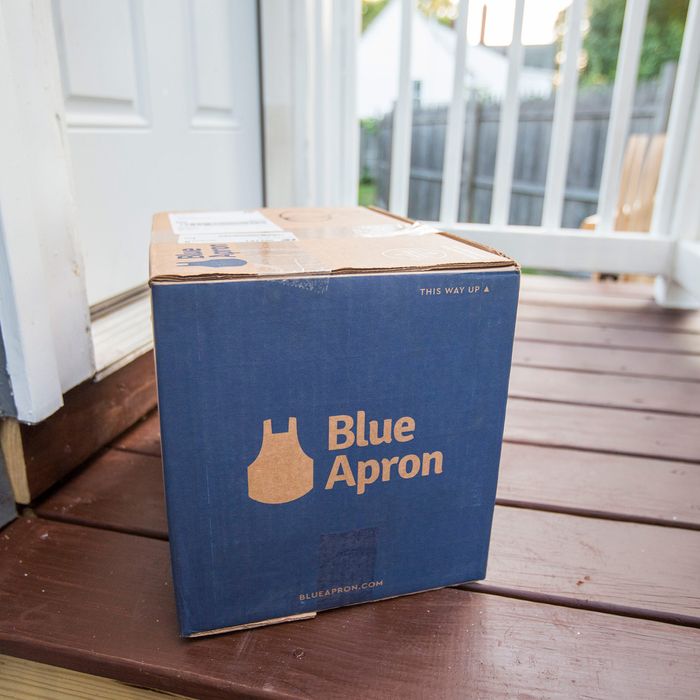 Things haven't looked so good for Blue Apron in a while.
Photo: Scott Eisen/Getty Images
Back in 2016, the New York Times called Blue Apron, the meal-delivery service, "the Starbucks of the meal-kit business." It was seemingly high times for the company; during the first quarter of 2016, the company reported that it was actually profitable, and TechCrunch wrote in 2017 that "Blue Apron appears to be the next major consumer IPO." Except it didn't work out that way. The IPO was an embarrassment, and now new reports pain a bleak picture, with experts pointing to the company's imminent demise. How did we get here? What happened? Grub is here to help you understand."
Okay, first thing's first. Can you remind me what Blue Apron is?
Blue Apron pioneered the meal-kit delivery service, which back when it launched in 2012 was heralded as something revolutionary disruptive but was, really, an innovation for no one. The company delivers customers weekly boxes — with plenty of packaging — of ingredients that come with recipes.
Oh, right, I used that once in 2016! They've been sending me emails for years asking for me back, like that guy Tyler I went on one date with.
Exactly, Blue Ribbon is such a Tyler. The founders wanted to "disrupt" grocery shopping for overworked millennials, at one point claiming they'd be able to reach "99 percent of potential home cooks," as the Observer notes. They did have some success, too, reportedly selling 3 million meals a month at one point.
That's a lot of lunches. My friend Andy would use it, but then he stopped once he figured realized he could cook.
So did my friend. He just keeps all the recipe cards. Anecdotally, the problem seemed to be sustained interest: Blue Apron could help someone learn how to cook, but then that person would want to go experiment with cookbooks. Also, the company start faced competition from more established companies.
I love experimenting with cookbooks.
Who doesn't? Anyway, things started going embarrassingly south for Blue Apron in 2017, when it reportedly lost at least 250,000 customers (including 9 percent of customers from March to the end of June) and had an IPO that Bloomberg called "the bust of the decade." Blue Apron shares were trading at less than the cost of a Blue Apron meal and, at the time, less than stock in the already-bankrupt Sears, and they only continued plummeting. Investors were not very happy, and subsequently sued the company. By 2018, the company's stock was trading at less than a freaking dollar; today, it dipped below $3.
That's bleak. 
Bleaker than a recipe for Beyond Beef quinoa enchiladas.
So what's happened since 2018?
Well, the company reportedly lost almost $24 million during the last three months of 2019, a whopping figure. It also continued to bleed customers, losing another 206,000 by the last quarter of 2019 compared to 2018. It partnered with WW, the company formerly known as Weight Watchers. The company was valued at $2 billion after its IPO, and is now worth roughly $58 million, a few dollars less.
Ouch.
Yeah. Now, it seems pretty clear — barring some Hail Mary — that the company is a goner. It's laying off 240 employees and shutting down its warehouse in Arlington, Texas. It'll still have California and New York distribution and assembly locations.
So what are they going to do? How is Bobby going to cook?
Leadership is apparently trying to sell the company, according to MarketWatch. But that won't change the fact that, as Grub put it back in 2018, the meal-kit industry has struggled to "justify its own existence" since the start.