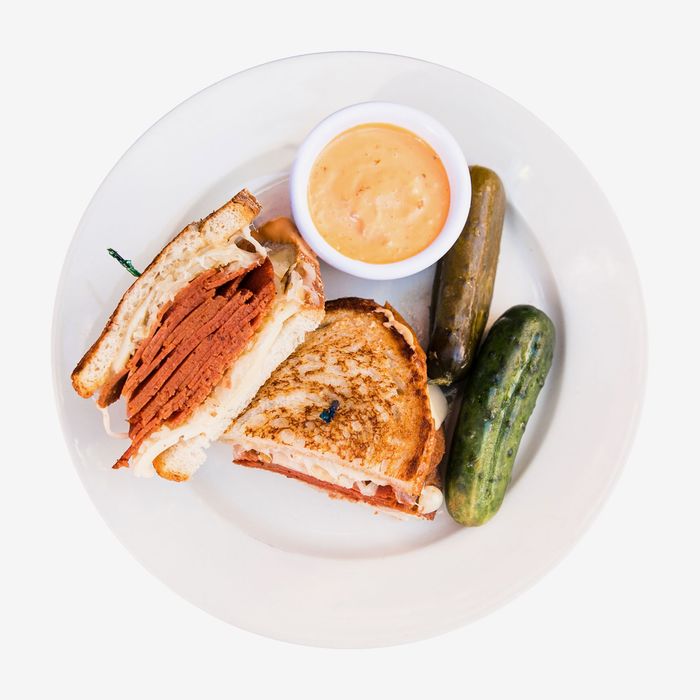 A vegetarian-friendly Reuben.
Photo: Courtesy of Sarge's Deli
"Plant-based" protein replacements are so common now that it's a safe bet your favorite restaurant already sells imitation chicken wings and burgers "oozing" with beet juice. Even vegan pork is getting the steam treatment in dumpling houses. But nobody has yet dared to offer a faux-tein at New York's most storied dining institution: the delicatessen, where sandwiches have been piled high with the same beef and poultry products for decades. But now, New Yorkers at Sarge's Delicatessen & Diner in Murray Hill can order a Reuben with "meat" that is 100 percent plant based.
"I was definitely hesitant at first," says Sarge's fourth-generation owner, Andrew Wengrover, whose great-grandfather founded the deli in 1964. "But it's 2020 — we live in a whole new world, so I finally said, 'Let's do it.'"
The plant-based corned beef on Sarge's menu was created and made by Unreal Deli, whose founder is 38-year-old Jenny Goldfarb. (Ironically, she is herself the great-granddaughter of New York delicatessen owners and was born at NYU Langone Medical, around the corner from Sarge's. Her parents took her home to an apartment on 24th Street between 2nd and 3rd Avenue.)
Goldfarb was raised in southeast Florida as a "Seinfeld and bagels kind of Jew." But a year in Israel after college made her think about interconnectedness and food choices, and when she saw an undercover factory-farming video ten years later, she decided to go vegan. By then, she was married with children and living in Los Angeles. She announced the change to her husband, who issued the challenge: "I'm in, if you make it extremely delicious and I don't miss a beat."
She began to shop the produce and grains aisle, and experiment in the kitchen, to mixed results. One day, however, she realized that a great New York–style deli meat didn't exist in plant-based form.
"By then, I knew the structure of making faux meat. High-protein wheat is an integral part. And I knew flavoring. I looked up the spice blends of corned beef and developed my own — that alone took four months," she says. After months of trial and error, she made a loaf out of the wheat, chickpeas, beets, and tomatoes, made similarly to baked goods, with wet and dry mixes, which is rolled and baked.
Goldfarb's eureka moment was when her father-in-law — "a big-time New Yorker and criticizer of the vegan lifestyle" — tried it and loved it.
Mrs. Goldfarb's Unreal Deli was born in October 2018, and Goldfarb wanted her corned beef in Jewish delis. She started cold-calling L.A. institutions like Canter's, Factor's Famous, and Art's. (When I tried it a few weeks ago, at Factor's Famous, I tasted no difference between the towering, salty sandwiches I enjoyed before going vegan three years ago.)
Goldfarb worked in music-business sales in her early 30s, and says selling her vegan deli meat to a Jewish deli was much easier. "Nobody's calling these guys, saying, 'Try my mustard!'" The owners listened, and let her bring in samples. They would say to her, "We need something like this." Factor's placed an order for 12 pounds, Canter's ordered 50, and Goldfarb helped "vegucate" the kitchen staff on what veganism is. On her table tents, featuring a cheeky photo of Goldfarb bearing resemblance to the Marvelous Mrs. Maisel, she suggests fully "veganizing" the sandwich by leaving off the cheese, and adding sauerkraut and avocado.
Last fall, Goldfarb also pitched her product on Shark Tank. Her episode aired on November 17, 2019, and secured a quarter-million-dollar investment from Mark Cuban. "Being on Shark Tank was like the final exam of my life," she says.
But now, the tastes of fussy New Yorkers will be yet another test. The vegan corned beef hit the menu at Sarge's in late January. "New York has always been my biggest prize," she says. "But Jewish delis are tough. Many haven't put anything new on the menu in 100 years — and it's not like there's a new turkey club or matzo ball."
In another stroke of irony, Sarge's Wengrover had seen Goldfarb on TV before he'd ever spoken to her. He said his mom called him one night and told him to "put on Shark Tank. Look at this lady — good for her!"
A couple weeks later, Goldfarb called, and here we are. New Yorkers can see for themselves how the new product compares to the classic. The plant-based Reuben costs $18.