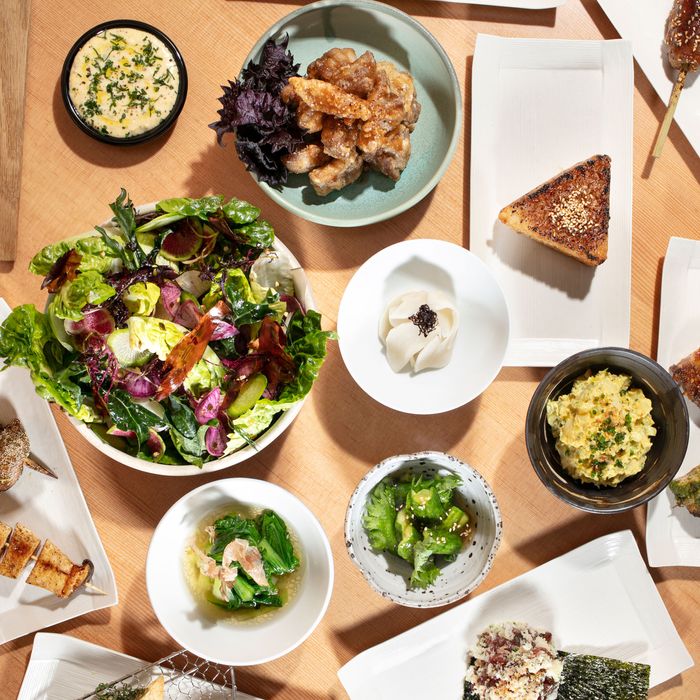 A full spread.
Photo: Melissa Hom
Okonomi and Sunday in Brooklyn are two of Brooklyn's most popular restaurants for a reason. Both are known for their morning meals, the former for its pristine Japanese breakfast, the latter for stellar brunch that stands out in a sea of mediocre hash browns. Given their proximity and shared interest in breakfast, it's not exactly a surprise, then, that some people from both restaurants would find something to love in each other's restaurants. So when Okonomi's former chef de cuisine JT Vuong and general manager George Padilla left to do their own thing, it didn't take long for them to link up with the guys behind Sunday. After a test run of sorts with last summer's Yaki Tiki pop-up, they're now ready to open their own restaurant, Rule of Thirds, this Saturday.
Their new spot occupies the former home of Norman in A/D/O, the Greenpoint design space from car company Mini. The restaurant and events space portion feels like it could be an airplane hanger or at least a very rich man's garage. "We're creating all these intimate little spaces," owner Adam Landsman says of the design, "but also not losing the fact that you have these big, tall ceilings."
Like Sunday, Rule of Thirds is an all-day restaurant that will, eventually, be open for lunch and breakfast. Unlike Sunday, it's Japanese inspired, and Vuong's approach to the food could be described as faithful but not doctrinaire. For the chef and Padilla, it's their first proper restaurant; both had worked at Okonomi and its precursor pop-up Yuji Ramen since 2013.
The menu is awfully exciting, and considering the combined talent of all involved, Grub sat down with Vuong, the chef; Landsman; and Padilla, co-founder and their guy for all things sake, to go through every dosh on the menu.
Drinks
For drinks, they're bringing over Sunday's Brian Evans. His lengthy menu of drinks is heavy on Japanese ingredients, like the Japanese rum and plum liqueur in the Rum 'N Coke, the Roku Gin in the Jazz Lingo, and the sakura leaf in the Nite-Kappa. There'll also be a $9 whiskey highball served from a Toki highball machine. But even more so than cocktails, they're going all-in on sake. This is Padilla's domain. They have a dedicated sake service station, a custom portable sake warmer to warm up sake (not make it hot), and custom sake cups (created by sister ceramicists Carly and Alanna Miller), many of which look almost psychedelic. "We're really gearing the sake towards this natural wine lover's style of sake," Landsman explains.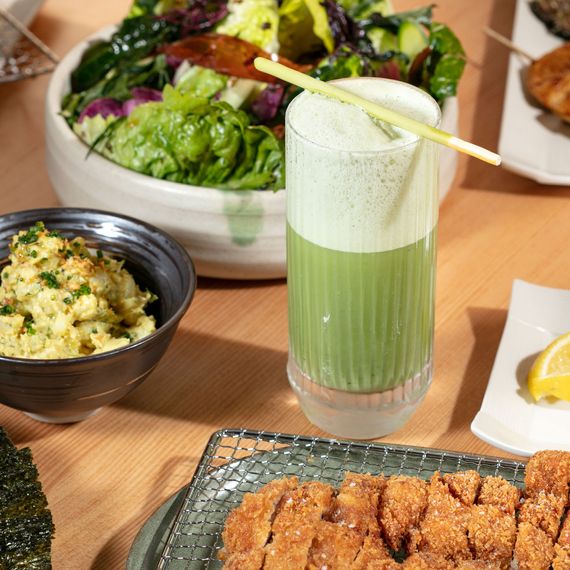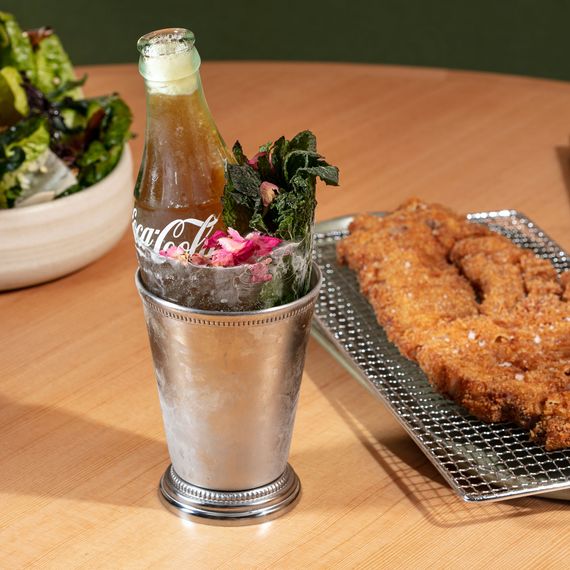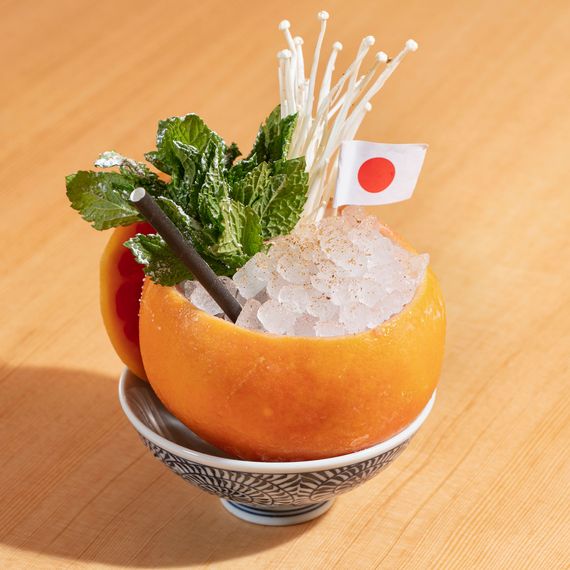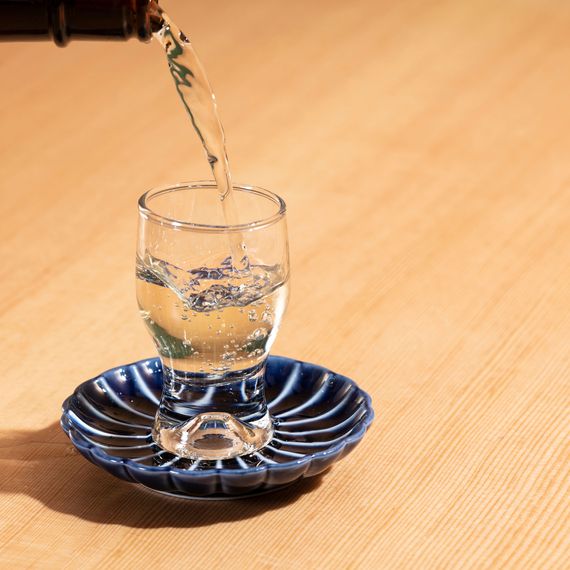 Tsukemono Bento
"The pickles will rotate depending on what's in season but will contain some staples such as salt-fermented napa cabbage, cucumbers in sake kasu, and carrots in miso," Vuong says. Sake kasu, if you're unfamiliar with it, is the leftover by-product from making sake. They get theirs from Brooklyn Kura.
Tuna and Nori
An izakaya staple that Vuong has turned into what he calls "more of a textural play." The dish is a pile of tuna tartare that's not just one cut: There's minced tuna, which is slicker; scraped tuna from the bones; and smoother sinew. It's seasoned with sesame oil, scallions, sweet soy, and the spice mix shichimi togarashi. Also: crispy bits. "There are tempura flakes that are very crunchy, and scattered throughout are buckwheat groats — but not a ton," Vuong says. "It hits the whole spectrum of flavors."
Tofu Hot Pocket
This is a playfully named riff on inarizushi, or inari age, which is sushi rice stuffed into fried tofu that's been braised in soy sauce. Here, they swap out the sushi rice for glutinous rice, the kind that makes delightfully chewy mochi, and mix it with Camembert cheese, sweet soy sauce, and pickles. There's also cream cheese, butter, Fresno chili, and a few other ingredients involved. "I want to introduce a lot more of the textural components — more of the sliminess, more of the chewiness," the chef says of why he's using mochi. The Camembert might seem unusual, but it's not. "Camembert cheese is actually huge there," Vuong says, and he first became familiar with its use in Japanese cooking at Okonomi. "That kind of opened my eyes to seeing a different way of combining cuisines, instead of swapping out ingredients one for one."
Mixed Lettuce Salad
Vuong's bonito glass could be the most exciting thing to happen to New York salads since nutritional yeast. The salad itself has little gem lettuce, fennel, radishes, mustard greens, buckwheat groats, yuzu juice, tsukudani or braised spent kombui, and hot honey, among some other ingredients. But the most exciting ingredient is the bonito glass. "It's these sculptural, shiny shards of bonito," Padilla says. The kitchen makes it by braising thick bonito flakes in sweet soy sauce, then dehydrating them. It operates kind of like a crouton but looks almost like sugarwork. "With the tsukudani and this, it's these two by-products of making dashi that we turned into other products," Vuong says.
Karaage
When picking what style of Japanese fried chicken to serve, Vuong wanted something that fit the restaurant. His cooking brings in elements of Western cuisines, like yōshoku cooking, and he is quick to profess his preference for Kyushu cuisine. Tori nanban being a yōshoku dish from Kyushu made it a perfect fit. The chicken thigh is dry-fried with potato starch, so it's gluten free; coated in a ginger soy sauce that's also gluten free; and served with an eggy tartare. "We want to be wary of people's dietary restrictions. Sometimes fried chicken is too heavy. The ginger and vinegar help cut that back," the chef says.
Oshizushi and Sashimi
Vuong worked at a sushi spot before joining the Yuji Ramen pop-up but felt the degree of difficulty for "straight sushi" was too high for this restaurant. Instead, he goes back to Kyushu. "This is kind of their style of sushi and sashimi," he says. For the sushi, he'll use more preserved fish, generally a white fish, and keep seasoning light with white soy sauce and mirin. There's also yuzu kosho to spice things up, as well as cured radishes. As for the sashimi, the fish will rotate depending on what's available, so you might get a plate with yellowfin tuna marinated in soy, bonito with grated ginger and chives, and porgy that's had hot water or oil poured over it to make the skin edible. They'll be served with yuzu kosho, daikon, sashimi soy sauce, shiso leaf, and seaweed. "We're able to produce it better in this kitchen," Landsman says of the sushi.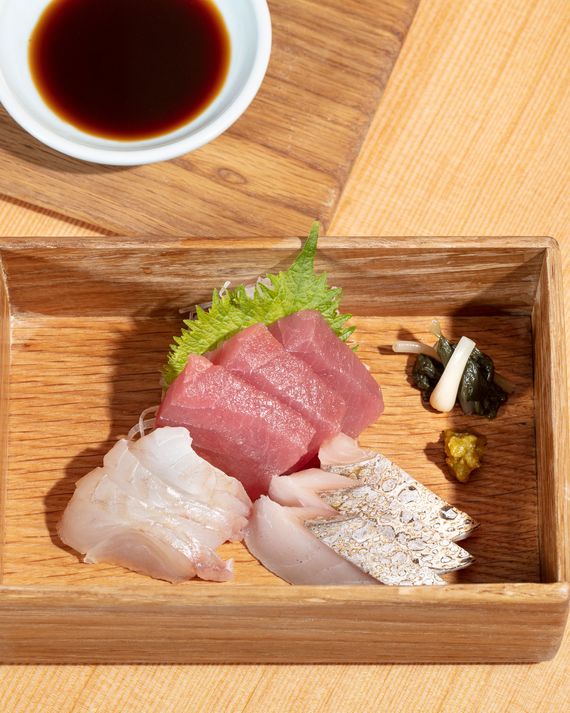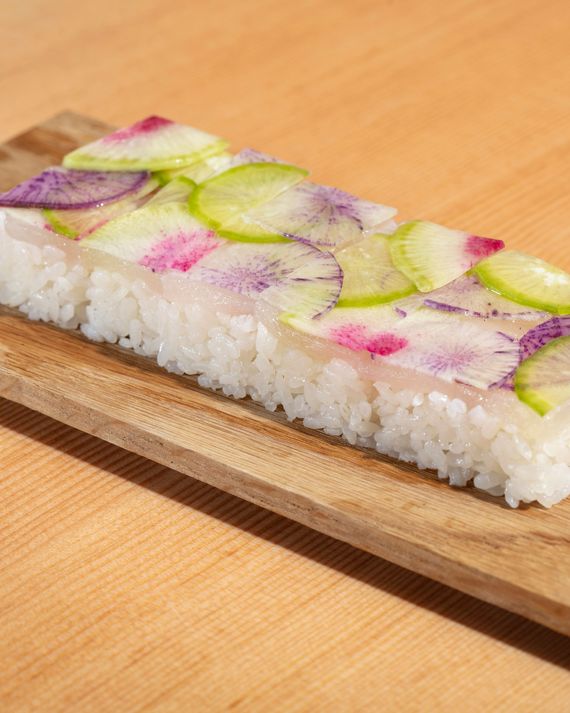 Tamagoyaki
An omelet garnished with trout roe, a snowfall pecorino, and tosa soy sauce, which is fortified with bonito and kelp. "It contains both white soy and dashi, which makes it much more flavorful from umami," Vuong says.
Hollander Mussels and King Trumpet Mushroom
The mushroom gets brushed with chicken fat and yakitori tare, though it can be made vegan. Other mushrooms may soon appear. "We have some maitake we've been messing around with, which are much more robust in flavor and delicious," Vuong says. The sole shellfish skewer blends preservation techniques from Japan — where shellfish are simmered in soy sauce, sake, mirin, and sugar — and the West — where smoking is more common. "We kind of just put them together," Vuong says. The mussels are steamed, picked, smoked, and then marinated in yakitori tare.
Chicken Meatball Skewer
Another classic, it's ground chicken with fat and skin for moisture and texture. That's seasoned with yakitori tare made from soy sauce, sake, mirin, sugar, roasted chicken bones, allium scraps, and ginger. It's finished with a Worcestershire yolk jam made from slow-cooked egg. "It's like making a different version of fish sauce," Vuong says.
Chicken Thigh and Pork Jowl Skewer
"We all definitely enjoy going out and eating yakitori," Vuong says. "There are also a ton of great yakitori restaurants that are smaller, more intimate. And they import chefs from Japan." What they realized, he explains, was that the space was too big. Yakitori is normally handed over the counter. Here, it'd travel across a big dining room, and temperature changes could be drastic. Instead, they say they'll contribute with certain different cuts. But there will be classics, like chicken thigh with a ginger gremolata, the Italian chopped herb condiment. Working at Sunday before focusing on Rule of Thirds was where the chef learned how to make gremolata. "I'd almost only worked in Japanese kitchens, so working at Sunday opened my eyes a ton," he says.
"I tend to prefer off cuts, like the jowl," Vuong says. He cures and then slow-cooks the fatty pork; it gets finished with red yuzu kosho and mirin. "The other great thing about having a real section of yakitori is the flexibility. He can rapidly be putting things on and off and finding different ways to use parts of those ingredients," Padilla says. "The grilled section of the menu is going to be the most fluid part of the menu."
Yaki Onigiri
"A lot of people don't do it because it takes up a lot of grill real estate and time, and also, a lot of people don't want to pay too much money for rice," Vuong admits. Sure, a grilled rice ball sounds basic, but it isn't. Here, they pack white rice into more of a triangle and brush it with chicken fat before grilling. It also gets yakitori tare for good measure. "It just adds a lot of flavor to that dish. Crunchy on the outside, a bit softer on the inside, seasoned with the soy sauce and chicken fat," he says.
Roasted Fish
The roasted fish won't be a static dish, either in protein or preperation. They'll serve it just salted and roasted, marinated in miso or sake kasu, kombu-cured, or salted, brined, and dried. One version will be Spanish mackerel salted and grilled with charred broccoli rabe, bell pepper sauce, and yuzu kosho. "It'll be a good size, like five ounces, so if you come in as a solo diner, you can order it as an entree. Or you can order it as something to share," Landsman says.
Tonkatsu
This is certainly a contender for New York's most heavily researched fried pork. Landsman half-seriously estimates they tried 200 variations before landing on the unconventional use of blade steak for tonkatsu, a dish normally made with pork loin or fillet. What they found was the blade steak, also known as Boston butt and usually braised, better absorbed the flavors of its sake kasu marinade. It also offered variety. "Because there are different types of muscles and fat, you can enjoy lots of different flavors from just the pork," Vuong says. It comes with a bunch of sides: Japanese mustard, lemon, cabbage, and a riff on Bull-Dog sauce they call Pauldog sauce after their chef de cuisine, Paul Punch.
Kasujiru
Sake kasu is an ingredient woven throughout the menu here. Kasujiru is a stew that's all about that ingredient. Typically made with pork or salmon with carrots and daikon, Vuong makes his vegan with butter beans and a plain yaki onigiri. "Our original version was pork, and I was like, 'It could be interesting, like a pork and bean stew play,'" Vuong says. "Then we realized it'd be great without the pork itself, which turned it into, I think, a dish that showcases the sake kasu much more. It's very floral; they don't pasteurize it."
Buddhist Duck Service
The showstopper isn't just another dry-aged-steak replacement. It's a whole duck that's aged for a week and a half, and then turned into a three-course meal: first the duck breast with lettuce cups and more; then a nabe with rice, umeboshi kabayaki sauce; and duck legs; and finally a broth with bones and smokey bancha tea. Orders will be limited per night. As for the inspiration, in this case, it came from Chinatown. "Have you been to Wu's Wonton King and done the king crab? It is one of my favorite meals of all time. You don't need anything else," Landsman explains. "You get it in three courses; it comes in one way, then another. Each time, you're like, 'Oh, this is so cool.'"
Add-ons
Finally, there are a handful of add-ons, including smashed cukes with sanbaizu gelée, a sweet dashi vinegar set with gelatin and then put through a sieve; ohitashi, greens blanched and then marinated in dashi; and curried potato salad. The potato salad is made with Japanese mayonnaise and S&B Japanese curry powder that's tweaked a little in-house. "On our last trip to Japan, one of the ones we saw a lot this time, as well, was basically a macaroni salad with curry powder, and I was like, I love this," Vuong says. "We were trying to get curry on the menu, but kept getting pushback, so I was like, All right, I'll sneak it in."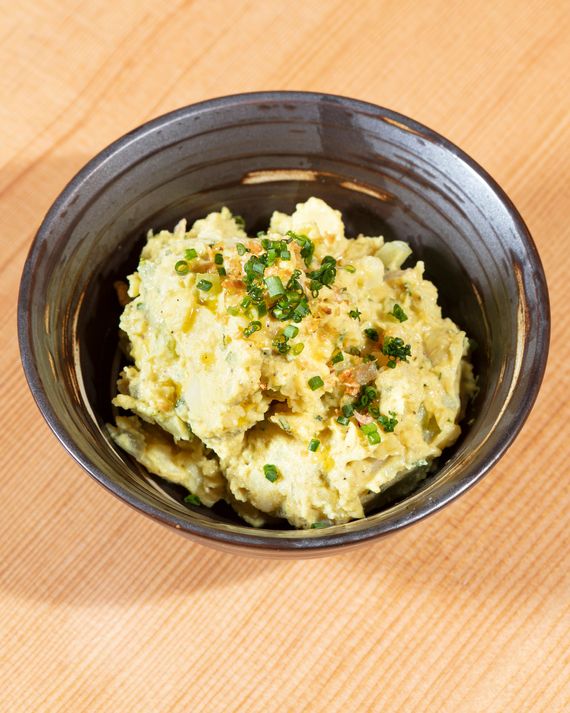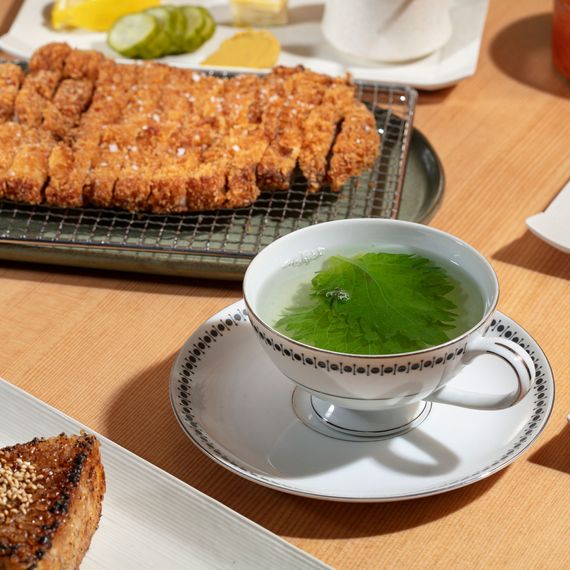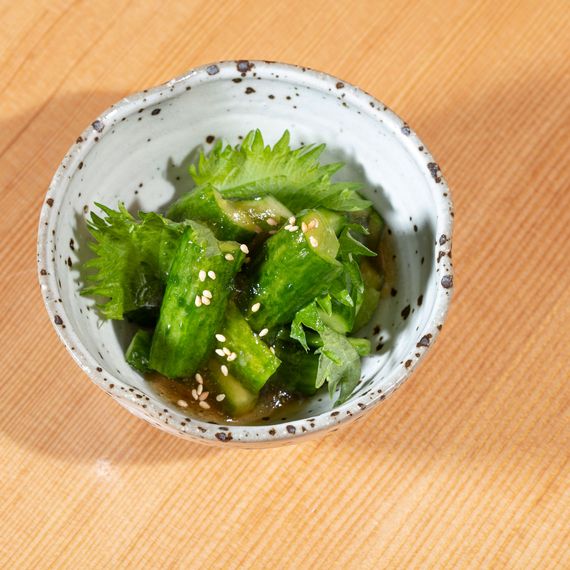 More Add-ons
The other three add-ons are yakibitashi, roasted vegetable that's submerged in seasoned dashi; an unconventional almond miso soup; and a classic rice, pickles, and soup set. "Essentially, Japanese fusion is stuck in Japanese-French in the '80s. We're taking aspects of that and modernizing it. That was kind of a weird revelation. It sounds really weird," Vuong says. The soup is made with saiko miso, a white miso; barley miso; chunky almond butter; and some almond oil. There is also a trio of desserts, namely two types of soft-serve (like white chocolate-sake kasu and Japanese purple yam) and a Japanese-style cheesecake made in a rice cooker.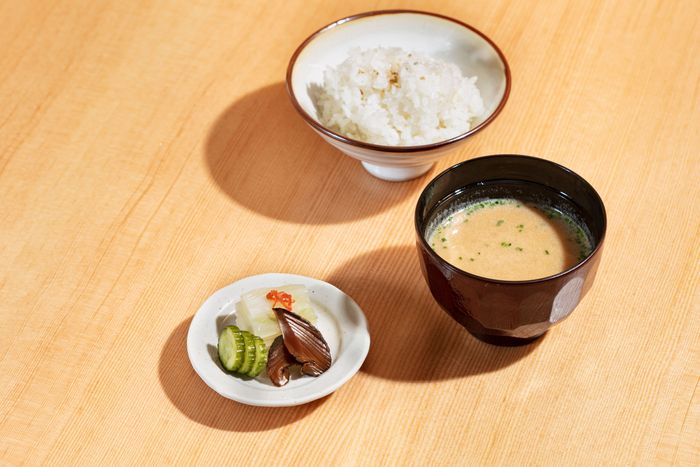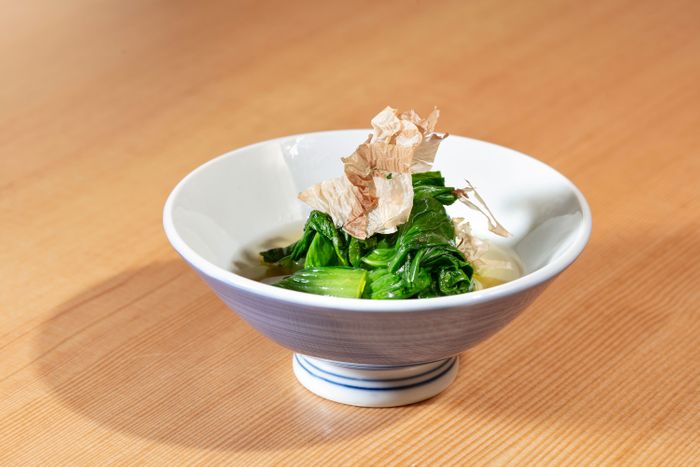 Rule of Thirds, 171 Banker St., nr. Norman St. 347-334-6684