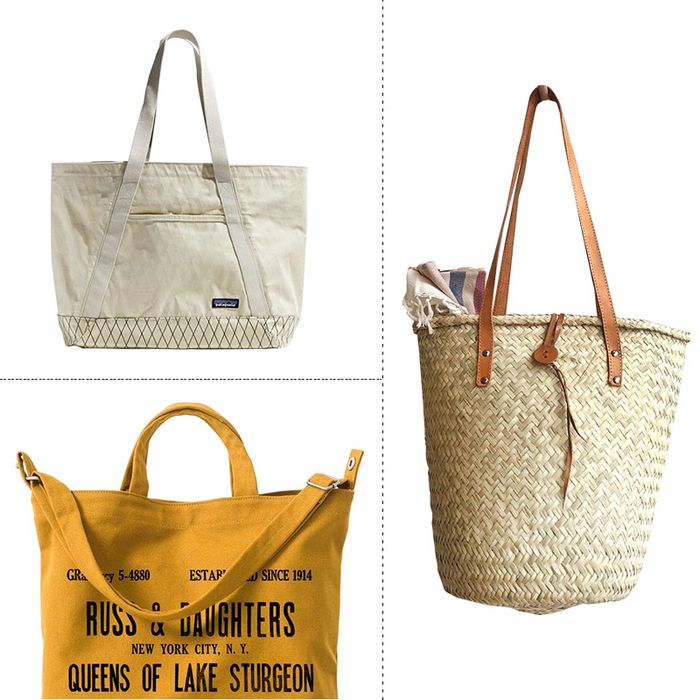 Photo: Courtesy the vendors
Until now, a plastic bag ban seemed like something that only a sunny, Über-progressive place like California could pull off. But not so. The dream of a plastic-bag-free existence in New York will come true when a statewide ban on such bags begins on March 1. That means fewer plastic bags in trees, on subway tracks, and around our ankles on windy days. It also means always having a reusable bag handy whether you're making a quick trip after work or buying groceries for the week. Here, ten reusable bags for every possible kind of shopping trip in a post-plastic-bag New York.
For big solo shopping trips
Photo: Courtesy the vendor
How big is this bag? Big enough to fit a medium-size dog or a week and a half's worth of groceries, including multiple rolls of toilet paper and paper towels on top of the usual food stuff. Plus the extremely sturdy canvas means you'll never have to worry about unsightly holes.
For spur-of-the-moment shopping trips


Photo: Courtesy of the vendor
Photo: Courtesy of the vendor
If you weren't already the type of person who keeps a reusable bag on you at all times, now is the time to become that person. These lightweight nylon bags fold up easily and can carry a considerable amount. Plus, they look really, really good.
For shopping with New York pride


Photo: Courtesy the vendor
Back in the 1940s, shoppers at this Lower East Side icon would take home their lox and schmears in a paper bag hand-printed with this "Queens of Lake Sturgeon" design. A few years ago, a Russ & Daughters regular came across one of them and the folks at Russ & Daughters decided to reprint it, albeit on environmentally friendly canvas.
For shopping with the entire family
Photo: Courtesy of the vendor
Many hands make light work, as does having three sturdy, collapsible grocery bags that you can spread between the entire gang on your next Costco run. They'll also sit straight up for the inevitable cab ride home.
For shopping with a purpose


Photo: Courtesy of the vendor
Photo: Courtesy the vendor
If you want to shop and support makers around the world, these two bags fit the bill. The Apolis Market Bag, which can haul upwards of 100 pounds, is handcrafted by Bangladeshi women who are paid a fair wage (one of the reasons it's one of the Strategist's best totes of 2020) while the Minna Oaxacan bag is woven by Mexican artisans from dried palm leaves, making it extra sustainable.
For shopping at the bulk bins


Photo: Courtesy of the vendor
The new law won't eliminate plastic bags for produce or bulk bins, but if you're going to go plastic-free, might as well go all the way. These small cotton bags are well-suited for loading up on trail mix or dried beans.
For when you need a shopping bag no matter where you are


Photo: Courtesy of the vendor
If you plan on keeping multiple reusable bags around — one for the office, one for home, one for your own bag, one for the gym — then you're going to want to buy this wallet-friendly set of five. The bags fold up into a small pocket that can conveniently hook onto a key chain.
For shopping at the farmers' market
Photo: Courtesy of the vendor
The farmers market is all fun and microgreens until you find dirt and all the other signs of farm freshness at the bottom of the bag. With these net bags, that won't be an issue.
For shopping in one borough and going home to another
Photo: Courtesy the vendor
For anyone who shops across boroughs, it can be a pain in the butt when you can't set your grocery bag on the subway floor without it sliding away or flopping over. This bag stands up on its own, so no need to hold on to it for dear life.
For shopping at the height of summer


Photo: Courtesy of the vendor
Ever tried to transport ice cream home on a 90-degree day? Yeah, it's a nightmare. An insulated bag will definitely help, plus it doubles as a great beach bag.
Every product is independently selected by (obsessive) editors. Things you buy through our links may earn us a commission.