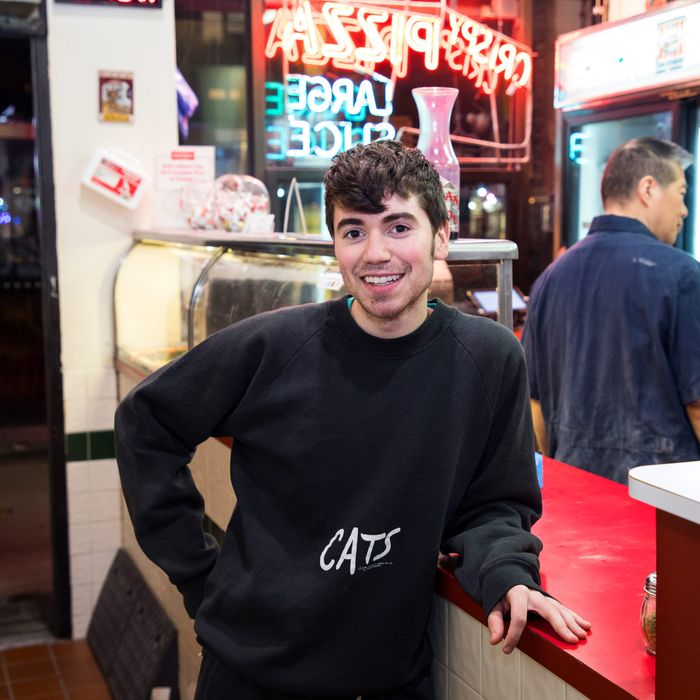 Noah Galvin estimates he's been to Sal & Carmine's some 200 times.
Photo: Charles Caesar
"I think you fall in love with the person who has the ability to teach you," says actor Noah Galvin. "I think we fall in love with our mothers that way —so I couldn't help but fall in love with Ina and Rachael — they felt like surrogate television mothers that were teaching me this domestic skill." As an actor, Galvin is everywhere: on television in The Real O'Neals, movies like Booksmart, scripted podcasts like Gimlet's LGBTQ+ series The Two Princes, and on Broadway in Dear Evan Hanson. But he's also a prodigious cook, spending Super Bowl–J.Lo Sunday spatchcocking chickens, helping his sister with some potatoes, and making a pie to go with the ice cream he'd already made. While preparing for his role in Joseph and the Amazing Technicolor Dreamcoat, he grabbed soup dumplings in Long Island City, tried two kinds of pizza, and ate some late-night rigatoni. Read all about it in this week's Grub Street Diet.
Thursday, January 30
I awoke, my "rain" sounds blaring so as to drown out the sound of my sister's full morning conversation with our dogs. My face cheeks sore from the evening prior. Wednesday night flashed before me in a gleeful montage. Pasta and Gabi, focaccia and Jerry's smile, Monica and Prosecco. Wednesday evening, my friend, like the winner he is, invited me to attend a dinner at Rossopomodoro with the cast of Cheer. We sat down to dinner with my heroes. I wanted something meaty and tomatoey in nature. Lost in the love of Gabi and Jerry holding hands, I absentmindedly ordered a sausage-and-broccoli-rabe orecchiette dish. It arrived tomatoless, and I was sad. I ate it. It was fucking delicious, and I was no longer sad.
Still riding that pasta and Cheer high, I didn't need breakfast. I'm normally not a huge breakfast person. I have a strained relationship with eggs. Sometimes they make you gag, ya know? I walked to Peck's, my local coffee shop in Clinton Hill, and ordered a large cold brew in late January like a psychopath. I've rehabilitated myself since last year, when I walked around with one glove on in an effort to keep my "cold-brew hand" from freezing. I am also known to take upwards of about seven hours to finish a coffee. There's something comforting about a disposable cup halfway filled with a room-temp dairy-based beverage.
With my ice still in its solid state, I ventured to Union Square to my therapist. We mostly talked about Cheer. Specifically, my want for Jerry to find love.
My ice half-melted, I went in search of a lunch option between my therapist's office and my mother's yoga studio, the Studio (302 Bowery; go, my mother is a miracle worker). I settled on a place called Sage Kitchen. I ordered half of its schnitzel sandwich — chicken cutlet, apricot fig jam, pickled onion, greens, and aïoli — with a side of spicy peanut noodles, which are spicy, nutty noods; scallion; carrot; and cilantro. I ate around the cilantro. Fight me. Julia Child hated cilantro. I stand with Julia.
I hung out with my mom for a little bit and ate. I listened to the latest yoga gossip. It was juicy. I left and spent my afternoon eating snacks and singing at my dogs. In a couple weeks, I'll be playing Joseph in Joseph and the Amazing Technicolor Dreamcoat in Manhattan Concert Productions' 50th anniversary concert at David Geffen Hall. I'm replacing the incredibly talented Ariel Stachel, whom I star with on The Two Princes. Joseph sings a showstopping ballad called "Close Every Door." Molly and Ruby, the pups, loved renditions Nos. 5 through 8, were impartial to Nos. 3 and 4, and thought Nos. 1 and 2 were games.
That evening, I met my friends for dinner at Sushi Seki on restaurant row. I have a group of friends who are all from L.A., and the only sushi places they'll eat at in New York are Sushi Seki, Blue Ribbon, and Momoya. We ate a yummy meal and went to City Center to see Matthew Bourne's Swan Lake. It was beautiful and gay. I capped that night off with a couple handfuls of Smart Start Antioxidant — in my opinion, the only cereal that retains its crunch when up against the fast-acting soaking power of milk.
Friday, January 31
I crept to my door and raced Ruby back to my bed. I like to get there first so she doesn't shed all over the inside sheets. I woke embarrassingly late and came downstairs (that's right, I live in a two-story home; what of it?) to my sister who was "soy freaking hungry." We ordered subs from Canteen Delicatessen.
There was a deli when I was growing up in Katonah, New York, called Salnina's. They had a sandwich called the Italian Stallion. Mortadella, salami, capicola, sweet peppers, piles of the thinnest shredded lettuce I've ever had, finished off with oil and red-wine vinegar, on a crunchy-on-the-outside, soft-on-the-inside sesame-seeded hero. Salninas closed when I was 8, and I've been chasing that Italian dragon since.
I got as close as I could to the Italian Stallion, even within the ridiculous boundaries of Seamless. I wanted chips. They didn't have chips to order online. But it was a deli, I knew they had chips. The app just doesn't know about the chips. It's frustrating. We got fries instead. You could taste the old oil. I endured.
That evening, after once again serving up a Tony-worthy performance to Molly and Ruby, I went to an event with my friend who makes paper at a studio called Dieu Donné. Dieu Donné along with Love Positive Women and the Fire Island Artists Residency, right before Valentine's Day, join forces in creating, from scratch, handmade Valentine's Day cards for women living with HIV all around the world. I participated this year and got to see my very crude artwork in the flesh. After holding each other and crying while listening to women living with HIV tell their incredibly moving stories, my friend and I needed to eat our feelings.
When my sister and I took our dream vacation to Italy last year, we went to Naples and ate some of the most incredible pizza at a place called Sorbillo. It was one of the craziest, touristiest restaurants I've ever been to, and I was skeptical, but goddamn, they do that shit right. Upon returning to NYC, we realized there was a Sorbillo straight up the street from the Studio. It being in NYC and not Naples, I was saving it for a night with no other options. Our raw emotional states could only be quelled by carbs. And cheese. And Sorbillo was the answer.
We shared the appetizer of fried squash blossom filled with ricotta, and a margherita pizza with mushrooms (my friend is a vegetarian). I was delightfully surprised. It was freaking delicious. The dough, ya know? So pillowy. I asked the hostess about the connection to the Naples restaurant. She told me there were three chefs, two Italian expats, and one real-ass Italian who was rotated out every three months. I thought that was chill.
Saturday, February 1
After eating a hard dairy meal the night before, I was in perfect singing shape to start a reading of a new musical. Just kidding. Dairy, in large quantities, is not good for your vocal folds. They're not called vocal cords anymore; they're folds. I'm not kidding. Look it up.
I warmed up in a steamy shower to loosen that there phlegm and partied on to midtown, where I sat in a chair for six hours learning music.
The process of a 29-hour reading, or a developmental reading of a new play or musical, is a wild one. You learn an entire show (not memorized) in four days and then perform it on the fifth at music stands with very, very minimal staging. It's terrifying. But it stretches all the creative muscles. And I very much enjoy the development of a new show. Helping writers bring their characters to life for sometimes the first time. It can be incredibly rewarding. And a lot of the time not. But I like to do a few readings a year to keep my faculties lubed.
After a grueling six hours of dissonant country oohs and aahs, I jumped on the 7 and visited my cousin who lives in a little section of Long Island City called Blissville (how cute is that?!). As soon as I arrived, we watched the Taylor Swift documentary. After that experience, we went to dinner at a new Sichuan restaurant in Sunnyside called Chairman Sun. We ordered soup dumplings, which is always a move met with contention in my family due to our loyalty to Joe's Shanghai on Pell Street, which makes the best soup dumplings in the city; again, fight me. Chairman Sun, whoever he may be, made a delish soup dump. We also ordered scallion pancake, twice-cooked pork, mapo tofu, and cashew chicken. And rice. Rices all around. The dish that stood out was the twice-cooked pork. A ton of leeks and super-thinly sliced pork belly. Scrummy. We spent the rest of the night on my cousin's couch falling in different YouTube holes, Parris Goebel, into some thrilling group-competition dance pieces, into JackBoys, into a video called something like the most disturbed guests on Dr. Phil, and then we got scared so we watched Bhad Bhabie be a dick to her mom to lift our spirits and called it a night.
My sister and I arrived home at the same time. She had come from a restaurant we love called Alma (it has my favorite view of the city) in the Columbia Waterfront District. We both wanted a snack (full meal). We scanned our fridge. Nothing of promise. Two different packages of white miso, Champagne, and a lot of eggs. I buy extra-large eggs now cause Ina said it will make my baking better, but we still weren't jazzed about the fridge.
We went to the freezer. My sister has gotten really into freezing things lately. I judge her for it in the moment but, ooh baby, that second round is so sweet. We both swiftly agreed upon the rigatoni situation. My father's father died when he was 6. My father's original last name is Egidi. It's Italian. He then gave it to me as my middle name. Cooking Italian food feels like a celebration every time and is my only real connection to my Italian heritage. I got gravy in my blood. I have a few dishes that are my go-to's, dishes I don't need a recipe for, and they're all Italian.
The baked rigatoni I had made a couple weeks before for a few friends who came over. (I did not make it for them. I made it for me. They just happened to be there.) Comprised of rigatoni very al dente tossed with a jammy pork sausage meat sauce layered with ricotta, low-moisture mozzarella, and parm, parm, parm, then baked until it serves up that ooey-gooey brown and bubbly.
The rig' put me out.
Sunday, February 2
I was late to rehearsal and didn't have time to eat all day, so I resorted to the debit-card-capable vending machine at the rehearsal studio. I purchased something called the Energy Mix. I thought that sounded like something palatable. Useful, even. Upon further examination, I did not like the flavor profile. The banana chips were really getting in the way.
The Super Bowl was happening that evening, which meant nothing to me other than the J.Lo and Shakira concert and snacks.
My sister had a friend drop off his famous artichoke dip, so it was lit, but we needed a main event. We did some spatchcocking research. Cutting through the backbone of a chicken allows it to lie flat. It cooks quicker and more evenly. We smothered ours in butter, shoved some thyme under the skin, and, based on a Martha Stewart tip, placed it over torn-up, lightly seasoned pieces of chunky bread. The chicken fat drips into and loves all up on the bread, which then gets crispy. It was dreamy.
My sister made cornbread, which we then turned into cornbread stuffing because Thanksgiving food is fantastic. I think we should eat stuffing and turkey all the time. I want to normalize Thanksgiving food.
This past summer, I was in Waitress on Broadway, which has since closed. The show was about a baker who bakes her hardships and joy and questions all into pies. Inspired by the show, I started baking a lot. With the help of some Erin Jeanne McDowell content, I perfected my pie crust. Flaky yet substantial and crimped to boot! I utilized my skills for the Super Bowl. To go along with the mint stracciatella ice cream I had made based on a Jeni Britton Bauer recipe the week before, I whipped up a black-bottom-chocolate-pudding pie 'cause chocolate has never screened my call.
To throw on top, I turned to my best friends Claire Saffitz and Brad Leone (we've never met) who banded together to make a pumpkin-pecan pie hybrid around Thanksgiving. It had a rye-flour crust. One of my favorite things in their recipe is a speedy candied pecan you make by whipping egg whites, brown sugar, and salt; tossing in your nuts; and letting that bake on top of your pie for about 15. It turns into this crunchy sweet and salty bonus textural experience.
Something depressing happened Sunday evening, folks. My sister prepared the potatoes, boiling them for their future mashing. When it was about time to eat, I threw some butter and cream and salt in that pot and hunted for a masher. Where, oh, where did the masher go? We'll never know. I thought of what I could do. I decided to pull out the immersion blender. I was proud of myself. I attached the blade and went to town. Within moments, I looked on in horror as I turned these beautiful babies into what looked more like a pâte à choux dough than potato. From the tender age of 7 watching my girl Rachael Ray on 30 Minute Meals, I've been warned about the dangers of "gummy" mashed potatoes. I never really knew what this meant. Until Super Bowl 2020. A dark day. The potatoes "tasted like potatoes," according to television's Eve Lindley. They did. But their texture was … stretchy. We threw them away. DO NOT IMMERSION BLEND YOUR MASHED POTATOES.
The pie filled the hole in my heart left by the taters. We also had an arugula salad, just so you know I eat vegetables.
Monday, February 3
On my way to rehearsal in the morning, I passed Rosalu Diner like I do every morning on my way to the G train. They have a bougie version of the 7-Eleven pre-wrapped breakfast sammies. Their bacon, egg, and cheese was calling my name. But upon rereading my diary entries from Thursday to Sunday I decided I needed to break up the bread, meat, and cheese kick I've been on. I got an açaí bowl at Juice Generation. It was refreshing and filling in the way blended fruit can be?? A sort of cleanse.
I got hungry halfway through rehearsal 'cause I had blended fruit for breakfast and returned to the vending machine. I purchased, once again, my friend the Energy Mix. Well, well, well, dear reader, if it wasn't the consequences of my own actions, I was reminded of my disdain for the banana chip. The peanuts held me up.
After rehearsal, I headed uptown to the Upper West Side, where my mother lives. I spent years 14 through 22 there. Upper West, fuck the rest.
Having really cleaned up my act earlier in the day, I returned to my old ways with a pepperoni slice at Sal & Carmine's, my favorite pizza in NYC. Everything about their slice fills me with joy. They do not put out additional parm because their cheese blend already contains a substantial amount. Their dough is a bread I would eat completely on its own. It bakes craggily and substantive with a touch of doughy softness. Also? There's a solid amount of tangy sweet red sauce. A large peeve of mine is too little sauce on pizza. At the end of my slice, I want to feel as thought I'm eating a breadstick dipped in a tomato paste heavy marinara, IS THAT TOO MUCH TO ASK?!
The usual suspects were present. A bespectacled old man ready to launch into his well-rehearsed Zionism diatribe that had clearly just downloaded Instagram. A woman between the ages of 90 and 175 sat with her Zabar's tote and homemade chunkily beaded glasses chain, with a book of crosswords mere millimeters from her face. I felt at home.
Before my slumber Monday evening, after a light Love Island (UK) season-three binge, I went to lock my back door. I turned on the kitchen light, and there, standing alone in a pool of sexy light, a red box stared back at me. I approached it. I ran my fingers along its edges. I picked it up to see how much of it was left. She had heft to her. The melty peanut-buttery chocolate treats called to me. The precious hands of the Girl Scouts that crafted these morsels needed to be honored. And I was the soldier to do it. I ate one Tagalong and savored it. I locked my door, turned off the light, made my way halfway up the stairs, returned back to the kitchen, ate one more, and slept wrapped in the loving embrace of the militaristic child chocolate peddlers.