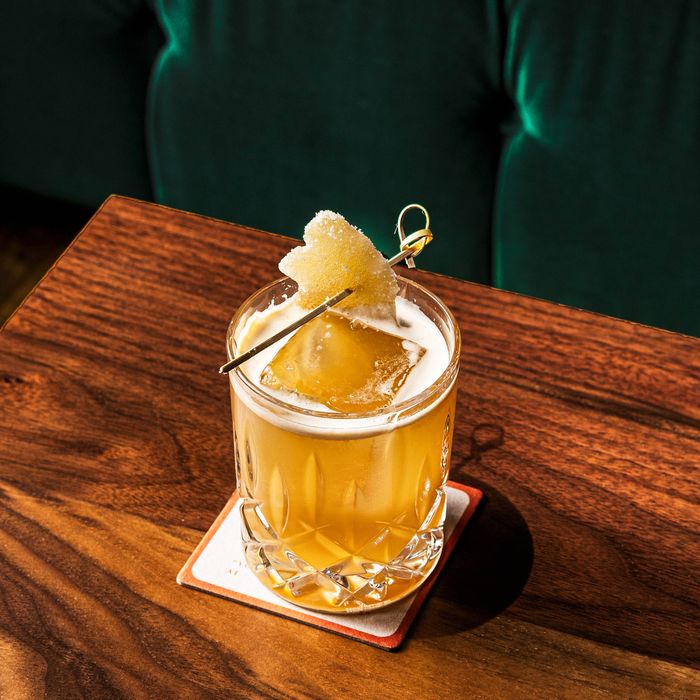 Check out Bergamo's before your next trip on Metro North.
Photo: Diane Sooyeon Kang
Grub Street is particularly excited about the local cocktail scene's newest arrivals, like a real-deal izakaya in Sunset Park, a stylish cocktail lounge near Grand Central Terminal, a speakeasy sports bar, and a dive-y bar with a serious drink lineup in the heart of Bed-Stuy. Each one of them is slinging exactly the kinds of drinks we're interested in right now: Slightly familiar to our booze-soaked palates, but with a much-appreciated twist. Here are the new cocktail bars worth trying out right now and what you should order when you get there.
Zinger
Where: Bergamo's
How Much: $18
It can be hard to find a bar to head to with a gaggle of co-workers, but the lavish and massive Bergamo's was designed for it. With a 63-foot bar and 8,500 square feet of space, this is a perfect spot for a group drinking session, whether your friends are into beer, wine, or cocktails, like this full-bodied and icy blend of brandy, ginger, lemon, and honey with a smoky mezcal float on top.
Silver Negroni
Where: Bed-Stuy Barb's
How Much: $12
This cozy spot from the team behind the late Bedford Hill is — or was — one of Bed-Stuy's best-kept secrets. While some might find the cash-only policy a bit irksome (don't worry, there's an ATM inside), where else in New York can you get a damn good dirty martini (hat tip to the use of Mediterranean olive brine) for $10, or this charming and cloudy take on the white negroni with Chicago-made gin, Cocchi Americano, Salers Gentiane, and white vermouth for a mere 12 bucks?
Pineapple Fruit Cocktail
Where: Oldies
How Much: $14
Oldies is an Industry City spot from the cocktail experts behind Angel's Share, though it thankfully ditches the fake-secret speakeasy aesthetic in favor of a more casual vibe. The bar is just as serious about its drinks, though, as evidenced by this cocktail made with fresh pineapple juice, honey, and Japanese whisky. Simple, but very effective.
Bergamot Sidecar
Where: Bar Goto Niban
How Much: $16
We're still not over the fact (and probably never will be) that Bar Goto has arrived in Brooklyn. And why not: It's not every day that one of the city's finest bartenders hops the East River for the quiet pastures of Park Slope. When, not if, you make your way there, consider this spin on the sidecar (pictured above), featuring deeply aromatic bergamot orange and yuzu bitters, meaning more real citrus flavor instead of the triple sec found in most sidecars.
Golden Hour
Where: Little Ways
How Much: $16
The interior of this new spot may be all about nostalgia for the Jimmy Carter years, but the cocktail menu is decidedly modern. This aromatic concoction featuring golden-beet-infused mezcal, white vermouth, and earthy Suze liqueur might seem a little hardcore at first sip, but once the ice starts melting, this flower child of a cocktail goes down pretty easy.
Cali Libre
Where: J. Bespoke
How Much: $17
This bar opened in December with a very specific purpose: to combine high-end cocktail culture with that boozy stalwart known as the sports bar. That makes J. Bespoke — located inside Devoción Cascara Bar & Coffee Shop in Nomad — the place to go if you like sports and $17 cocktails, the most creative of which is this gussied up take on the Cuba Libre. Bar director Alejandro Dieguez seriously pulls back on the drink's usual sweetness by using tangy cascara from Devoción, fresh lime juice, and organic cola, meaning you can actually throw a few of these back and not feel totally sick to your stomach.
Exquisite Corpse
Where: Canary Club
How Much: $16
All the cocktails at this Cajun-inspired jazz bar take their names from elements of the Surrealist movement, but the drinks themselves aren't too far afield. Like this gin-based play on the Corpse Reviver No. 2, featuring lime cordial (instead of lemon juice), clove-and-ginger-based velvet falernum and coriander (infused in the gin), and a dash of absinthe. It's less bright and sweet and more dark and heady, kinda like the Dadaists.
Downtown
Where: Sally's
How Much: $12
Yes, it's okay to go to a tropical bar and not order an easy-to-guzzle cocktail, though this place has plenty of them. The far more interesting choice would be to give the Downtown cocktail (pictured above) — featuring pear liqueur, sweet vermouth, light rum, and Angostura bitters — a try. It's fruit-forward and bright, but also perfect for those who like to linger over and savor their drinks.
Rum Negroni
Where: Bar Camillo
How Much: $10
At this new bar, there's a negroni for literally every type of drinker, ten in all, some of which stretch the definition of the negroni. Take the rum negroni: rum instead of gin, meletti amaro instead of campari, and dry white sherry instead of vermouth. A few nonnos may be rolling in their graves right now, but it's 2020 and as long as it's bitter, has no more than three ingredients, and features an aperitivo, it's a negroni in our book.
Pisco-Rose-Sour
Where: American Bar
How Much: $17
This spot from the team behind Cafe Clover and health-food store Clover Grocery is incredibly food-focused, but it's also an excellent spot for a cocktail. Under the American Twists section, you'll find this more elevated take on the pisco sour, featuring yuzu and tart rosehip, a favorite among the wellness crowd for its supposed cold prevention properties.
Hot Drink!
Where: Bar Meridian
How Much: $12
In these scratchy throat months, it's important to have a drink you can go to when your sinuses feel as dry as the Gobi Desert. Hot Drink! (emphasis theirs) is the answer, combining rye whiskey with slightly medicinal Braulio amaro plus honey and lemon for a bit of brightness. It's a hot toddy without the pretense (a.ka. tea). Plus, it goes really well with the bologna sandwich.