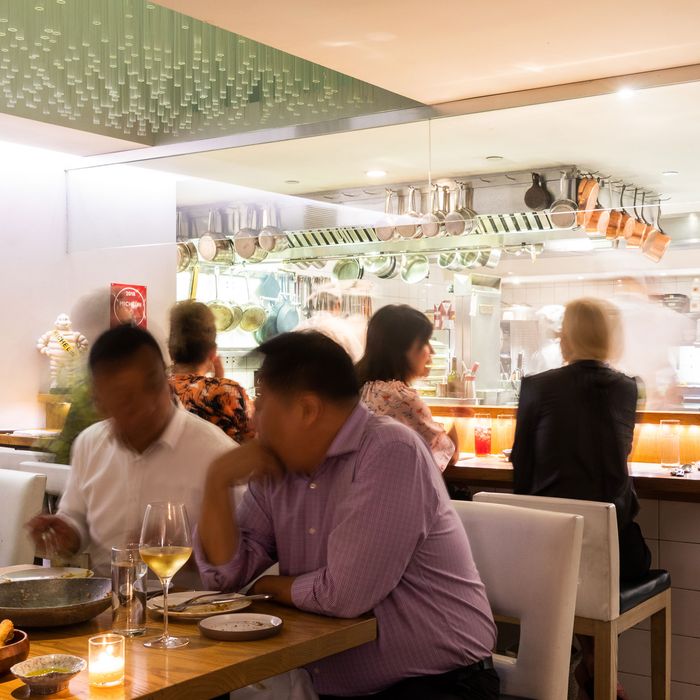 Sad news out of Flatiron this morning as chef George Mendes has announced he will close his pioneering restaurant, Aldea, on February 22.
In a message to diners, Mendes writes that after nearly 11 years in business, he's ready to take a break. "I believe every chef needs to hit a reset button, take a break, recharge creatively, and refocus," Mendes explains. "That's just what I will dedicate myself to doing. I have many ambitions and goals still ahead of me, and look forward to bringing them to fruition."
The Portuguese-born chef trained under Alain Ducasse, Kurt Gutenbrunner, David Bouley, and others before opening Aldea, a play on the Portuguese for "village," in 2009. The 70-seat restaurant on West 17th Street introduced a sophisticated take on Iberian comfort food in the form of dishes like shrimp alhinho served in an intensely flavored shrimp-head jus and a delightfully gut-busting arroz de pato with confit duck, chorizo, and duck crackling. (Both items remain on the menu to this day.)
Mendes's tight, seasonally driven menu and flair for delivering plates that punched above their weight earned the restaurant rave reviews. Our own Adam Platt called Aldea "a prototype of the gourmet restaurant of tomorrow," one where the pleasures of fine dining could be enjoyed without breaking the bank. And in his own two-star review, then–New York Times critic Frank Bruni wrote simply: Mendes "knows his stuff and it shows." In 2011, Aldea earned its first Michelin star and has kept it ever since.
So, grab a reservation now before they all disappear (which they surely will). And, if possible, ask for a seat at the chef's table, set squarely in front of the open kitchen. It's the best place to experience the magic of a restaurant that will be sorely missed.