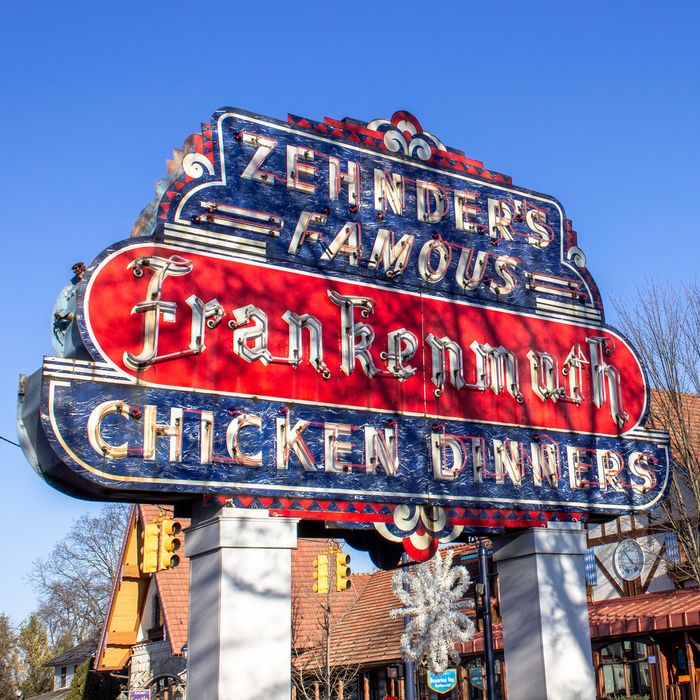 Michiganders flock to Zehnder's of Frankenmuth every summer for its fried chicken dinners.
Photo: Scotb211/Flickr
James Beard Awards season is upon us. Next week, the foundation behind the "Oscars of food" will roll out its list of semifinalists for 2020, but first come the America's Classics awards. They recognize long-standing local restaurants that make up the foundation of dining in America, with past recipients including Sahadi's, AA Bake & Double, and Roti Shop in Brooklyn and La Taqueria in San Francisco.
The James Beard Foundation today announced this year's honorees, which include Little Rock's Lassis Inn, known for its buffalo ribs; Michigan's Zehnder's of Frankenmuth, a massive 1,500-seat restaurant popular with road-trippers for its fried chicken dinners; Manchester, New Hampshire's Puritan Backroom, a destination for ice cream and the supposed birthplace of the chicken tender; Filipino grocery and restaurant Oriental Mart at Pike Place Market in Seattle; 35-year-old taqueria El Taco de Mexico in Denver; and Vera's Backyard Bar-B-Que in Brownsville, Texas, which specializes in cow's head barbacoa. All six award recipients will be honored at the 30th Annual James Beard Awards on May 4.