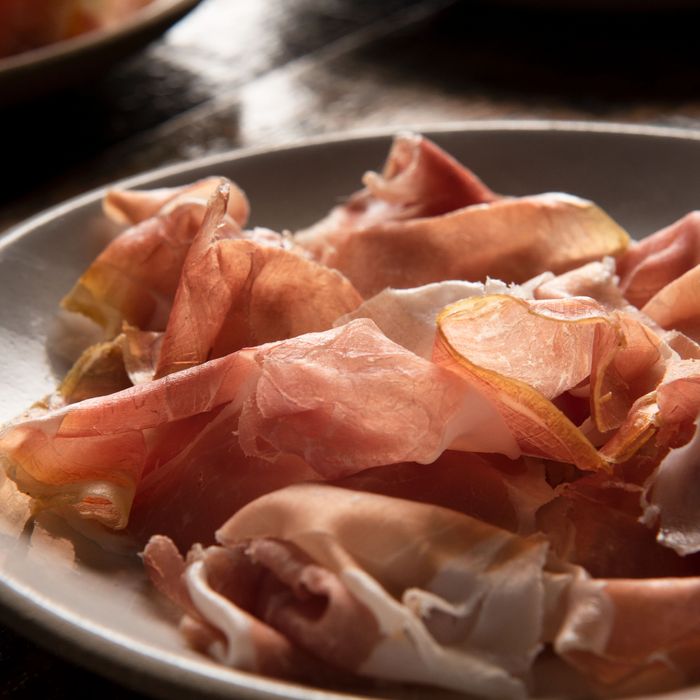 & Sons comes from sommelier turned ham expert André Hueston Mack.
Photo: Liz Clayman
André Hueston Mack estimates that at this point, he's eaten about 100 pounds of ham. Not prosciutto or jamón, but homegrown, country ham, the kind you mostly find in the Deep South. "In the jamón bars in Spain, there were no Italian hams, there were no French hams," says Mack, who spent his formative years in Texas. "And then I just started thinking like, Oh, wow. We've been curing hams in the U.S. for over 100 years."
While country ham has reached almost godlike status among a certain set of modern chefs, the city has never been home to a bar committed entirely to the specialty food. At Mack's new bar & Sons, however, it's the star of the show. "I bought this Berkel meat slicer from 1910, and I was like, 'This is what we're going to build around,'" he says. "We're going to build an American ham bar where everything's American."
Located in Prospect–Lefferts Garden and named for Mack's four sons — ages 1 to 11 — & Sons is a 20-seat spot centered around small shareable plates. At the center of it all is a ham menu featuring 10 different takes on cured pork legs from as far north as New York, as far west as Iowa, and as far south as Tennessee and North Carolina, although the majority of the hams hail from Kentucky. They're each sliced to order, so different hams go through the slicer all evening long.
The variety of styles is impressive. Some of the hams are hickory smoked; others aren't. Some have been cured and flavored with sugar and salt, while others were prepared with salt-only cures. A handful of the hams were aged for 10 months, while others have been aged for just over two years, which gives them what Mack describes as a distinct funkiness. The one detail that unites them is that they're all American made, and they're all thinly sliced like prosciutto. Mack serves plates for $14 with warm cornbread madeleines and gherkin pickles.
To go with the all-American ham menu, Mack, who was formerly the head sommelier at Per Se, has been collecting American-made wines, primarily from California and Oregon, and dating as far back as the 1960s. The bottle list is hundreds deep, available by request, while wine by the glass starts at $10 for a California rosé and tops out at $15 for a Chardonnay from Oregon's Willamette Valley. "The only thing that's not American is our glasses," Mack says. "Our glasses are from Austria."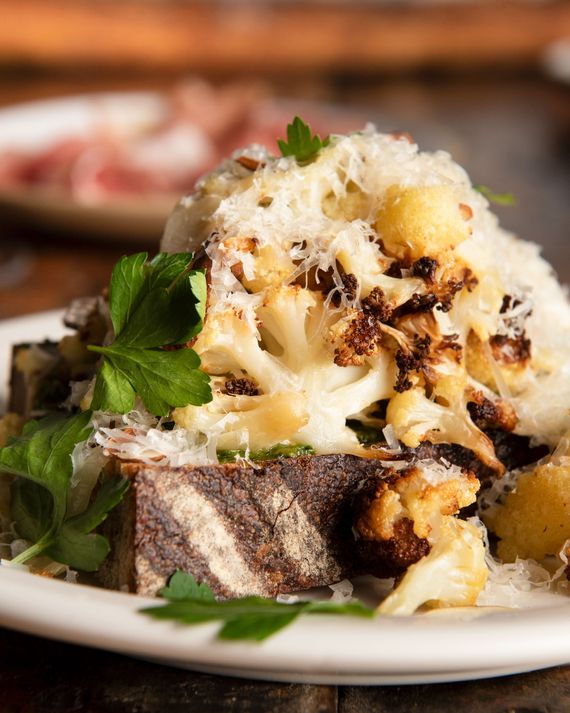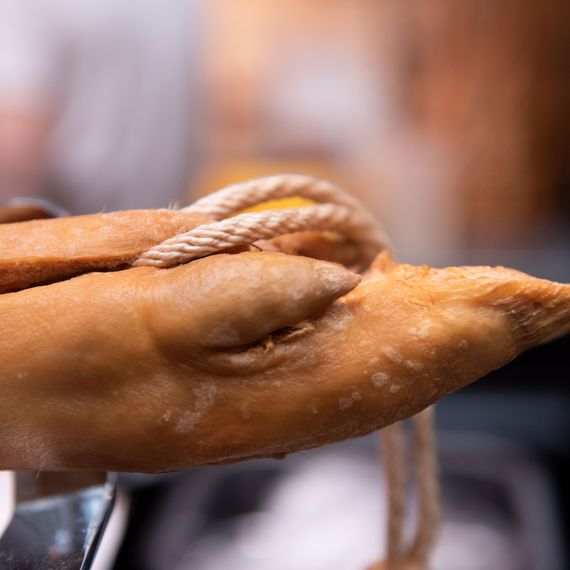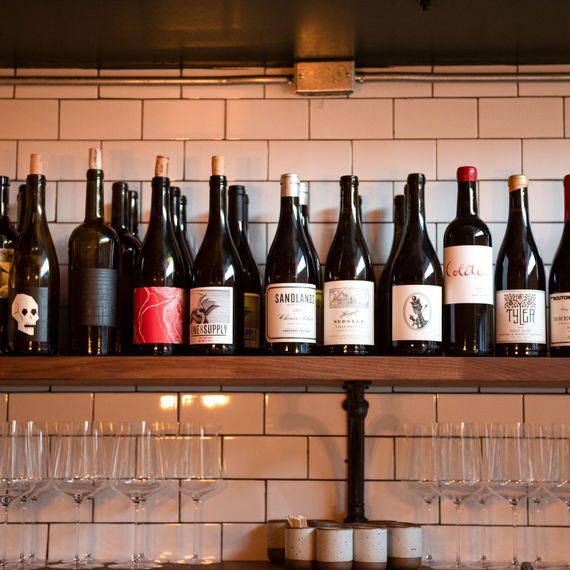 Ham aside, Mack's food menu also includes small plates (pickled vegetables, fennel and apple salad, smoked trout with pumpernickel toast); non-ham meats like duck, chorizo, and pâté from American producers; and cheeses hailing from Vermont and California. It all culminates in a $19 smoked pork chop with braised red cabbage and whole-grain mustard for those who need something more substantial.
"The neighborhood is changing, and we want to contribute to that narrative of what it could be or what it is," Mack says. "And this is what we know how to do."
& Sons, 447 Rogers Ave., nr. Lefferts Ave.; 718-284-0159