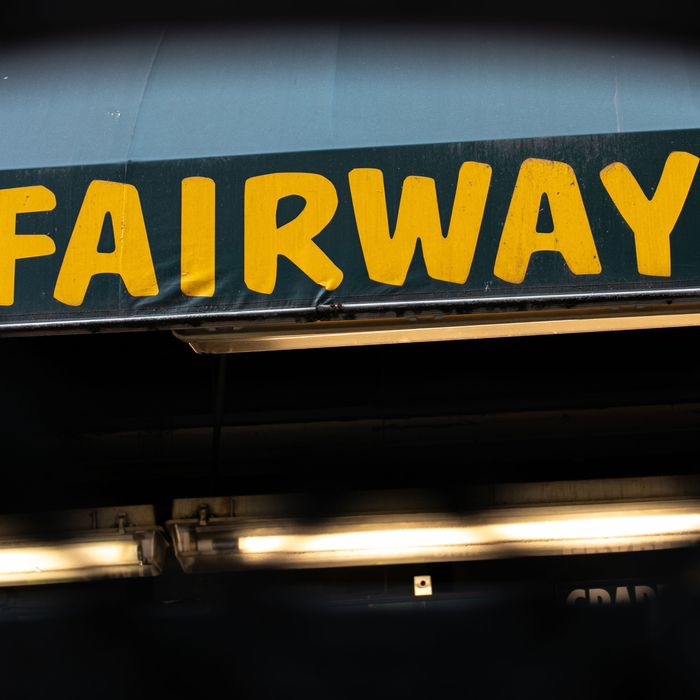 Photo: JEENAH MOON/Bloomberg via Getty Images
In many ways, Fairway's Upper West Side store is a microcosm of the entire New York City experience: Bubbes threaten to plow you down with their shopping carts if you're in their way. Lox maestros can cut translucent slices of smoked salmon at lightning speed. The maze-like layout seems intentionally designed to confuse shoppers who just want to race in for a box of cereal.
Food-loving New Yorkers have been on edge for weeks, ever since a report emerged that Fairway would close all of its stores. Fairway denied the report, then announced on its own that the company filed for chapter 11 bankruptcy and would sell its five Manhattan stores, plus its distribution facility in the Bronx, to Village Super Market Inc., which runs 30 ShopRite supermarkets and three Gourmet Garage stores. Meanwhile, the fate of Fairway's stores outside Manhattan remains unknown.
Publicly, the company has tried to downplay the fact that Fairway as the world knows it is essentially going out of business. Privately, employees say the sense of panic is palpable, and they are deeply concerned about their employment status.
"The best-case scenario is that we get sold to some company and we get to keep our jobs," an employee at one of the chain's suburban stores told me. "But I don't know if I am going to have a job in the next few weeks or months — nobody does — and that scares the crap out of me."
Everyone who spoke to Grub Street for this story did so on the condition of anonymity, afraid to jeopardize their already precarious employment. There's also a bit of understandable paranoia going around: One store manager was told to go home for the day after sharing an article from a national paper about the company's bankruptcy on her private Facebook page. Others say they simply don't believe the company line, pointing to a past instance of corporate deception: When rumors started to circulate that a store in Nanuet would close, Fairway leadership kept "denying and denying that we were going to close until a few days before," the manager said. The store did close, last September. Now, the manager says, "There's no trust."
Inside the stores, business continues. Customers keep asking to buy things with the Fairway logo, and are stocking up on their favorite Fairway orange juice and balsamic vinegar. "People might be even shopping more since the news came out, trying to support us," a staffer said.
But some vendors, especially the small ones, are concerned that they won't get paid. And employees are "swimming in a sea of fear," one told me. In a notice to the State Labor Department, Fairway warned it may lay off up to 2,159 employees.
Making matters even worse, a ransomware attack crippled Fairway's internal systems last week. Employees are unable to access their email, phones, or POS systems. Employees must conduct business over text message on their personal cell phones, and emails to concerned vendors keep bouncing back.
If this all feels like déjà vu, it's because the store has been caught in a downward spiral for quite some time. The New York institution, founded in 1933 as a fruit-and-veggie stand, became a nerve center of the foodie revolution in the 1980s and 1990s, with a legendary cheese counter, whole sides of dry-aging beef, and more varieties of olive oil than anyone could keep straight. I worked at Fairway from 2011 to 2014, first behind the cheese counter and then as the company's copywriter. Like many of my co-workers, I was a fan before I was an employee, enchanted by the dizzying breadth of the goods we sold; the brilliant, passionate quirkiness of the big personalities who held court in the cold room and behind the deli counter; and the no-nonsense New York attitude. It truly was, as the then logo claimed, "like no other market."
That changed, one corporate employee tells me, after two of the three original founders sold to Sterling Investment Partners, a private-equity company from Westport, Connecticut. "The beginning of the end started in 2007," the employee says. "[Sterling] raped and pillaged the company." They opened stores in "places they had no business opening," and the urban idiosyncrasies didn't quite translate in Stamford, Connecticut, or Nanuet, New York.
Everyone seems to agree that Sterling was, at best, incompetent, or, at worst, outright evil. They simply "siphoned money out of the company and paid themselves," says a source close to the firm, loading the company with an impossible amount of debt. (Bloomberg reports that Fairway's "directors — a number of them Sterling executives — were paying themselves absurd amounts of money: $12.1 million in 2013, according to the company's 2014 proxy." Sterling co-founder Charles Santoro "took down $5.4 million that year.")
"They just spent money like drunken sailors," says the corporate staffer, sacrificing the company and the employees whose life's work was making it something truly special.
Fairway also faced very real challenges. The grocery business is notoriously cutthroat, and while Fairway had been the first to sell many specialty goods, those same products are now found at many other New York grocery stores. Fairway also faced increasingly tough competition as chains like Whole Foods and Trader Joe's expanded into the area, while online retailers like Fresh Direct gained traction.
But Fairway messed up the factors it had control over, too. After Sterling left in 2016, the new regime proved equally disastrous. Kenneth Martindale, a director of the board, brought in his close friend Abel Porter to run Fairway as CEO, and another friend, Erwin Koenig, as the executive vice-president of sales and merchandising. "Ernie and Ken's connection dates back to Pathmark and Rite Aid, and now GNC," a corporate employee told me. "It's interesting to see that all three companies have gone bankrupt. It's a pattern; it's not an accident."
It was Martindale's wife, Sharon Aulicino, who oversaw a $2.5 million rebranding project. Among my former co-workers, Fairway's 2018 "Place to Go Fooding" campaign was especially embarrassing. It was a far cry from the genuine passion for quality ingredients we had once worked hard to source, sell, and celebrate.
"That's the incestuous nature of private-equity groups and the boards of directors," the corporate employee says. "They're from Pittsburgh; they know nothing about food, nothing about New York, and nothing about the brand." The business may have been doomed anyway, but spending millions of dollars on a marketing campaign that many people felt was tacky certainly didn't help.
And yet, some Fairway staffers still hold on to some measure of optimism. They believe Village Super Market Inc. will continue to operate the Manhattan stores under the Fairway brand, and hopefully they will be able resurrect, or preserve, some of what makes Fairway so beloved. They are, after all, not another private-equity firm; they are grocers who hopefully understand why Fairway is so inextricably linked to New York City.