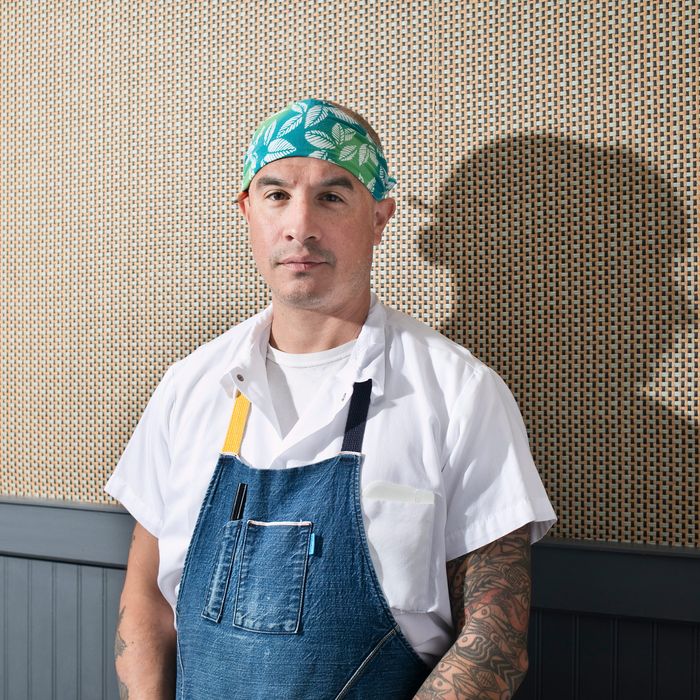 Joaquin Baca, a Momofuku alum and the head chef at Būmu, was forced to close after investors pulled out of the project.
Photo: Melissa Hom
Restaurants have always been and will always be risky investments. The margins can be razor thin, and one bad or middling review can topple years of hard work and dedication. How to minimize said risk? By working with chefs with a culinary pedigree and a track record of success.
But even pedigree couldn't save Dave Pasternack's Staten Island restaurants Barca and Surf or Joaquin Baca's izakaya Būmu, which will close this week after a year in business in the case of the former and just four months for the latter, according to Eater New York and the New York Times. They're joined by Einat Admony's couscous-centric restaurant Kish-Kash, which opened in June 2018 and quietly closed last week, and Llamita, the sandwich shop from Erik Ramirez of Peruvian hotspots Llama Inn and Llama San, which also ended its run after a year and change in January.
Restaurants close all the time, regardless of chef pedigree or longevity — just ask Jonathan Waxman about the soon-to-be-resurrected Barbuto — but what these four restaurants had in common was the sheer level of hype and excitement around their openings and the chefs behind them.
Pasternack famously runs 20-year-old Italian seafood mecca Esca, and it makes sense that he would want to bring that style of cooking to the still heavily Italian borough of Staten Island, especially in a space with gorgeous river views. Baca, meanwhile, was coming off another restaurant closure — the late Teo in Bushwick — but his position as the first hire at Momofuku Noodle Bar put him back on top at Būmu. Admony earned her reputation as New York's queen of Israeli cooking through her closed-then-reopened restaurant Balaboosta and successful fast-casual falafel chain Taïm. And Ramirez's ability to translate and update Peruvian cuisine has made him an essential voice in the New York City dining scene.
Investors are understandably fickle, though. And no amount of hype, coverage, or goodwill could keep these restaurants in business. Barca and Surf will become a traditional Italian restaurant and a sports bar/steakhouse, respectively. Kish-Kash will live on in dishes at Balaboosta (and perhaps return in another location), and Būmu and Llamita will likely become empty storefronts for a time before being converted into another new or notable restaurant.
Like families, all restaurants are unhappy (or unlucky) in their own way. But this recent spate of closures is jarring, if not alarming. It puts into question the value of pedigree, the value of positive press, and the limits of ambition when put up against a bottom line. None of these chefs will find themselves out on the street tomorrow, but we all suffer if they're twice shy about pursuing ambitious, new projects.