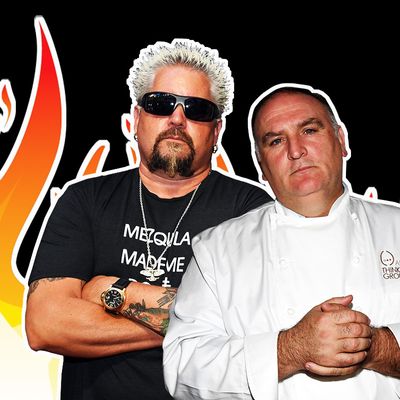 Two shall enter…
Photo: Getty Images. Photo-Illustration: Grub Street
The history of American culture can be told through its battle royales. Ali versus Foreman. De Niro versus Pacino. West versus Swift. And now, at long last, Andrés versus Fieri. It is paella versus trash-can nachos. Frosted tips versus a very good beard.
The two celebrity chefs will duke it out when they come face-to-face in the ritual sporting competition known as the NBA's Celebrity Game. Known basketball superfan Fieri has been recruited from Flavor Town to be the assistant coach for human meme Stephen A. Smith's team, and Andrés is on the roster of ESPN personality Michael Wilbon's team.
One likes to imagine that Fieri and Andrés have been talking shit and trading barbs via text. But Grub wants to know: Is Fieri studying game-play footage? Has Andrés been working on his corner three? We have one proposition. Let's make this serious. If Andrés wins, he gets the recipe for donkey sauce. If Fieri wins, he gets Mercado Little Spain.