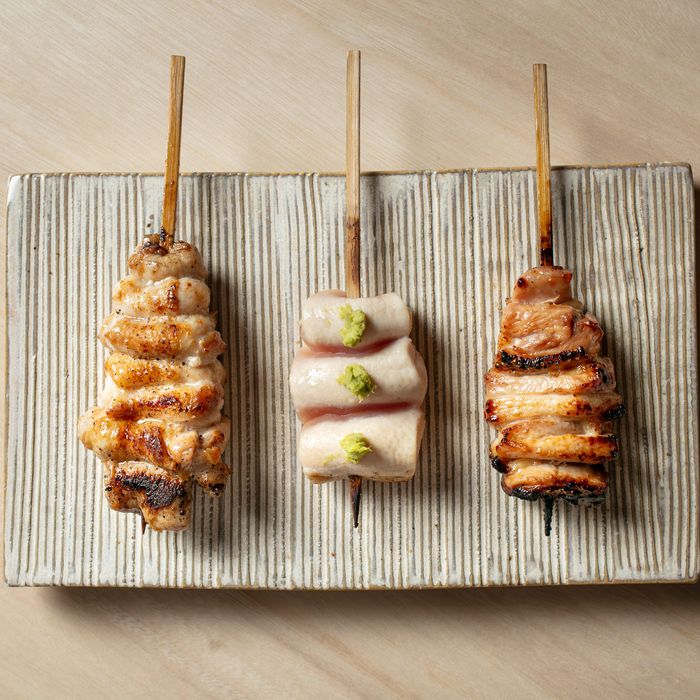 Get ready to eat some chicken.
Photo: Melissa Hom
All of the familiar tropes of the upmarket bromakase experience are on display at the new downtown restaurant Torien, which, as any jet-setting gastronaut worth her weight in sizzled chicken gizzards will tell you, is the first-ever American outpost of the fabled Tokyo yakitori institution, Torishiki. Upon arriving, you will find a discreet anteroom, into which you're buzzed from the street; and hostesses, dressed in traditional robes, who usher you to the long, polished white pine bar. There are the voluble cooks who call out greetings as you arrive, and there are the patrons themselves: stylish couples who look like they've just flown in from Tokyo, food professionals tapping on their grease-stained phones, and prosperous sushi-bar regulars dressed in their familiar hedge-fund vests.
"I don't think the Big Man's here tonight" said my deep-pocketed friend, the Tokyo Whale, who on this evening was dressed not in his vest, but a discreetly gray salary man's suit. The Big Man in question is Yoshiteru Ikegawa, the Jiro of Japan's burgeoning haute-yakitori scene, a chef so devoted to his craft that, according to legend, his fingernails have melted away from spending so much time twirling his yakitori skewers close to the binchotan charcoal flames.
Ikegawa opened the first 17-seat Torishiki in 2007, and managed to turn it into one of the elite gastronomic temples of Tokyo, and therefore the world. Lately he'd expanded his empire, first with a new establishment in Tokyo, and now for the first time outside of Japan, here in New York. The bar here seats 16 diners, and instead of the usual à la carte yakitori-shop options, the $150 set-course menu includes a variety of skewers carefully sequenced in the grand sushi-omakase tradition.
The first skewer we tasted was morsels of tender chicken thigh brushed with a sugary, soy-based yakitori sauce, followed by slightly less tender chunks of chicken shoulder, which we dutifully complemented with decorous mounds of mashed daikon. The cooling daikon is another Torishiki innovation, designed, one of the cook-assistants told us, to mimic qualities of shaved ginger in the sushi experience. He also told us that chef Ikegawa was in New York for a few days last week, although it's his two assistants, who were busily fanning their bricks of binchu charcoal — "The charcoal comes from outside Osaka," cried the Whale. "It's been ranked No. 1 in Japan for like 400 years!" — who are here to stay.
As any high-flying bromakase devotee will tell you, however, the great-chef aura is crucial to the whole big-money, set-course dining experience, and as our diligently prepared yakitori meal progressed, that aura began to fade a little.
There are some fine vegetable skewers (the zucchini, slippery segments of shiitake) and a few de rigueur offerings of gizzard (fibrous kidneys, fat little hearts dusted with plenty of white pepper), but as one skewer succeeded the next, I found myself wanting a little bit more of that exotic Tokyo terroir. There were no rubbery coxcombs, or gently sizzled chicken oysters, not to mention satisfyingly bony bits of chicken wing to eat with your fingers, and the ribbons of neck skin — the great yakitori favorite known as kawa — that we did have were overly fatty in an American way.
At this early date, they're still working out the kinks at Torien, of course, and for the record, the Tokyo Whale enjoyed his skewer of kawa much more than I did. ("What's better than neck skin, Platty?!") Although our meal lacked the traditional settled structure that you find in the elevated world of sushi omakase, the Tokyo-style service and ambience are generally impeccable, and the omakase is still marginally cheaper than your average high-end, big-city sushi dinner. It's also a little more filling.
Will your neck-craving critic return to Torien for a second taste of top-dollar, chicken-centric yakitori? I'm sure the answer is yes, but here's hoping that the menu will grow a little more varied and daring over time, and that, the next time we drop in, the Big Man will be there, too.