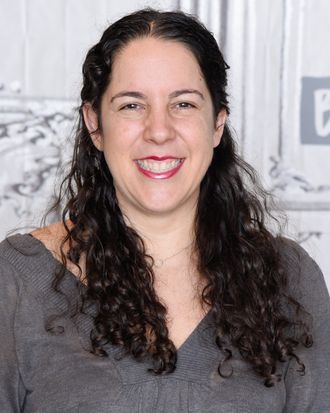 Gerson will open a new store in Clinton Hill.
Photo: Matthew Eisman/Getty Images
When Fany Gerson opened Dough Doughnuts in Bed-Stuy at the end of 2010, nearly everyone thought she was crazy. "This was not a commercial area, really. No one wandered down the block to shop or eat," Gerson says, remembering the early days, which were full of change. "But I was always attracted to it for its family, neighborhood feel." It wasn't long before a line regularly formed at Dough, curling out the door and down Lafayette, with patrons politely waiting to order a plump, technicolor doughnut roughly the size of their kid's face. Change is coming again to the corner of Lafayette and Franklin: This upcoming Sunday, February 23, per a member of the staff, the original location of Dough will close. Gerson confirmed the news by phone.
"I'm sad, but I'm also excited about the next chapter," Gerson says. Dough's other locations and wholesale business will continue, and Bethany Costello will remain in her role as culinary directory. But after this weekend, Gerson will separate from her longtime doughnut business partners. The chef, culinary historian, and cookbook author says her next step is a new bakery: Fan-Fan Doughnuts will open this spring in Clinton Hill, at 82 Washington Avenue. "I wanted a name that was playful, that you could pronounce in different languages, that kids could pronounce," Gerson explains. It's also what the chef's sister calls her, so it's personal, too.
At Dough, there are famously hot pink doughnuts tinted with hibiscus flowers, golden orbs flavored with ripe passion fruit, and doughnut rounds shingled with toasted almonds or topped with a mess of sweet and salty cake crumbs. For Fan-Fan, Gerson has a whole new menu of doughnuts planned, based on a completely different recipe — and a mission to design a space, café, and shop for the community.
Everything will be fried or baked on premises, and many flavors will incorporate spices and sauces from Gerson's favorite Brooklyn makers. Harissa made by New York Shuk will flavor one doughnut; cinnamon from Burlap & Barrel will be incorporated into the dough of another. "I embrace world flavors in my life and my cooking, and I want my new bakery to be a place for me and my Brooklyn family," Gerson says. (The products from Gerson's favorite Brooklyn makers will also be for sale at the shop.) "At least 18 flavors" will grace the menu daily alongside rotating specials. Coffee, espresso drinks, tea, hot chocolate, and agua frescas will also be on offer.
"It's funny that when I was a kid I was obsessed with the adults in my life, and now that I'm an adult I'm obsessed with kids," Gerson says of the goal to make Fan-Fan a welcoming space for families. There will be tables and chairs, a kid's area, and casual seating so people can come in and relax and read the paper, mimicking a living room setting. "Or, if people want to grab and go that's fine too!" Gerson says. The open kitchen will be on view to passersby and diners, much like Dough's kitchen and bakeshop. Eventually, she plans to offer catering and teach classes at the new shop. "I love teaching," Gerson says, "so there will be doughnut making and lots of baking classes for adults and kids."
The playful paleta factory La Newyorkina — which she still owns and runs — was Gerson's first business, so the colorful, multi-layered ice pops will also be sold at Fan-Fan. "We want people to come in and just feel happy," Gerson says of her hopes for Fan-Fan. "I'm lucky that I get to do something that just brings people joy, and I get to celebrate different cultures in the work that I do. That makes me happy."
In the meantime, Gerson hopes longtime friends and fans of Dough will visit the original shop this weekend to say good-bye. "It would mean the world to me and my staff if people stopped in one last time," Gerson says.
This post has been updated to include more information about Dough's plans going forward.