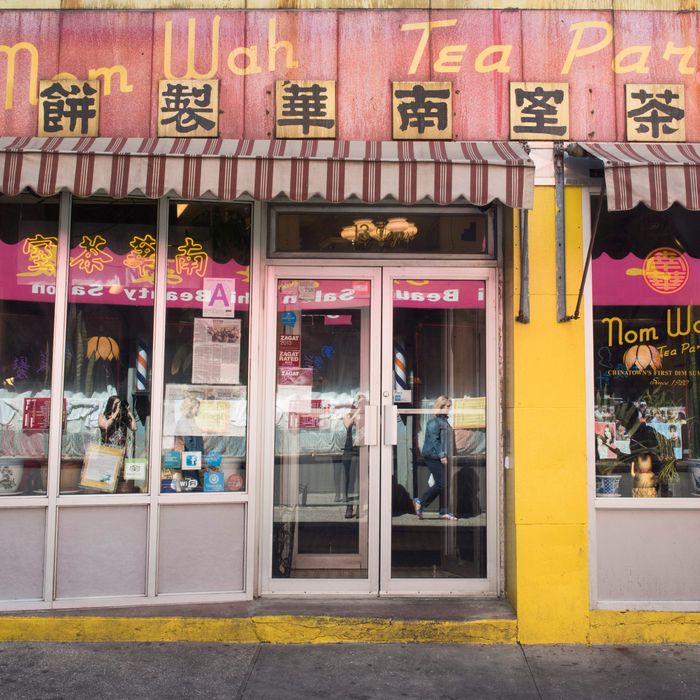 Nom Wah's Wilson Tang says this past Monday was his slowest in five years.
Photo: Liz Clayman
Restaurateurs in Chinatown say their businesses are suffering because of the panic about coronavirus. They say that the neighborhood has been noticeably less busy, while there have been no confirmed cases in New York yet during the outbreak that has infected 28,000 people worldwide. The outbreak has provoked xenophobic and racist responses about the Chinese people and diaspora, including from those who push age-old and bigoted misperceptions of Chinese culinary habits.
"Being a business owner in Chinatown I just see it, the streets are empty," says Wilson Tang, whose historic Nom Wah Tea Parlor turns 100 this year. "It's a ghost town in Chinatown right now. There's just nobody around. Typically there's a lot of tourists, stuff going on."
According to Wilson, business at the perpetually packed spot was down 40 percent on February 3. The month of February is typically a slow one for restaurants, he concedes, but not to this degree. "The past Monday was the slowest Monday we've had in five years. It's just unprecedented, how the business has dropped because of this whole situation that we're in," Tang says. "It sucks. The past couple days suck. We've been letting people go early, just to let them take some extra time off. It's slow in general."
Similar situations have been reported by other neighborhood restaurants, including James Tierney Tang, of Hwa Yuan, the historic Sichuan spot that generated a lot of buzz when it was resurrected. "In short, we have been severely affected by coronavirus. Frankly, business has been gangbusters for the past year, and its dropped 40 percent in the past week," he says. That translates, per James, to about 100 people in the main dining room. On Monday, he says that a reservation for a 100-person banquet dinner was cancelled.
Derek Wu of Wu's Wonton King, a busy neighborhood spot that's become a trendy food-world favorite, says that while business is "only a little slower," he's talked to many other owners in Chinatown, Flushing, and Sunset Park who are affected in a big way. Mei Chau of Malaysian-French spot Aux Epices says she's seen a significant drop since the World Health Organization's announcement about the virus.
At the obsessed-over chain Xi'an Famous Foods, CEO Jason Wang says that their Chinatown and Flushing stores have been hit harder than those in other neighborhoods. When asked how much harder, Wang declined by saying, "It's too little data to see a pattern yet." Truman Lam of the dim sum palace Jing Fong was also cautious about concrete numbers, but echoes Wilson's comments. "We do see a downward tick, depending on the day it could be 25 percent less to 50 percent less," he says. "It is a cause of concern, because it's basically all related to coronavirus. We don't know how deeply people feel about it, especially because there are no confirmed cases in New York."
As the New York Times reports, business in Chinatown at hotel and restaurants has been sagging, and Lam says that, from his staff's anecdotal accounts, they're feeding fewer tourists and a higher ratio of Chinatown locals. "It's not necessarily just because other Americans are avoiding Chinatowns, I think the Chinese immigrant population in Chinatowns are also very wary of the virus and have been avoiding crowds," Wang says.
In Sunset Park, the Brooklyn Paper reports that leaders say misinformation has spread fear within the Chinese community. The New York City Asian-American Democratic Club's Kenneth Chiu tells the paper that Flushing has been particularly hard hit, something echoed by both Wilson and Lam. "There are stories where restaurants are empty in Flushing. There's probably some exaggeration in that," Lam says.
The downturn is happening during the 15-day celebration of the Chinese New Year, which ends this weekend in Chinatown with Super Saturday and the Lunar New Year Parade on Sunday. Typically, those are festive activities that see the neighborhood's streets swarmed and a snowfall of confetti, but Wilson and Lam are both worried. "People are like, 'yeah it'll be busier' but they aren't expecting a big, crazier crowd to come out," Lam says. Wilson fears worse. "There are talks in Chinatown about Super Saturday not happening. And, it's just kind of very uneasy in the neighborhood," the Nom Wah owner says, bringing up the recent fire that destroyed the archives of the Museum of the Chinese in America.
There's uncertainty, too, because no one knows how long this will last. "The writing's on the wall that it's basically going to be down, we just don't know how much," Lam says. Wilson worries about how long all the mom and pop shops can withstand a downturn in business. "It's already not easy," he says. "A lot of the businesses in Chinatown are just getting by as is. But this is kind of a slap in the face."