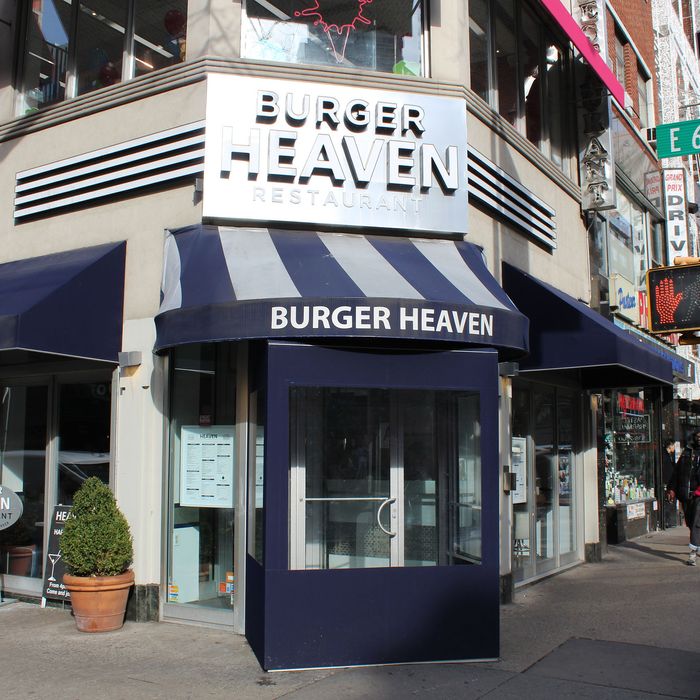 The last Burger Heaven.
Photo: Shinya Suzuki/Flickr
Lately, a handful of new, modern diners have opened in New York, largely from restaurateurs known for trendier sorts of establishments. The Uncle Boons chefs just opened Thai Diner, former Lulu and Po chef Matt Hamilton is one half of the team behind Rosalu Diner, the 24-hour Soho Diner opened in the Soho Grand Hotel, and the former chef of Ippudo has just opened Ramen Diner. These places follow others that have opened over the last few years, most notably Golden Diner, from an ex-Momofuku chef, and Meme's Diner. At the same time, New York's classic diners have continued to disappear, with the New York Times noting a slew of closings in an article published last year. Now, another longtime short-order institution is going out of business. The last location of Burger Heaven, the Manhattan chain that once had eight locations, will shut down on February 28.
The chain has been a fixture of Midtown and the Upper East Side for decades, with the first location opening way back in 1943 by Evan Cyprus. In an ode to last Burger Heaven, the New York Times writer Guy Trebay notes that it was a place where Jacqueline Kennedy Onassis ate regularly, as well as Barbara Walters and other notable individuals. The cause of the closing isn't the oft-cited — if not always verified — rent hike, as the Burger Heaven family owns the place, but is being pined on attrition from delivery services and dietary changes. In other words, pizza burgers are no longer en vogue. Diners are fetishized as the idealized egalitarian institution, a place where people of all backgrounds commingle in a mutual third place. The diners opening today are rooted in the traditions of these older places, though they're refreshed to be more contemporary in look (i.e. the millennial pink counter at Rosalu) and with a more careful eye toward food quality. They're often more expensive, too, though you'll still find unlimited refills of coffee at the right places.