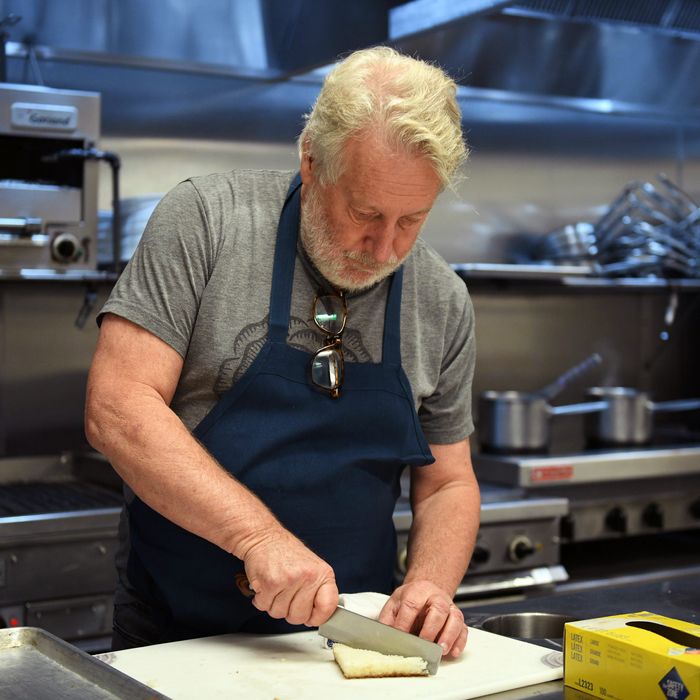 Barbuto's Jonathan Waxman.
Photo: Bryan Bedder/Getty Images for NYCWFF
It seems that ever since Jonathan Waxman's West Village favorite Barbuto closed last May, there'd been whispers about when — not if — it would reopen. It wasn't exactly a surprise earlier this month, then, when it was reported that the restaurant would, in fact, be back in business on February 25. Of course, it won't be in the same space, but it still sounds like it's the same restaurant. So what's the deal? Should you still order the roast chicken? Grub is here to help.
Why do I care about Barbuto if it closed once? Did it close because it's bad?
No. It's a classic New York story, really, and the closing is all about real estate. The shuttering of the original location wasn't unexpected, and had been rumored since 2015 when Waxman first said Barbuto was getting kicked to the curb by a developer that had purchased the building. Alas, the end finally came in in 2019, when the restaurant — for all its fame — was forced to close. The final days at the original space drew massive crowds.
So why is the place so famous again? It's got famous chicken or something?
Yeah, the restaurant's roast chicken — officially dubbed JW Chicken, and named for the chef Jonathan Waxman — is its most famous dish. But the entire menu had an easygoing approach to farm-to-table-y food that was very easy to enjoy. Other famous items included seared gnocchi, a shaved-kale salad, and all of the pastas. Reviewing the restaurant back in 2004, New York critic Adam Platt wrote, with its "air of casual though carefully cultivated hipness, Barbuto turns out to be an Italianate version of the classic Odeon French-brasserie model." Being there could make you feel like you were living the good life, especially when the garage doors were open to the street.
Oh! I love garage doors. My parents' have those at their house. Will there still be garage doors?
Sadly, no.
Hmm. Is there good Instagram food?
Not really. Waxman's food is fairly rustic, and he's promised that the menu won't change all that much from the original. As far as Grub Street is concerned, this is a good thing.
So where is the new restaurant?
The address is 113 Horatio Street. As Waxman told the Times, the new space will have the same number of seats — 74 — as the original location. The big open kitchen is similar, too.
Has FoodBaby been there yet?
Obviously.
Great. Which app should I use to make a reservation for tonight? Is it Resy?
Hold on! The restaurant is back, yes (and it does appear on Resy), but a staff member tells Grub Street that it's only a soft opening while the team eases back into things. Grub's advice is to maybe wait a week before you stop in.
Barbuto, 113 Horatio St., nr. West St.; 212-924-9700