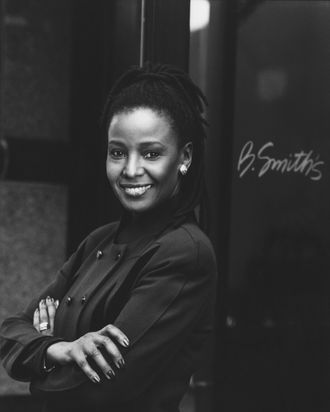 Photo: Barbara Alper/Getty Images
Over the weekend, B. Smith, a beloved lifestyle guru, cookbook author, and restaurateur, died after a yearslong struggle with Alzheimer's disease. She was 70.
Smith, born Barbara Smith in 1949, was a brand unto herself, with a line of household goods at Bed Bath & Beyond, a TV show, and her own furniture line, but she was also a successful restaurateur who created restaurants that attracted a primarily black clientele, but also crossed racial lines.
The first of these, B. Smith's, opened in the theater district in 1986 after the management at Ark restaurant group decided to invest in the former model with a magnetic personality and 1,000-watt smile. While the intention was that it would become a go-to for the theatergoing crowd, it quickly became a destination for a growing subset of African-Americans with disposable income looking for upscale restaurants where they wouldn't be the only black faces in the room. (What's more, at least four marriages were born at B. Smith's, including her own.)
B. Smith grew that one restaurant on W. 47th Street to three, including an outpost in Washington D.C.'s Union Station and another in the historically black hamlet of Sag Harbor. The menu was soul-food-driven, but globally inspired. And it was upon this foundation that she catapulted herself to the status of lifestyle guru, getting her own talk show, product lines, and publishing deals — and in the process, attracting a white audience who were drawn to what New Yorker staff writer Hilton Als called her "safe and manageable" image, according to a 1999 profile in the New York Times.
But for many upwardly mobile black people, Smith's acceptability across racial lines was a plus, especially in an era when black life continued to be criminalized. Her original restaurant was, as Essence put it in 1995, "where the who's who of black Manhattan meet, greet and eat regularly." It held that reputation until it closed in 2015 when a rent hike forced Smith and her husband Dan Gasby to end their decades-long run as successful restaurateurs. (The other two locations closed in 2014.) Smith summed up her historical, barrier-shattering run as such: "One thing I've learn[ed] over the years is B. Smith is more than an individual! Its a way of life! Bringing a diverse group of people together under one stylish umbrella! From the very bottom of my heart THANK YOU!"