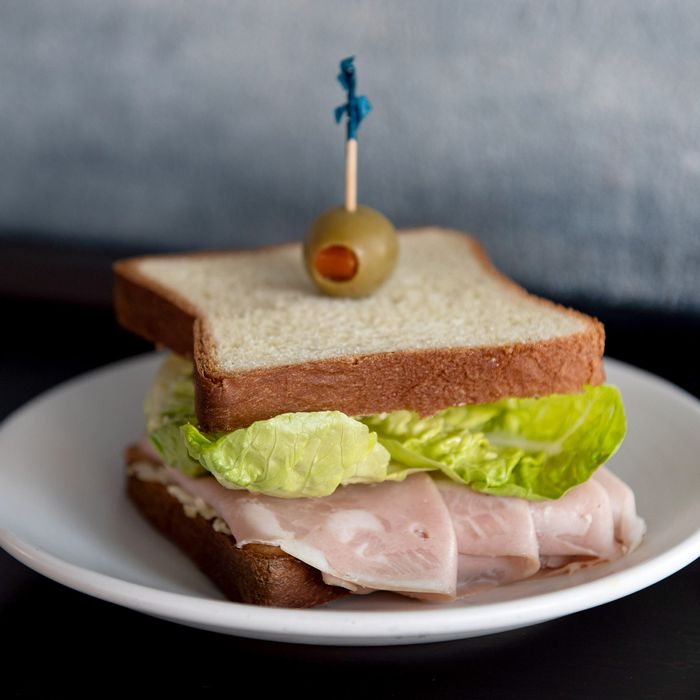 Bar Meridian's bologna sandwich.
Photo: Liz Clayman
The other weekend, I spent a Sunday afternoon with a close friend at a new Prospect Heights bar called Bar Meridian. It's the kind of low-key, well-appointed watering hole that would be welcome in any neighborhood: a horseshoe-shaped bar, drawn shades to keep it comfortably dim, and cocktails that are appealingly unfussy. But the detail that has stuck with me isn't the thoughtfully curated jukebox or the pineapple drink I'd usually leave thinking about. It's the bar's bologna sandwich.
Some actual thought has obviously been put into this sandwich. It's reasonably sized and priced at $8. (The recipe comes from Millicent Souris, a chef who's a friend of the bar's owner.) It arrives not on supermarket white bread but on fluffy Japanese milk bread baked by the kitchen manager, Jose Olvera. The condiments are butter spiked with cornichons and one that incorporates grain mustard, mayo, and chopped cheddar. There is crisp lettuce. The thinly sliced rounds of meat, meanwhile, are mortadella from the California charcuterie experts at Fra' Mani. It's quality meat, not Lunchables-grade stuff.
But the bar's team knows better than to play up this bologna's bona fides: The menu lists it as a "bologna sandwich," and that is exactly what arrives, complete with a cocktail olive and a toothpick. It's like an idealized version of the sandwiches we all ate in the cafeterias of our collective childhood. It is also not the kind of food you see very often at a bar — especially at a bar in New York City — and when you eat it, it makes you wonder, Why aren't bologna sandwiches in bars more of a thing?
It is the perfect thing to eat while you drink a highball or two: It's salty, fatty, and carby. It's bland enough to go with everything. It's not quite a snack and not quite a meal. It's got heft but doesn't weigh you down. It's surprisingly tidy. For bars, it seems like a no-brainer: It doesn't require much of a kitchen to put together, and the less fancy the sandwich is, the better it is.
Other parts of the country have figured this out — most notably, perhaps, Nashville, where Robert's Western World is as famous for its round-the-clock live music as for its fried-bologna sandwiches — but bar bologna remains a woefully underrepresented food option in New York.
I can already hear some groans, but this is likely because you've never eaten a bologna sandwich while sipping a Prospective Crown cocktail at Bar Meridian, the funky rum and lime and pineapple all comingling with white bread, well-made bologna, and the surprise of something you hadn't realized you were missing.