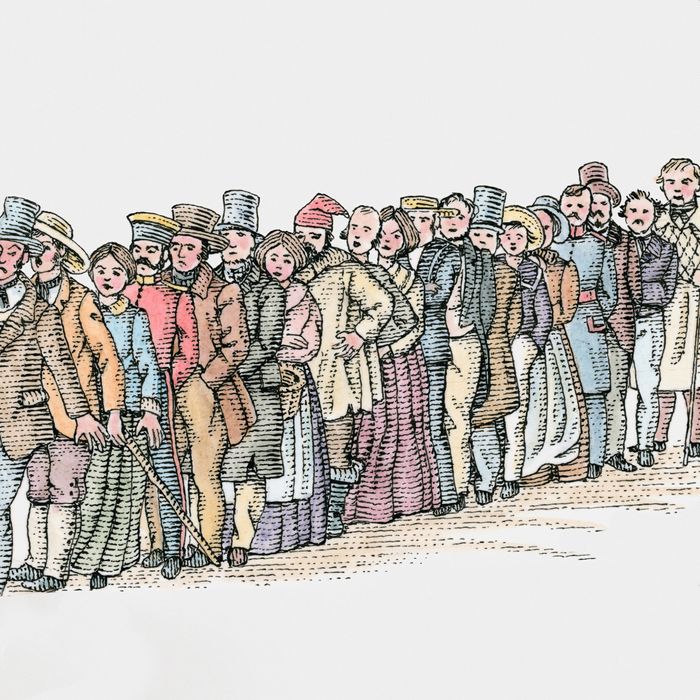 The salad line at a local Chopt.
Photo: Dorling Kindersley/Getty Image
It's a known fact that longtime combat veterans become inured to all sorts of horrors and indignities the longer they stay in the field, and so it seems to be with the grizzled fraternity of restaurant critics. Over the years, as various trends and boomlets have swept over the ever-changing, ruin-filled dining landscape, my colleagues and I made peace with numerous strange, jarring developments, including $33 burgers, dining on wobbly bar stools, endless prattling about the pedigree of haute-locavore beets and carrots, the cult of "plant-based" dining, and even — God forbid — smaller, ever-louder dining rooms.
Which may be why your humble critic has lately felt a strange rekindling of another well-documented horror of these curious new times: the food line. Or so it occurred to me as I stood, on a recent weekend afternoon, outside of Scarr's Pizza, down on the outskirts of Chinatown. I'd shown up more or less on a whim with friends visiting from out of town, and was surprised to find a small crowd snaking out the door. There were maybe 15 of us in all: tourists, bewhiskered locals, slice freaks who'd made the pilgrimage from their own unique, outer-borough pizza terroirs to see what all the fuss was about.
Not so long ago, I would have turned on my heel and looked for somewhere else to get a random slice of pizza, and why not? The tyranny of the viral food line, which blossomed into a full-blown big-city craze several years back with the arrival of Dominique Ansel's celebrated, much-imitated Cronut, has been well documented by a variety of dyspeptic critics, including this one. But lately, the viral food hordes seemed to have moved on to other topics (hello, fluffy Japanese pancakes and Nutella stores), and at least in my downtown neighborhood, the big lines (for cookie-dough shops and the dreaded Black Tap milkshakes) are shadows of their former selves.
At Scarr's, however, the non-viral line has been more or less consistent ever since Scarr Pimentel himself opened his well-reviewed little slice shop down on Orchard Street four years ago. And as we inched slowly forward toward the alluring smells of the pizza oven, that ancient, strangely comforting pre-viral dynamic familiar to food-obsessed linegoers of a certain age began to take hold. First we grumbled about our slavish, lemming-like behavior. Then, as our wait time decreased, we developed a sense of captive camaraderie with our fellow linemates, who assured us that Scarr's pizza was worth the wait. Finally, as our noses were pressed against the steamy restaurant window, a sense of anticipation and adventure took hold while we contemplated our orders in happy silence.
That's the magical alchemy of a real food line, of course: It draws you into a shared, communal experience, which in turn heightens and validates the experience in all sorts of edifying ways. Like many omnivore New Yorkers, I spend a decent amount of time in food lines every week without even knowing it, whether it's dawdling on the sidewalk for a taste of the latest destination cheeseburger, standing in line for fresh eggs at the Union Square Greenmarket, for a morning rice-noodle breakfast at Yin Ji Chang Fen down on Bayard Street, or lining up every Saturday morning at the local Bagel Bob's on University Place where it's a pleasure, now and then, to see Alec Baldwin himself collecting his morning bagels with a frowning, presidential look on his face.
In the end, there were only a couple of meager slices left when we reached the front of the line at Scarr's, and if we wanted to wait for fresh pies to emerge from the oven, the merry counter person told us, we'd have to wait outside on the sidewalk for another half an hour. So we took our slices (one plain, one Sicilian decked with basil leaves) and dutifully snapped a few grainy pictures for our Instagram feeds. The sauce tasted of sweet tomatoes, not sugar, and the crisp, floury crusts were charred and puffy around the edges. The slices were excellent, we all happily agreed, and even worth the wait, although the next time I'll probably do what many of the neighbors on Orchard Street seemed to be doing. I'll call ahead for my full pepperoni pie (or two), walk the dog, do a little grocery shopping, and come pick it up when it's fresh out of the oven, then devour it in the comfort of my own home.