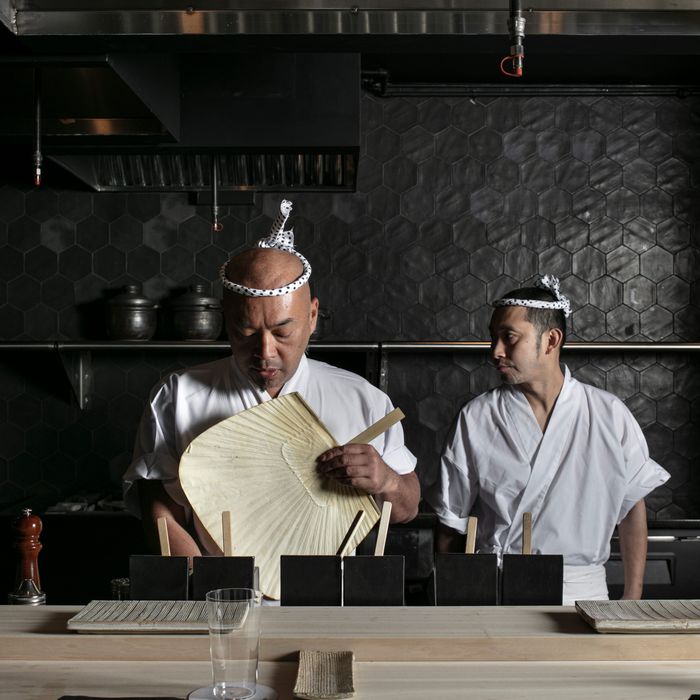 From left, Yoshiteru Ikegawa and his chef Yoshiteru Maekawa.
Photo: Melissa Hom
Tokyo's Yoshiteru Ikegawa is the world's most famous yakitori chef, bar none. Food & Wine calls him "the world's greatest yakitori chef." The Japan Times argues that no place does this artfully grilled food better than the "brilliant Torishiki," Ikegawa's 17-seat restaurant, which is reportedly impossible to get into. He is widely regarded as a shokunin, or master artisan, with, as writer Andrea Fazzari puts it in her book Tokyo New Wave, a "profound zeal for his craft."
That zeal has kept Ikegawa focused on his craft rather than on cooking up schemes to export his Jiro-like brand, but, so the story goes, rumors started to circulate that he did in fact want to spread his gospel of yakitori around the world. One thing led to another — namely a partnership with North America's Shōwa Hospitality — and Ikegawa today opens his first church of chicken outside Japan: Torien, on the Lower East Side. There, he'll serve a 14-course yakitori omakase meal for $150, along with a few supplemental dishes. "All the skewers are the same," says Shōwa's Yuichiro Edamatsu. "Of course, we didn't bring the chicken from Japan. We found the chicken here and the vegetables as well. But it's the same menu."
With restaurants, bars, and hotels in San Diego (where the company is based), Miami, and Mexico City, Shōwa was founded by Julian Hakim, Aram Baloyan, and the chef Edo Kobayashi. It was Kobayashi who approached Ikegawa about partnering up after going to his restaurants many times. "He wanted to do New York. This is our first restaurant here," Hakim says. "He knew he had a strong following here; there's a big Japanese community here."
While Ikegawa's name is attached to the project and it's his restaurant, he isn't pretending he's somehow going to be in two cities at once. Instead, he plucked one of his cooks from Tokyo, Yoshiteru Maekawa, who he feels has the necessary passion. "I have a lot of students. But two guys, they love yakitori. That is No. 1," Ikegawa says through a translator. "They have a lot of passion for yakitori, and our mission is we try to introduce, educate, spread the yakitori to the world."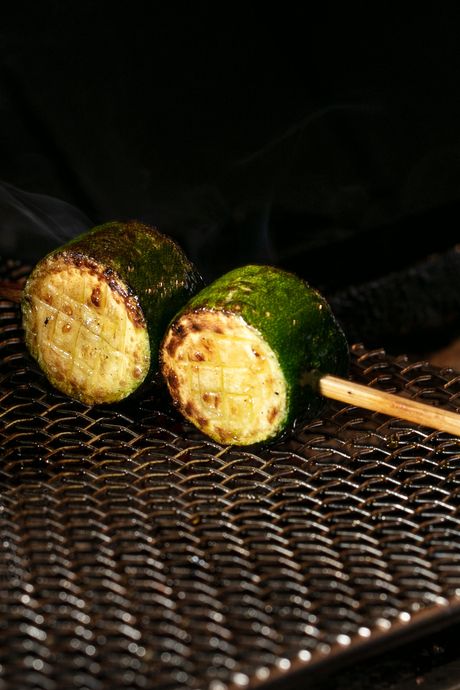 Maekawa worked under Ikegawa for several years and will run the show here in New York. He'll have two additional cooks, one at a grill and another working the stove, who were also brought over from Japan. As in Tokyo, the menu is all chicken, all night long. Dinner starts with an ume gazpacho with chicken breast, which is followed by various cuts of chicken (thigh, neck skin, and tsukune, or meatball) and vegetables (charred zucchini, shiitake mushroom) cooked on the yakitori grills, also imported from Tokyo. Those, Edamatsu says, cost $2,500 each. There are also seasonal pickles midway through and a final course of chicken soup.
The seasoning is kept to a minimum, and the cooks will brush the food — except for prepared things like the meatball — with just soy sauce cut with dashi, sesame oil, and water. "We try to keep the chicken flavor as much as we can. Sometimes, the seasoning kills the smell and seasoning. Like, tonkotsu is like, ughh. I like it. I used to eat a lot," Edamatsu says. Because he keeps it so simple, Ikegawa puts a lot of emphasis on the quality of (1) his binchotan charcoal and (2) his chicken. To get the quality of chicken they wanted across the board, they found it was better to get a mix from three producers, including D'Artagnan and Jidori. (A rep for the restaurant notes that purveyors could change.)
"Some companies have a great whole chickens, and some companies have great guts. Let's say the thigh and breast is good, but the wing is hmmm," Edamatsu says. "Some companies are really strong about wings, some have really good breasts, so at the end we decided on three companies."
The soy sauce they're using is Echigoya brand from Japan, brewed from koshihikari rice, which is the common denominator here. "Pretty much everything is from Japan: the wood from Japan, the grill from Japan, the chef from Japan," says Edamatsu. As are the plates, the ceramic rice cookers, the sansho pepper and dried chile for seasoning, the bar itself, and two types of high-end binchotan. They're using the charcoal from two producers here, including one that Edamatsu says is very special. "We are the first ones to use it outside Japan, and the last ones," he claims.
One thing that sets Torien apart from its Tokyo cousin: supplemental dishes that will rotate but will always be starchy. Around the eighth course, you'll be asked if you want an additional dish like, say, soboro don (a rice bowl with braised ground chicken) or shio ramen with grilled chicken and two types of onion. The ramen noodles are being specially made for the restaurant by Shimamoto Noodle Inc.
For the drinks, the team tapped sommelier Akio Matsumoto, who worked at L'Effervescence in Tokyo and put together a menu of wines, beers, sakes, and low-ABV cocktails for Torien. The restaurant's designer, Oyamatsu Design Studio, was also imported from Japan and has created a space that feels removed and in its own little world. The foyer is a kind of rock garden, and the dining room was designed to be a stage for the yakitori chefs: The walls are black, decoration is kept to an absolute minimum (with only Ikegawa's family emblem), and all the lighting is trained on the 16-seat counter and adjacent open kitchen. Should you be in the mood for an even more secluded dinner, there's an eight-seat private dining room that can also be split in two for a smaller party.
Torien, 292 Elizabeth Street, nr. Houston St.; no phone.