Every month in New York, there are a bewildering number of new dishes to eat, drinks to imbibe, and food-themed events to attend. Often, the hardest part is just figuring out what's really worth your limited time. So Grub Street kicks off each month with a curated selection of dishes, drinks, and events that should absolutely be on your agenda. Make your plans now.
1. Finally have dinner again at Chaiwali, now reopened in Harlem.
Harlem's Chaiwali and its vindaloo lamb chops received enthusiastic praise from New York's Adam Platt and a review from the New York Times before temporarily closing in January 2018. What was only supposed to last four or five weeks lasted much longer, and as the weeks stretched to months it became reasonable to wonder if you'd get to eat those lamb chops again. Well, here's some good news to start the year for all you Harlem achari heads: Chaiwali is back in business, having reopened on December 20. Chef-owner Anita Trehan's cooking is still just as eclectic, and you'll find appetizers like the straight-up "just samosa" ($12) alongside kaal avocado chaat salad ($12) and okra pakoras ($13), plus mains and sides like mirchi mumbai prawns ($29) and lemon poha ($9.50), and desserts including Alice's rum pudding with biscuit caramel and espresso cream ($13.50).
2. Head to Stephen Starr's newest restaurant.
'Tis the season for chicken Kiev. The butter-stuffed, breaded chicken filet is on the menu at restless restaurateur Stephen Starr's new Verōnika at Fotografiska, which opens on January 3 in the New York location of the Stockholm-based photography museum. Inspired by everything from Viennese cafés to Parisian brasseries, the menu runs the gamut from consomme nana with parmesan zwieback to lamb goulash with buttermilk spaetzle to salmon coulibiac with mushroom-dill duxelles.
3. Check out a new, no-frills diner in Brooklyn.
If New York City could make a New Year's resolution, Grub would ask for it to be to continue the diner revival apace. Along with the opening of the 24-hour Soho Diner in December, New York got a notable new diner in Rosalu. The diner quietly opened in November, but it has pedigree. The owner is Matthew Hamilton, who you may remember from Lulu & Po, a Fort Greene favorite and a place New York's Underground Gourmet called "a lovely little restaurant" before it closed in 2017. Like Soho Diner, Rosalu isn't reinventing the diner wheel, Hamilton just seems to be trying to fine-tune. At the restaurant, there's plenty of classic diner dishes like a French omelet ($14), steel-cut oats with dates and cream ($8), a turkey Club sandwich ($14), and milkshakes. Hamilton doesn't stray too far, but you'll find some less typical diner dishes like a bacon-wrapped Tijuana hot dog with fries ($14 for two hot dogs) and shrimp and grits ($16). And, yes, there's bottomless coffee ($3).
4. Book your next uptown omakase dinner.
Sushi chef Don Pham is crossing Central Park on January 15. He's bringing his popular, 24-seat Upper East Side restaurant Sushi Ishikawa to West 80th Street on the Upper West Side, where he'll serve a 15-course ($125) and 16-seat course ($155) menu. Expect dishes like lobster shiso, grilled lobster with lobster miso and ikura shiso leaf tempura, and Hokkaido sea scallop with cod fish milt tempura and uni, and uni miso sauce. Dinner is definitely not cheap, but it's a much more affordable option than, say, Masa down at Columbus Circle.
5. Drink Singapore Slings and roti for brunch in Gramercy.
Gramercy's Laut Singapura has added cocktails (all $15) to its repertoire including the Singapore Sling, the gin and Cherry Heering classic, as well as riffs including the Black Old-Fashioned. On weekends, they'll introduce breakfast favorites from Singapore, like roti gala with curry chicken ($15, comes with beer or wine) and nasi lemak ($25, comes with beer or wine), and spins on American dishes, such as the chicken with a Hong Kong bubble waffle and kayak jam ($25).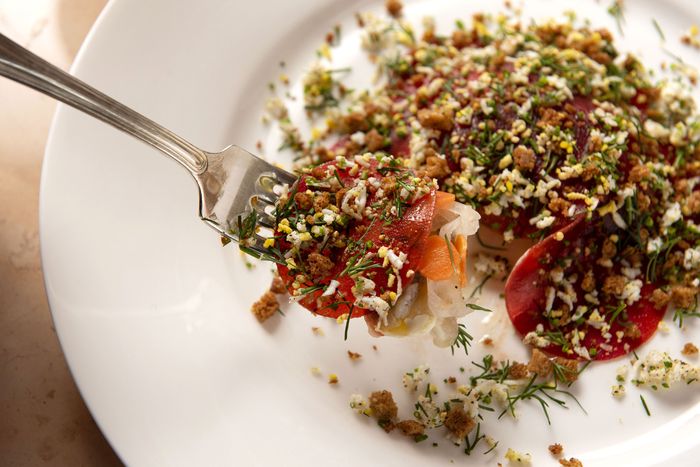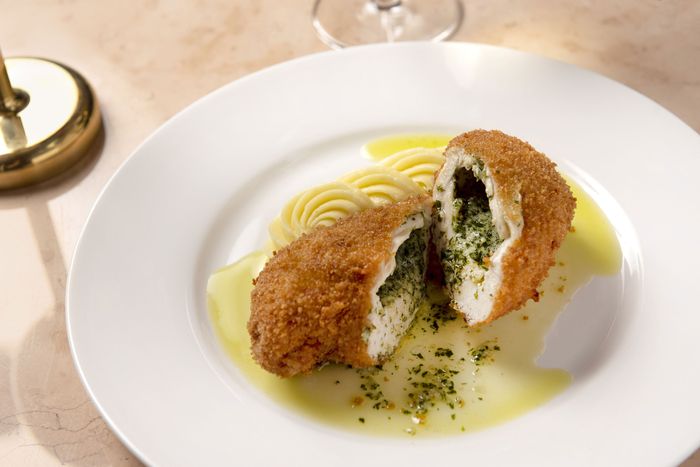 6. Check out a new Roman pasta happy hour.
Brooklyn's Popina will start off the decade by introducing as pasta (and more) happy hour. From 5:30 p.m. to 7 p.m. Sundays through Thursdays (starting January 5), the restaurant will offer four classic Roman pastas for $15, including cacio e pepe, carbonara, amatriciana, and gricia. None of these, it's worth noting, are fixtures on the regular menu. To go with the discount carbs, they'll also pour $5 glasses of prosecco, Frascati, and Montepulciano wines; a weekly $10 boilermaker (first up is Burial Hawskill IPA and Four Roses bourbon); and a $7 Americano made with Forthave Red, sweet vermouth, soda, and an orange twist.
7. Learn how to make Vietnamese rice cakes.
It's an east meets west evening of rice cakes. On January 27, Greenpoint's Di An Di will host Los Angeles's The Banh Chung for a combination cooking class and dinner. Founder Diep Tran — who until 2018 ran Good Girl Dinette, a restaurant the late Jonathan Gold called "astonishingly good" — will lead the class in making banh Chung, the glutinous rice cake with mung pork and pork. Your education will be followed by the payoff a dinner from Di An Di chef Dennis Ngo & Co. The tickets go on sale this Friday, when the link will be shared via the Bang Chung Collective's and Di An Di's Instagrams.
8. Eat kare kare and ube-coconut ice cream at a vegan Filipino feast.
From 7 to 9 p.m. January 24, Smorgasburg vendor Ube Kitchen will host a Filipino kamayan feast. (Tickets are $75 to $80, and the dinner will be at Energi in Manhattan.) Like its desserts, the meal will be entirely vegan, with homemade seitan and tofu. There'll be red wine, Modelo, and butterfly pea calamansi-ade to drink, with all the food served as a spread on banana leaves. Think mushroom chicharon, pan-fried tocino seitan marinated in sweet banana ketchup and pineapple juice, kare-kare stew, and ube-coconut ice cream with coconut caramel.
9. Eat a chivito sandwich in Bushwick, then peri peri chicken in Alphabet City.
Here are a couple more openings to put on your radar: Williamsburg's Uruguayan spot Tabaré has expanded to Bushwick, bringing it's towering, loaded chivito completo ($18) — a loaded sandwich topped with filet mignon, bacon, ann egg, provolone, ham, and more — to Flushing Avenue. Over in Manhattan, Frango's Peri Peri has brought Portuguese chicken to Alphabet City. The colorfully decorated space is an antipode to winter gray, and so is peri peri chicken. First it gets marinated in a sauce of peri peri peppers and other potent ingredients like garlic, then it's grilled. The chicken comes in different sizes, from just wings ($9 to $36) to a whole chicken ($24 to $31), and you'll also find a peri (chicken) burger with melted cheese ($15), and they also have appetizers like peri shrimp ($11.50), some salads and vegan options, lamb chops ($16 to $40), beef burgers with peri sauce ($11 to $17), and more.
10. Take a baking class that'll teach you the ins and outs of making fruit galettes.
Is 2020 the year you finally Get Into Baking? Then start off strong, with a class at Studio One54, the bakery Ovenly's event space. From 6:45 p.m. to 9:30 p.m. on January 28 (tickets are $100), you'll learn how to make fruit galettes — and you'll be in great hands with Ovenly instructor Dalia Jurgensen. The pastry chef has worked at acclaimed restaurants like Veritas and Dressler and now teaches at the Institute of Culinary Education. Classes are kept small, with only eight students, and you'll get snacks from Ovenly, to boot.
11. Learn how to make West African fufu in Harlem.
Or, maybe you're looking to expand your repertoire in other ways? Head to Harlem, then, for for an afternoon or evening learning how to cook vegan African food. Healthy Afrique's Linda Adria Sebisaho draws on recipes from various regions, and you'll West African staples like plantain fufu and jollof rice (with cauliflower in lieu of fish or meat). The class comes with a complimentary cocktail of ginger juice with rum, or nonalcoholic ginger juice. (Tickets are $55 for multiple dates.)
12. Make kombucha with a New York expert.
Pilot makes some of New York's most interesting kombucha, in flavors like lavender peach and celery juniper. Close out your month with a January 30 class taught by Pilot founder Alex Ingalls, who'll help instruct you in making quality kombucha, answer your questions, and send you packing a recipe and SCOBY, the culture used to make the fizzy beverage. Hosted at Archestratus Books and Foods, the class costs $65 (buy tickets here) and runs from 7 p.m. to 8:15 p.m.