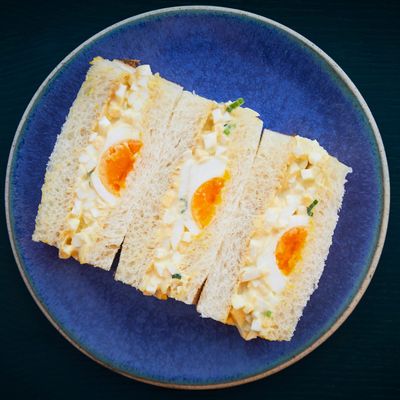 Konbi is coming to New York.
Photo: Yuri Hasegawa
Every month in New York, there are a bewildering number of new dishes to eat, drinks to imbibe, and food-themed events to attend. Often, the hardest part is just figuring out what's really worth your limited time. So Grub Street kicks off each month with a curated selection of dishes, drinks, and events that should absolutely be on your agenda. Make your plans now.
1. Go to a festival that's all about pozole and mezcal.
Pozole is one of of Mexico's favorite dishes, a pork and hominy soup that inspires obsession and longing. The New York chefs Danny Mena and Fany Gerson are so obsessed they recently launched the pozole pop-up La Pozoleria, and now Mena is doing one better: He's curating the first Bowl of 'Zole in Williamsburg, a February 29 festival dedicated entirely to pozole and, for good measure, mezcal. (Tickets are $55 for general admission, $125 for VIP.) Put on by Food Karma, it'll bring together New York chefs including Mena, Casa Enrique's Cosme Aguilar, and Casa Bocado's Ivy Stark will serve different pozole made with pork but also seafood and tofu. Along with Mena, Fidencio Mezcal's Arik Torren is picking out the 50 bottles of mezcal and other agave spirits from producers including Peloton de la Muerte, Mezcales de Leyenda, Fabriquero Sotol, his own Fidencio Mezcal, and more. There will also be beer, cider, and other booze.
2. Head to Golden Diner for a Konbi pop-up.
The maker of America's top egg-salad sandwich is coming to New York, as Los Angeles hot spot Konbi will pop up at Golden Diner. On February 24 and 25, the downtown diner will offer Konbi pastries — it's also known, as you may have taken note from your Instagram feed, for its croissants — during the day and a collaborative dinner menu ($95) at night. Those pastries will only be available to American Express card members, however. There will be two seatings, one at 6 p.m. and another at 8:30 p.m. More details are on the Resy's website, but if you're interested in this east meets west double feature then take note: American Express card members can purchase dinner tickets on Wednesday at 10 a.m., and everyone else can on Friday at 10 a.m. (This blurb has been updated with new information due to some changes to the pastry plan.)
3. Buy Chinatown-inspired goods and help benefit the Immigrant Defense Project.
The women behind the marketing agency Care of Chan — founded by former Momofuku brand director Sue Chan — have an eye for what's cool and fun. They put on the premiere parties for A24 movies like The Farewell (which ended with dim sum and dancing at 88 Palace) and Uncut Gems (which was, perfectly, at Katz's). So it's not exactly a surprise to Grub that they when they released their first merch, our response was, "I want this … and this … and this!" The agency has launched an online shop to celebrate the Lunar New Year, selling a collection of goods inspired by Manhattan's Chinatown and in collaboration with some businesses there. Beginning February 5, they'll sell the goods at a pop-up shop at 5 Rivington Street on weekdays from 10 a.m. to 6 p.m. You'll find excellent ceramics from Stephanie Shih's Asian grocery-store collections, along with a couple new pieces; books like Pei Mei's Chinese Cookbook Vol. 2; and Wing on Wo's enchanting flower plates. There's also apparel, including a killer Jing Fong shirt by the artist Andrew Kuo, featuring depictions of three dumplings in bamboo baskets stylized like neon signs. A portion of proceeds will benefit the nonprofit Immigrant Defense Project.
4. Check out the Industry City izakaya from Angel's Share.
The group behind Angel's Share is doubling down on Industry City. After opening a cocktail bar called Oldies in the food court Japan Village, they've expanded their Brooklyn real estate with an izakaya called Wakuwaku. The 60-seat restaurant will serve lunch from noon to 3 p.m. Wednesdays through Sundays, when they'll serve lunch sets centered around pork katsu ($16), chicken teriyaki ($15), unagi don ($21), and other dishes. Each comes with miso soup, salad, a side, and either white or brown rice. The forthcoming dinner menu will mean lots of small plates, plus lots of shochu cocktails like a lemon Chuhai, beer, and more.
5. Stock up on creative sausages from a talented New York butcher.
Grub became well-acquainted with butcher Cara Nicoletti's colorful sausages at Foster Sundry, where she made her verdant green chorizo alongside more unusual flavors like matzoh ball soup and jerk chicken. Those sausages, though, were only available in Brooklyn. Starting February 13, Nicoletti and Ovenly co-founder will launch Seemore Meats & Veggies, a sausage company with an emphasis on vegetables. To start, the brand will have four flavors available in its online store and at retailers including Whole Foods: Bubbe's chicken soup (with carrots, celery, garlic, parsley, and dill); broccoli melt (with pork, peperoncini, garlic, and Monterey Jack cheese); loaded baked potato (with pork, potatoes, sharp cheddar, bacon, and chives); and La Dolce Beet-a (pork, beets, garlic, and fennel seed).
6. Have an actually cheesy Valentine's Day dinner at King.
It's likely that your Valentine's Day plan is to stay inside. Generally speaking, this is a wise course of action. But if you're open to reconsidering, you have good reason to do so: King will, for the first time, have a fondue night. (Dinner is $95 a head, not including tip or drinks.) The West Village restaurant is already charming and a place you've probably thought of for romantic nights out. Now they're adding melted cheese to the equation. Specifically, a classic fondue made with Alpine cheese served with bread, cornichon, pickled onions, potatoes, and Romanesco for the dipping. There'll also be salad, which you may end up dipping, too.
7. Spend your Sunday night eating Thai fried chicken and listening to jazz.
By now, even the most hardened New Yorker knows at least a little bit about Nashville's famed hot chicken. Maybe that has you also wondering about other spicy chickens around the world, and you're ready to explore. Then, the Chelsea bar Jungle Bird has something new for you: On Sunday nights, they'll host a live jazz band and serve both drinks specials and Thai-style fried chicken.
8. Go drink infused vodka at a Bushwick book party.
To celebrate her new book Beyond the North Wind, Gastronomica founder Darra Goldstein will have a party at Bushwick's Honey's from 6 p.m. to 9 p.m. on February 4. (Tickets are $55 and include food, a welcome drink, and an infused cocktail.) The book covers the culinary traditions of the Russian Arctic, and Honey's will serve dishes and drinks inspired by the book including Russian hors d'oeuvres, kvass, infused vodkas, and more. Goldstein will be there signing books, which you can purchase for an additional $37.50.
9. Eat Miznon's first pita of the month, topped with caviar.
Eccentric chef Eyal Shani is getting in on the limited-time-only sandwich game. Starting this month, his Chelsea Market location of Miznon will serve a "pita of the month," a series he's kicking off with a fusion-y blini pita. Available starting February 1, it comes with smashed potatoes, olive oil, sour cream, scallions, sea salt, and a garnish of salmon roe. It's $13.50 or $10.50 without the roe, and definitely a lunch that'll keep you from getting a late afternoon case of the hangries.
10. Go to LaLou for braised goat and Rhone wine happy-hour specials.
For the month of February, Prospect Heights wine bar LaLou is going to the south of France for happy hour. From 5:30 p.m. to 7 p.m., they'll serve Rhone wines. All these wines are $8 to $10 during happy hour, and they'll be pouring what they say are some particularly special wines from the region later in the night. The restaurant's chef Jay Wolman will contribute to the theme with some special snacks and dishes, including saucisson sec and caper berries ($9) and braised goat with pomme purée ($34).