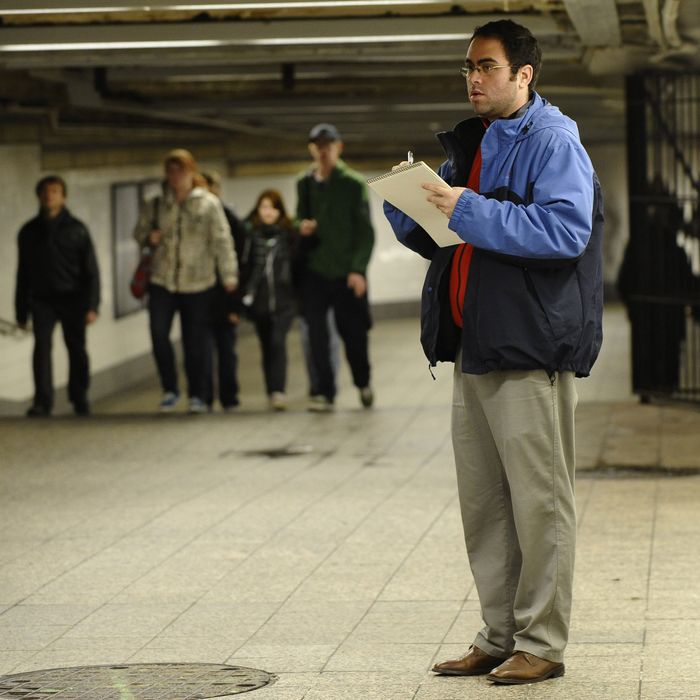 Jason Polan sketching New Yorkers.
Photo: Timothy A. Clary/AFP via Getty Images
The artist and vivacious chronicler of life in New York City Jason Polan died on Monday. He was 37. The cause of death, his family tells the New York Times, was cancer.
A fellow traveler in this city's food world, Polan was a contributor to the now-defunct indie food magazine Lucky Peach, for which he wrote burger reviews, among other pieces, and was part of the creative team behind the cookbook 101 Easy Asian Recipes. For Lucky Peach's 2013 travel issue, he also wrote "The Most Beautiful Taco Bell in the World," which featured a dreamy watercolor of the Pacifica, California, location that is undoubtedly the most beautiful piece of Taco Bell art in the world.
By then, Polan was eight years into his Taco Bell Drawing Club, a weekly open-invite gathering for people to meet at Taco Bell (near Union Square, unless he was traveling) and draw. He was known for projects like drawing every object in the MoMA not once but twice, and most famously, his joyfully Sisyphean attempt to sketch every last person in New York. He published a book of those sketches, Every Person in New York, in 2015 — which included more than 30,000 sketches — and posted his last update to the Every Person in New York blog on December 19, 2019.
The impossibility of the task brings to mind a quote from another quintessential New Yorker, the late Kenny Shopsin, who once told his daughter Tamara (an illustrator and author herself), "The way that I choose to function is to pick an arbitrary stupid goal, become totally involved with it, and pursue it with vigor." Polan's time was too short, but his life is an example, even from a distance, of how to be vigorously engaged with our uncertain world.