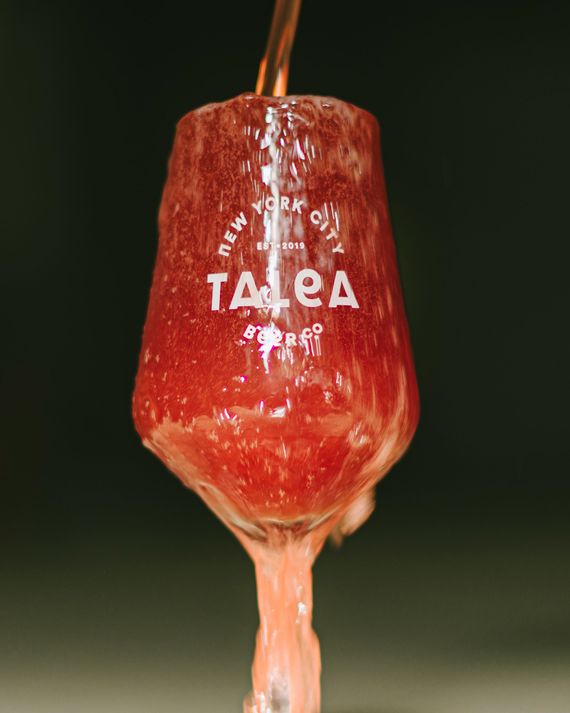 You don't see many brewers happily comparing their beers to Lucky Charms marshmallows, pineapple Push Pops, and red Sour Patch Kids, which are just a few of the tasting notes that Talea cites for its own beers. (Others include cherry Pop-Tarts, mango lassi, and "passion fruit slurpy.") And that's exactly the point.
At Talea — which is named for co-founders Tara Hankinson and LeAnn Darland — the ideal customer is someone who has long eluded the marketing muscle of the country's biggest brewers: People who don't like beer. The difference, however, is that Talea is not an international conglomerate dosing its beers with artificial lime or strawberry flavor; instead, Talea is a tiny upstart that applies the tenets of craft-brewing to create completely unique, wholly delicious beers.
"You're seeing these things like hazy IPAs with milk sugar and fruity IPA sours that make Talea stand out in a sea of relatively uniform hazy IPAs," says Zach Mack, a beer writer and the owner of Alphabet City Beer Co. "They're not the first to do something like this," he says, "but they're definitely some of the first people to kind of embrace the added fruit and milk sugar as a way to win people over who might not like IPAs otherwise."
Kevin Heald, the owner of Malt and Mold in Gramercy, agrees, citing the brewery's flagship Sun Up Hazy IPA: "They somehow hit that perfect juicy citrus note without crossing the line into overwhelming."
For Hankinson and Darland, it's about creating beer that will ultimately be as appealing to people who might prefer wine or cocktails. "There is so much amazing beer coming out of New York, but we didn't feel there was a beer on the shelf that spoke to us, that resonated with us," Hankinson explains. "One interesting fact is that 72 percent of female craft-beer drinkers are frustrated by feeling that brands view them as an afterthought."
Hankinson also points out that there's a 70-30 split between men and women among New York's craft-beer drinkers, and they see an opportunity to welcome more women into the beer world, which is why they've partnered with brands like Elle magazine, the Wing, and the women's social club Chief.
It's a new approach to selling beer from a company that got its start in 2018. Hankinson, who had experience in both the wine world (having worked with Brooklyn Winery and Wölffer Estate in the Hamptons) and media world (in customer experience at the New York Times), first met Darland when the two worked together at the beer start-up Hopsy. It only took a few months before the two home-brewing enthusiasts realized they should go into business together.
What they needed, though, was a brewer who could help them scale their ideas and recipes up to the 30-barrel batches that would turn their shared hobby into a proper business. Johnny Osborne, who worked on the recipe development team at Brooklyn's Sixpoint Brewery at the time, helped Darland and Hankinson vet potential hires, but the trio worked together so well that Osborne ended up stepping in as Talea's full-time brewer. For Osborne, the idea behind Talea's super-approachable beer made immediate sense. "I still use my mom's palate as a metric for whether my beer is actually easy to love, or if I'm venturing too far into beer-nerd territory," he says.
For the record, Osborne's mom loves Talea's first beer Sun Up Hazy IPA, and their CherryBerry Tart Deco Sour IPA. Other releases include Raspberry Crush Gose, Bravada Brut IPA, Lunch Date Pale Ale, and Pumpkin Roll Sour IPA.
"Johnny, Tara, and I come up with the recipes we want to make — that's the creative process between us — and Johnny applies his technical skills to build the recipe," Darland says. From there, the team schedules time with Torch & Crown, a brewery with production space in the Bronx, where the actual brewing happens, for now.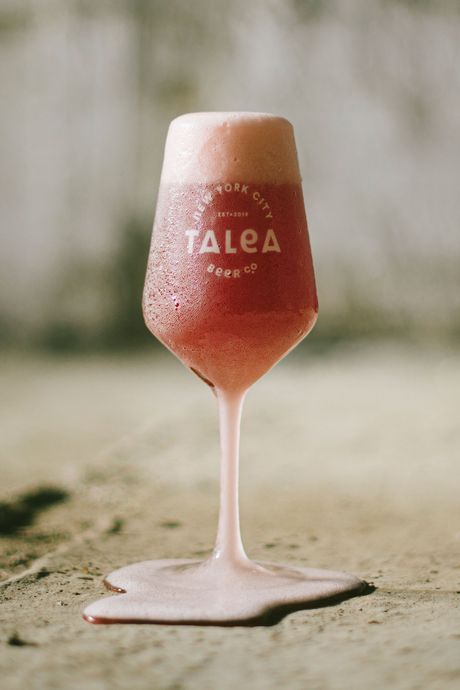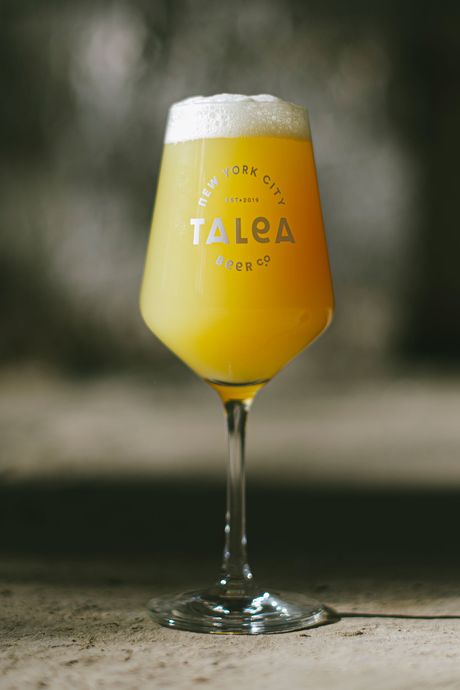 Of course, contract brewing at someone else's facility is not an ideal situation, which is why Talea's next step will be opening tts own taproom in Williamsburg later this year. There, the team plans to apply the same make-everyone-as happy-as-possible ethos to the space as they do to the beer. They also see their taproom atmosphere being more like a winery. "Similar to what you do on a winery tour, where you're given four or five small pours of wine and they talk to you about the vintage and the soil and the differences between different years or grapes or varietals, we want to have that same discussion with our customers about these beers," Darland says. (They also plan to host events, like yoga that will then be followed by beer mimosas, of course.)
"We think our Talea taproom and brewery can be a space that's not work, and not home, but a place for bringing communities together," Hankinson says, citing the popular idea of a third place. "If you get people to come to your own place, where you're producing your own beer, and you can control not only the product but the experience of them consuming it," she adds, "then it puts you in much greater control of the company."