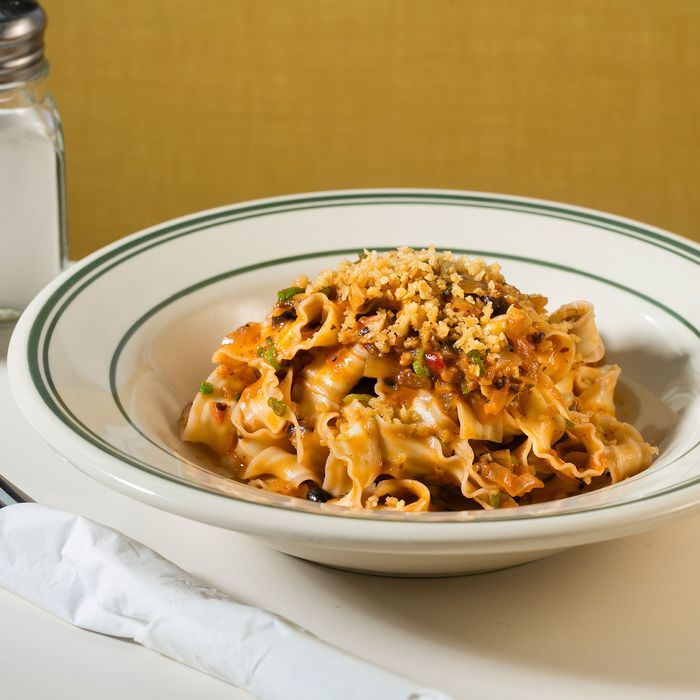 Go try dinner at LES hot spot Golden Diner.
Photo: Melissa Hom
What are you up to this Sunday? Not watching the Super Bowl? Well, you're in luck because Super Bowl Sunday is also the night when a lot of restaurants that are usually mobbed are a little bit emptier. We crawled through the reservation sites and found 15 stellar restaurants worth checking out while the rest of the city is glued to its TVs. Here's where to dine if you don't care about the Super Bowl.
Estela
It's hard to believe, but at nearly 7 years old, this little restaurant that could is no longer an upstart. And this weekend is your chance to go deep on its well-considered offerings — from small shared plates of oysters and Ibérico ham to more hearty samplings, like the beloved ricotta dumplings New Yorkers still can't get over all these years later. Book a table here.
Noreetuh
Last year, Ann Redding of Uncle Boon's fame called this restaurant specializing in Hawaiian food one of the city's most underrated eateries, highlighting the "refined and lovely experience" of eating the elevated comfort food like Berkshire-pork potstickers and mochiko fried chicken. There are still lots of seats available at this East Village spot for Sunday. Grab your seats here.
Tanoreen
Certain New York City eateries are well worth the trip: Rao's on 114th, Di Fara Pizza in Midwood, and, of course, Tanoreen in Bay Ridge, where mother-daughter duo Rawia and Jumana Bishara are still churning out some of the city's finest Palestinian and Middle Eastern food. Grab a reservation here.
Pastis
Instead of cheering on the Chiefs or the 49ers, consider digging into steak frites between sips of a Rouge Fumée at this recently revived icon of the New York City dining scene. Find reservations here.
Gramercy Tavern
No matter how many restaurants and Shake Shack outposts Danny Meyer opens, Gramercy Tavern remains the finest manifestation of his obsession with warm hospitality and comforting farm-to-table cooking. That's why it's so rare to find this many open tables on a weekend night, so make your move before they all disappear. Book a table here.
O:N˚
If you've got a big group of friends who don't plan on watching the game, then you'll want to gather at this Koreatown spot where the focus is Korean-style hot pot. The options can be overwhelming, but our own Adam Platt suggests going deep on the apps and then making the chicken or red-snapper hot pot your main course. Grab your seats here.
Golden Diner
From the get-go, this Lower East Side gem was praised for its dreamy daytime menu, but chef Sam Yoo's Chinatown diner also has a serious dinner game. If you've been looking for an excuse to sample the genre-defining Golden cheeseburger, now's your chance. Find reservations here.
Roman's
At least two members of Team Grub swear by this intimate Italian restaurant on the Fort Greene–Clinton Hill border. It's particularly great if you're looking for comfort food. Think agnolotti with chanterelle mushrooms and fusilli in a meaty lamb ragù. Reserve a table here.
Di An Di
This Greenpoint spot is undeniably one of the leaders in this exciting new age of Vietnamese cuisine, and this weekend is your chance to see what all the much-deserved hype is about. Sure, there's pho, but if you want to experience the rest of the culinary spectrum, go for the Vietnamese pizza with ground pork and shrimp floss or the rice-cake omelet. You know, live a little! Book a table here.
Momofuku Kāwi
If you're going to brave the trek to, and through, Hudson Yards, you may as well do it on a night when everyone else is home watching football. That journey might even be worth it to visit the most unique property in the Momofuku empire. Find reservations here.
King
What's not to love about this intimate Soho standby with an ever-changing, Italian-focused menu and excellent service? And they don't skimp on the olive oil! If you have yet to experience the supreme, life-changing pleasures of dining at King, make this the weekend you do just that. Find a table here.
Claro
If you're craving Mexican food of the Michelin-starred variety this Sunday, consider Gowanus's Claro, which is still churning out some of the city's finest handmade tortillas and tongue tacos while keeping the neighborhood rich in mezcal cocktails. Book a table here.
Little Alley
Anyone interested in digging into the finer points of Chinese cuisine will want to check out Little Alley, the Murray Hill restaurant committed to highlighting the food of Shanghai. That means a lot of seafood (which plays a major role in the coastal city) in the form of baby eel with scallion-and-ginger sauce and crab soup dumplings and oyster oil. Best of all, this spot is a Michelin Bib Gourmand, so you can get an excellent meal for under $40. Grab a reservation here.
HiHi Room
Calling all Court Street Grocer fans: If you love the Brooklyn-born sandwich shop, then you'll definitely want to check out the team's first-ever full-service restaurant, the HiHi Room.They've got a pinch hitter in former Battersby co-chef Walker Stern, and this may be the only restaurant in the city currently serving Cincinnati chili with duck Bolognese. Intrigued yet? Book a table here.
The Turk's Inn
Speaking of the Midwest, this Sunday is the perfect chance to finally check out Bushwick's latest golden child, itself a steadfast re-creation of the Middle Eastern–influenced supper club that operated in Wisconsin from 1934 to 2014. The décor is over the top, the drinks are colorful, and the whole space feels like it was designed for Instagram, but we can confirm that the food, the only thing that really matters, is very, very good. Grab reservations here.